"This Issue Plays Out More Like A Horror Film" – Troy Brownfield On Blood Queen Vs Dracula #3
Troy Brownfield based the character of the Blood Queen on one of the most prolific, real-life serial killers in history, Elizabeth Bathory. Now he's taken that character and put her up against one of the most prolific killers in literature, Count Dracula. Byron Brewer chatted with Brownfield about the third issue in this Vs. series for Dynamite Entertainment Cover art by Jay Anacleto and Fabiano Neves.
Dynamite May 2015 Interview: Troy Brownfield @ Blood Queen vs. Dracula #3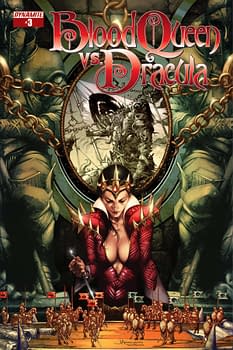 BYRON BREWER: In May, Troy, we are at #3, the penultimate issue in this miniseries. What can we look forward to by way of excitement to prepare for our journey's end?
TROY BROWNFIELD: This issue plays out more like a horror film. After turning two of Elizabeth's students in the previous issue, Dracula's back for revenge, and of course, blood. It's a bit of a twist on "something's haunting the castle" kind of stories with Elizabeth as our extremely capable "Final Girl".
BB: Drac "lays siege to the Blood Queen's castle" this issue? Ouch! Difficult scene to write, sir?
TB: Not really, because I had such a great time with it. There's a sequence on the castle stairs in partial darkness that was my favorite thing to put together for the issue. I'm really looking forward to seeing how the excellent team of Kewber Baal, Kirsty Swan and Marshall Dillon makes it all look. They are incredible talents and half of the fun is seeing how they interpret the ideas.
BB: A little bat told me Elizabeth may have a surprise for the Lord of the Undead as he tries to get her to join his unholy army. Any non-spoilery hints? (smile)
TB: I won't say much, except that you can NEVER count the Blood Queen out. If you look back to her previous series, she was responsible for outwitting and defeating a number of seemingly stronger opponents. She vanquished her own mentor, she handily took down the king's wizard, and in the interim, she won herself a kingdom. She does not treat opposition lightly. Even if that opposition is the Lord of Vampires.
BB: You seem to love these period-shrouded sagas. How much time do you put into your research?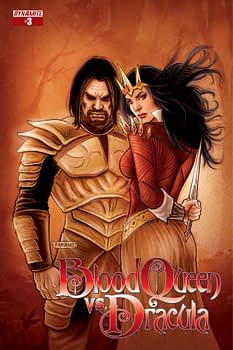 TB: Can I just say "a lot"? (laughs) It's important to me as both a writer AND a reader to get things right, or as close to right as I can. Here's an example: I was a teenager in the 1980s, and more recent films that take place in the '80s frequently bug me because they act as if "The 80s" all happened at the same time. It's not true; there were phases and movements in culture. If you do a scene in 1982, you can't have The Pixies on the radio, for example; they didn't form until '86. And so on. With this, Kewber and I were sensitive to era-appropriate armor and weaponry. Like the cannon in #1; I was so happy to find that that monster fit the timeline.
BB: How has it been working on this with artist Kewber Baal?
TB: He's okay. (laughs) Kewber is great. He's very focused on doing the best possible job. He's always asking me about sketches and finished pages; he wants me to see everything as it happens to make sure that he's realizing what I "saw" as writer and to make sure that there isn't anything that he needs to change, etc. He excels at the action and suspense.
BB: Will, as with the end of her last mini, the saga of the Blood Queen continue elsewhere? If so, where and when?
TB: We can't say for certain at this point, but if Dynamite wants to have me do more Blood Queen, I know EXACTLY what we would do next.
For more information on Blood Queen vs Dracula #3, click here.