Posted in: Comics, Conventions | Tagged: comic con, Comics, conventions, Jewish Comic Con
---
Jewish Comic Con Celebrates 2nd Event Alongside Art Exhibition
Bleeding Cool contributor Jason Borelli writes:
As comic book culture continues to seep into mainstream popular culture, conventions and shows are on the rise, showcasing all sorts of themes and genres. Few could claim origins such as Jewish Comic Con, which ran its second edition in Brooklyn, NY, on Sunday. According to co-founder Fabrice Sapolsky, it was an event that wasn't really expected to have happened. As Sapolsky (currently the senior editor at Humanoids Inc.) remembers, he was meeting with Fred Polaniecki, the president of Congregation Kol Israel, about starting an event at the synagogue involving comic books.

"I joked and I said, 'We could do a comic con'," Sapolsky recalls. "A week later, he called me up and said, 'I talked to the board. We have to do the comic con now.' I said, 'But that was a joke,' and he said, 'No, it's not a joke anymore. It's a real thing. I sold it to the board.' So, Comic Con we did."
Open to all people, the initial Jewish Comic Con would debut back in November of 2016. It was sponsored in part by The Brooklyn Jewish Art Gallery, based at Congregation Kol Israel, and the Jewish Art Salon. The convention was an immediate success, garnering patrons and media attention alike (including Bleeding Cool). According to Spolsky, the event was probably the biggest for Congregation Kol Israel in over nine decades of their existence.
"The paradox was that it was not that hard to put together because we had time," says Sapolsky. "Nobody knew what we were doing. People were pretty easy to convince just on the concept. We didn't have any problem with the location because it was the synagogue. It was in November. There were no other conventions at that point."
The second edition finally took place seventeen months after the first, after having been pushed back twice. Guests included graphic novelist Miriam Katin, Mindy Newell, Dean Haspiel and Arie Kaplan. Also appearing at the show is renowned therapist Dr. Ruth Westheimer, who has written her first graphic novel (Roller Coaster Grandma, an account of her life for young readers) at the age of 90. More recently, Jewish Comic Con announced that a taped interview featuring Brian Michael Bendis would be shown at a panel to help celebrate the eightieth anniversary of Superman.
"This is a very special moment in contemporary Jewish art," says Joel Silverstein, founding member and curator for the Jewish Art Salon. "There are a lot of cross cons and a lot of interaction between different kinds of creativity. I saw this great kind of parallel development between contemporary Jewish art and comics. Jews have always had this intense connection to comics. The heads of the Golden and Silver Age were almost all Jews. The publishers [and] creators, almost all Jews.
"Jerry Siegel and artist Joe Shuster were Jews, creating Superman. But the shift was with Art Spiegelman's Maus, and that has really opened up an overt Jewish content to comics. Since then, there's been an incredible outpouring, and Jewish Comic Con is the follow-up to that."
As for Silverstein's impressions of Jewish Comic Con's first edition:
I thought that it was great. My impression was that it gave a venue for Jewish creators, a lot of whom are independent and are having trouble getting in and being hooked up to publishing houses. There's been a lot of interest in Jewish-based comics and graphic novels. But there are many independents who feel that's the way to go. They want to be in control of their own message, so they're self-publishing as well as writing or drawing, or writing and finding an artist. It gave them the platform to say what they wanted to say.

I think what the people at the Salon are bringing to it is the fine art crossover. We're trying not simply a comics event, like [New York Comic Con], which is a pop culture thing. My feeling is that it has deeper resonance and deeper connections to high culture.
In conjunction with Jewish Comic Con and Congregation Kol Israel, The Jewish Art Salon will host the exhibition POW!!! Jewish Comic Art and Influence curated by Joel Silverstein, Goldie Gross and Joshua Stulman. This exhibition of approximately 32 artists highlights the current explosion of comic books with Jewish themes and fine artists who use comics as inspiration. The exhibition will be on viewable on Sundays from 11AM – 2PM, until May 20, 2018.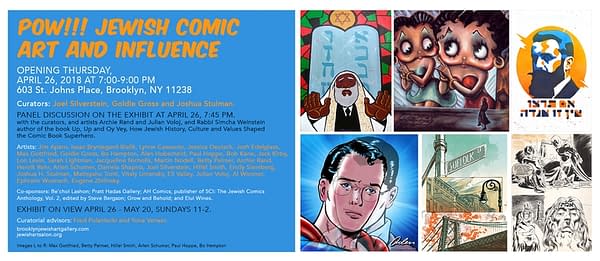 For further information about Jewish Comic Con and for updates about future events and exhibitions, visit their website.
---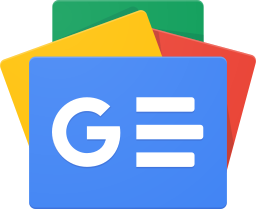 Stay up-to-date and support the site by following Bleeding Cool on Google News today!