John Barrowman Would Like To Play Captain America's Boyfriend – Heroes & Villains Fanfest 2016
Jason Borelli attended Heroes & Villains Fanfest: New York 2016
Today was a mixed bag for me. I learned some things about myself. For starters, I don't know if I'm the best person to get a press badge. I didn't interview anybody. I only went to one panel. And I always – ALWAYS – feel like a schmuck when I talk to people, especially celebrities. I wouldn't say that I'm easily awestruck, but I stink at small talk. If you ever see me leave a conversation rolling my eyes, it's mostly aimed towards myself. I have three months to get over that before I hit New York Comic Con for Bleeding Cool. For the record, I would have been okay with paying for all four days, but I didn't want to get shut out of a show that's close to me.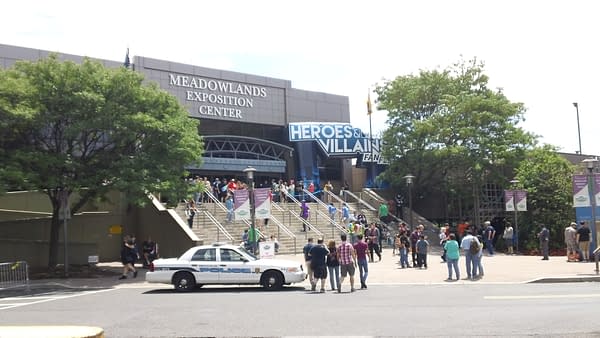 Sometimes, I ask for bad stuff to happen to me. Example: I got to meet Sean Pertwee. I bought a combination of an autograph and a selfie, though somebody else had to take the picture. I didn't bring up Sean's father (Jon, the third Doctor), since he probably hears about him all the time. I ask him if he's enjoying New Jersey. Turns out Gotham films there, as well as my home borough of Staten Island, which surprised me greatly. I joked about stalking the locations. I show the lady at the booth which button to press on the camera. I pose with Sean. We're both smiling. And I did not think to check to see if the picture was taken until I got home. I am an idiot. Tomorrow, I'm going to see if I can get a reshoot. I'm just upset that I might have lost a few bucks.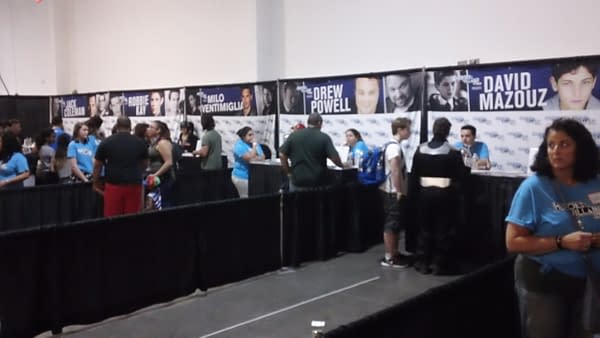 I didn't hit as many stars as I did with Long Island Who. Most of the reason was the pricing . . . I found the going rate was $40 for an autograph, $30 for a picture (if the person didn't have a sign indicating otherwise, and $60 for both. In some cases, it was too steep for me, especially with supporting players. For somebody like Caity Lotz, Sara Lance/White Canary from Legends of Tomorrow? That was a bargain, and I got through her line quickly. I saw her sporting a hat, and I asked her if she was a hat person. Turns out she is. Hey, she doesn't wear those on the show.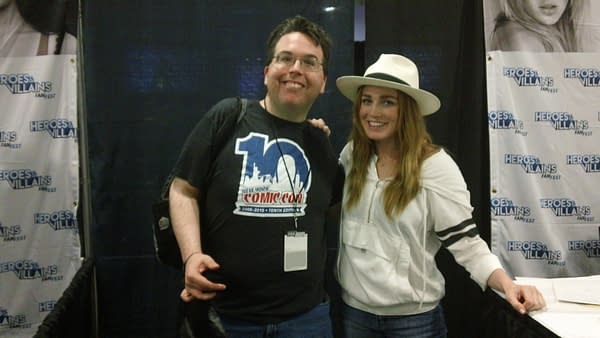 I also met Jack Coleman, who didn't have much attention at his booth. I do not pity him, but I feel bad by the lack of fans. It's not his fault that his show only had one universally-acclaimed season, and Heroes Reborn was a clunker. From him, I found out that he needs glasses these days. In the early days of Heroes, he wore contacts behind his trademarked horn-rimmed glasses.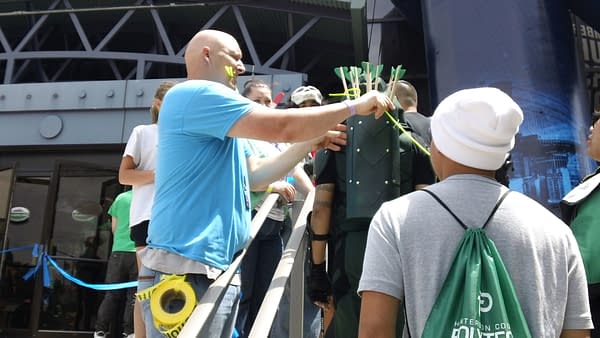 Because I'm a dope that likes sleep, I got to the show after noon. I wound up missing the first Arrow-themed panel, which featured Paul Blackthrone (Quentin Lance), Katie Cassidy (Laurel Lance), Echo Kellum (Curtis Holt), Neal McDonough (Damine Darhk) (normally, I don't spell it with an "H" because I'm picky like that) and Charlotte Ross (Donna Smoak). Luckily for me, there will be another tomorrow morning with Colin Donnell (Tommy Merlyn), Willa Holland (Thea Queen) and David Ramsey. Also, I'll try to hit panels for Legends of Tomorrow and Gotham. I only hit one today, but I'm thinking that it was the one that was a must-see: John Barrowman.
I heard good things about John at conventions, and he did not disappoint. My only misgiving was that kids showed up; I feel that this was a "rated PG-13" panel, because the guy was very ribald. Early on, he made farting noises for the purpose of making the sign language interpreter translate that. He told the story about how his husband photobombed him twice by appearing naked. He talked about how much Malcolm Merlyn is hated. Then there was the time he was filmed eating chips with David Tennant for four hours, and they became constipated for three days afterward. Then Colin Donnell and Thea Holland stopped by (John's children on Arrow; "I killed one and beat the other!"), and John and Colin sang "Anything Goes" When asked what established character he would like to have played, John figured it was by either Captain America or "Captain America's boyfriend." And it turned out the producers at Arrow offered the role of Malcolm to John, not thinking he'd accept it. He also talked about the Torchwood comic he'll be writing with his sister Carole for Titan, and he mentioned that there would be a story about how Captain Jack Harkness would become the Face of Boe. Personally, I always thought that Jack was having fun with the Doctor at the end of "Last Of The Time Lords." Now, one of Jack's testicles evolving into the Face of Boe? I can buy that. Anyway . . . if you have a chance to see John Barrowman up close, do it. I feel envious towards those who will be attending the Eisner Awards this month, where he'll be hosting.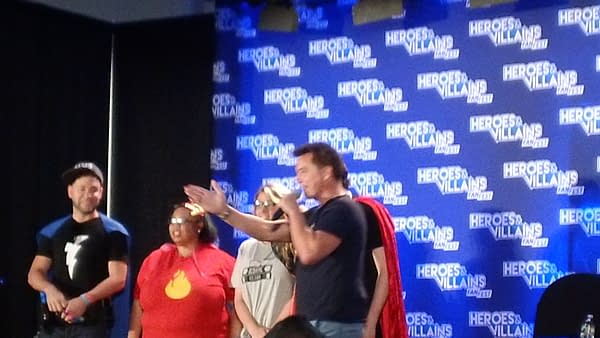 Other stuff of note:
Most of the Arrow stars had their own area. I noticed Katie Cassidy had a long line, so I'm guessing she has more fans than I would have figured. By the way . . . yes, I am aware of Previously.tv, my screenname is Lantern7, and you guys were the ones I was thinking about in regards to not liking Laurel Lance.
I bought two blind items because I'm a junkie, both made by Funko: a "Mymoji" (small ball-like figure) which turned out to be a rather cute smiling Joker, and a Katana from Suicide Squad. I offered to get Game of Thrones stuff for my mother, but she thinks I get enough tchotchkes as it is.
I brought my iPad with me. Looking up WiFi, I was happy to hook up to a way to get online . . . and then I was asked to pay $34.99 for 24 hours of access. Because I don't make that much money at my temp job and I'm so used to free service, I decided to go without for the day.
There are artists at the show, but I think most of them are content to sell prints and merch, as opposed to doing commissions. Before leaving home, I printed up references for four characters played by folks at the show. In retrospect, I might have overdone it. Luckily for me, Louie La Palombara III was in attendance. I've gotten a lot of sketches from him over the years, which is why I profiled him on my blog. I met Louie after attending the John Barrowman's panel, and I wound up getting Malcolm Merlyn from him. If I don't run into John tomorrow, I'm going to show that off to him, as well as this sketch of Captain Jack I got from Rachael Stott at NYCC last year. I'll probably e-mail those to him.