In Layman's Terms: John Layman Talks New Charlie's Angels Comic Series
Dynamite recently announced the launch of a Charlie's Angels comic series written by John Layman (Chew). The writer is known for telling compelling stories with a bit of humor. I got to talk to him about adapting the iconic '70s television series to the comic page… and of course, he answered in Layman's terms.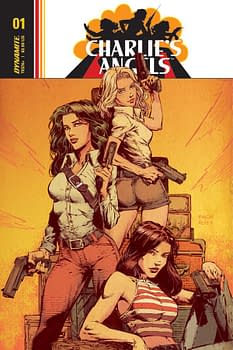 DAN WICKLINE: Charlie's Angels was a show synonymous with the late 70s. Did you grow up watching the show? What are your memories of it? And did you have that classic Farrah Fawcett red bathing suit poster on your wall?
JOHN LAYMAN: I grew up watching the show and I continue to watch the show. I have it on a loop on my VCR, and it runs daily, and nonstop. And not only do I have the Farrah poster on my wall, but I have multiple posters, plastered like wallpaper on every wall in my house. Charlie's Angels is my entire life. I've ate, slept, breathed and dreamed it nonstop since 1976. It's the only thing I care about, and the only thing I've ever cared about. It's all comic book fans are going to care about after reading this comic, too.
DW: You're writing the new comic series for Dynamite. Will this be set in the late '70s or modern day? What are the key elements from the show that you think are necessary to make the comic series work?
JL: It's classic Angels, set in the '70s. The goofy '70s, the often-sexist '70s, the pre-technological '70s, before the advent of personal computers or cell phones.
DW: Over its five-year run, the series had six different Angels: Kelly Garrett (Jaclyn Smith) was there the full time with Sabrina Duncan (Kate Jackson) and Jill Munroe (Farrah Fawcett) being the other two originals and Kris Munroe (Cheryl Ladd), Tiffany Wells (Shelly Hack) and Julie Rogers (Tanya Roberts) stepping in as replacements. Are you going with the traditional three-Angel format and which characters are you using?
JL: First season. Original angels. Kelly, Sabrina and Jill. Layman is Old School, and a Classicist.
DW: During the initial run, Jackson complained about the quality of storytelling and how they moved from "classic detective stories" to a more police procedural format. How are you approaching the new series? Will there be a main mystery over the arc or will it be individual issues? What can fans look forward to?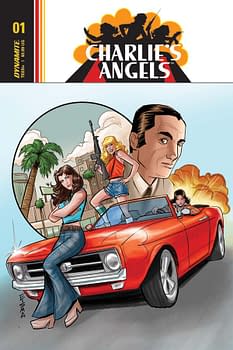 JL: TV has definitely evolved since the '70s, gotten better and smarter. There was not a lot of attention to continuity, and stories on Charlie's Angels (and indeed all shows of the period) where disposable cop-dramas-of-the-week.) This story is going to be bigger, looking at both the time period and world-events. The stakes will be higher, and there will be a mystery that takes place over the course of the mini, though each issue should be satisfying on its own. I am confident Kate Jackson will not complain about the story presented in this comic.
DW: What can you tell us about your creative process with Joe Eisma? What is it about his art that made him the right choice for the series?
JL: I writes it and Joe draws it, and Joe is a hell of an artist. In these more sensitive times, this book could have gone in a radically different direction, and I didn't want to have a boobs-and-butts artist drawing a cheesecake book. We're having fun with the time period but not exploitative fun. Charlie's Angels were always kinda ahead of their time as confident, capable female detectives, often underestimated because of their looks. These ladies are butt-kicking crime fighters, first and foremost, and will be presented as such.
DW: Since not everyone buying comics today grew up hearing the voice of Charlie Townsend on a speaker phone each week… In a sentence or two, how would you sell the series to someone who has no idea who Charlie's Angels are. Why should newcomers pick up the book?
JL: Charlie's Angels is the story of three lady detectives in the '70s who work for a detective agency led by a mysterious man who prefers to stay in the shadows. But what if the bad guys take advantage of this. If Charlie wasn't what he seemed, if Charlie wasn't Charlie, who would know, and how—and what would they do?