With the 50th anniversary of Vampirella coming next year, Dynamite Entertainment has announced the first plans leading into their year-long celebration of a comic book icon: the Vampirella: Roses for the Dead miniseries, plus the Vampirella 50th Anniversary 2019 Wall Calendar. Vampirella: Roses for the Dead, by the husband-and-wife team of writer Kristina Deak-Linsner and artist Joseph Michael Linsner (of Dawn fame) will be a four-issue series slated for June release, and brings the beloved heroine back to basics, in attitude and with classic look. In addition, the calendar, highlighting the superstar artists that have defined her look over five decades, will ship in September.
Vampirella: Roses for the Dead #1, by Linsner and Linsner, reintroduces a cunning and captivating character from the past: Evily, a practitioner of magic. First introduced in Vampirella Magazine #2 way back in 1969 and making rare but impactful appearances in the years since, Evily's reappearance in Roses for the Dead — interrupting Vampirella's hunt for a sexual predator through a Philadelphia nightclub — is the first in a shocking chain of events destined to blow the minds of longtime fans and curious newcomers alike!
"Vampirella is an iconic classic," says Kristina Deak-Linsner. "I have loved her since I was five and first saw her on the 'life-size' six-foot Warren poster. She's been through a lot since September of 1969, though! Forrest J. Ackerman launched her just fresh off the face of great social changes and massive upheaval within the era. There's the remnants of the summer of love too, and the explosion of the sexual revolution. So, much due to that climate, she's definitely a product of her time… and yet she's still timeless. It's been an honor to take her on in a feature length story."
Joseph Michael Linsner, whose previous work at Dynamite teamed the vampire heroine with his best-known creation in Dawn / Vampirella, says, "Vampirella is one of the coolest looking comic characters of all time. Designed by Frank Frazetta and Trina Robbins, you just can't beat her classic look. I'm going to be giving the art my best shot on this series. The last time I got to draw Vampi was in the crossover, which I wrote as well as drew. This time, I am only the artist, so I can focus on that. My fans know me for rendering beautiful ladies, and this series is full of them!"
Regarding that return to form, Deak-Linsner adds, "Vampi's proven again and again to be intelligent, witty, emotional, passionate, sarcastic, and primal. I have taken a mix of the classic elements of Vampirella, and put them together with a more recent focus on important events happening within the media right now. It's something that I have long wanted to explore, and while it might seem like the story is inspired by today's headlines, the seed ideas were actually in place and written back in September. I also wanted to portray her as sexy but strong, and comfortable within her own sexual identity. To me, a huge part of feminism is owning your own sexuality. Vampirella walks freely within that world. I know a lot of women, men, and transgender people who find the character very sexually empowering. I certainly think that the fans will enjoy that she's back in her classic outfit. Without her classic red one-piece, it's like heavy metal music without guitars! It is what it is, and the people who really love it embrace it for that reason. That said, she needs a story with some substance and I would like to think that we have seriously attempted to do that. I certainly hope the fans embrace it."
Vampirella: Roses for the Dead #1 will be available with two variant covers: Cover A by series artist Joseph Michael Linsner, and Cover B by industry legend Billy Tucci (Shi, Heroes for Hire, Sgt. Rock). Vampirella: Roses for the Dead #1 and the Vampirella 50th Anniversary 2019 Wall Calendar will be solicited in the April 2018 Previews catalog for a June release.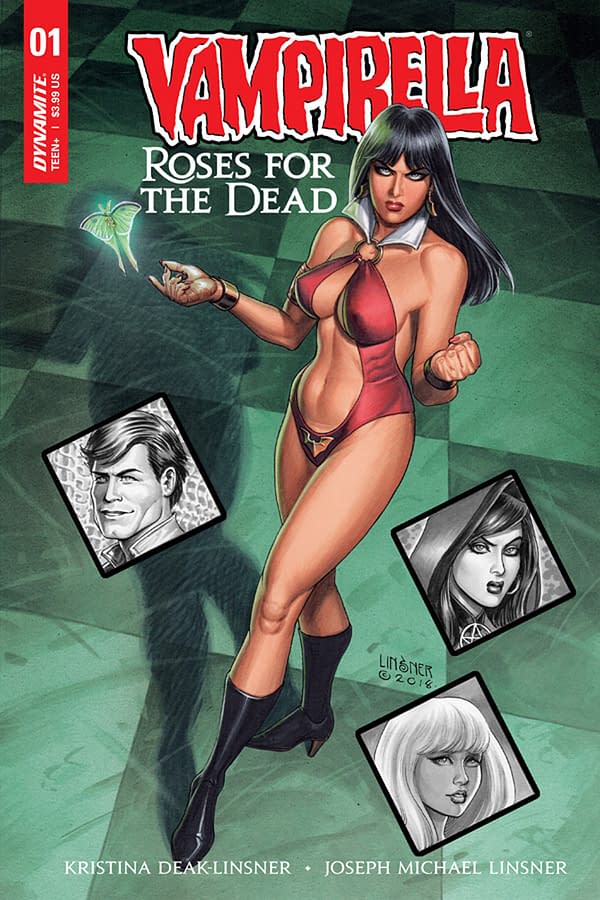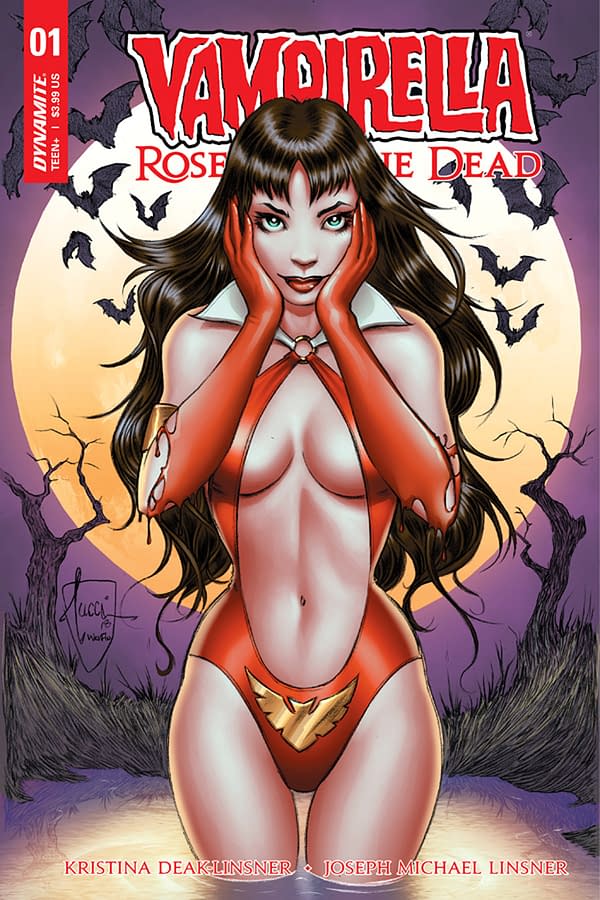 Enjoyed this article? Share it!