Justice League #36
{{ reviewsOverall }} / 10
Users
(0 votes)
Summary
Writer: Christopher Priest, Artist: Pete Woods, Letters: Willie Schu, Cover by: Pete Woods, Variant Cover by: Nick Bradshaw and Alex Sinclair, Editor: Brian Cunningham, Associate Editor: Rebecca Taylor, Superman created by Jerry Siegel and Joe Shuster, By Special Arrangement with the Jerry Siegel family, Publisher: DC Comics, Release Date: Out Now, Price: $2.99
The Justice League is being put under a magnifying glass by both the public and the government in light of the recent viral video of Batman and Wonder Woman failing to save the life of the nun taken hostage by terrorists. This has been exacerbated by the man masquerading as Batman who has been killing people publicly critical of the League.
On top of this, an American submarine has been found in Chinese waters, and Aquaman is very eager to have it removed. However, this violates the Justice League charter and is subject to Chinese sovereignty regarding how the situation should be resolved.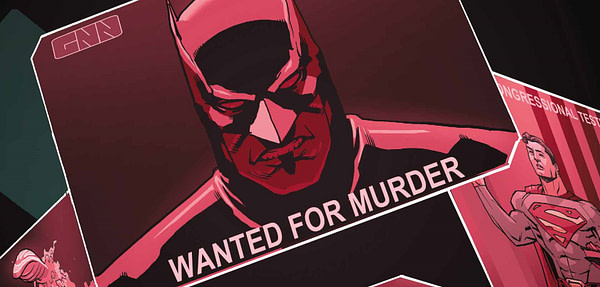 Christopher Priest is flipping the Justice League table in rapid and spectacular fashion. In a similar manner to how he approached Marvel Knights: Black Panther, Priest is very interested in how the Justice League would and could function given the modern political climate and global and national discourse.
It's actually quite easy to criticize the formula and premise of superhero comics; there are a lot of components to the basic functions of the universes of the Big Two that would just not work in reality. Analyzing those components and less obvious ones in an intelligent and fresh manner? That's quite difficult, but Priest more than accomplishes that with this comic.
Many elements writ large in this comic have been bubbling in recent issues, but this comic turns subtext into big, bold-lettered text in one fell swoop. As is often the case with Priest, the pacing is impeccable. He manages to get a lot of ideas delivered very quickly but spaced apart well enough that you don't feel overloaded. Plus, every inch of it feels very delicately crafted and deliberate. He also has the characters play off of each other spectacularly. He really shows a thorough understanding of these individuals.
I'm going to tilt my hand and say that I'm in love with this issue of Justice League and how Priest and company went about this comic. It is very Watchmen-like, as Rich Johnston said in his article on the subject. It also has elements of Marvel's original Civil War tale: The Justice League has infighting between Wonder Woman, and Batman, and Nightwing speaks of how the government will be coming after superheroes soon.
One of my concerns about how this comic will be perceived is how much of it feels like direct counterprogramming to Rebirth and everything DC is trying to do right now. Sure, Batman #38 and Dark Nights: Metal are bleak titles, but the main DC initiative is to be the light in the darkness right now.  On top of that, Justice League just had a movie come out, which DC did some 11th-hour editing in order to be less bleak. Despite this, this comic shines a highly critical light on the team, and I'm not sure the League has been this scrutinized by its own comic before.
I'm not sure how you follow this one up, either. It shatters the League, and the story seems far from over. I'm a little worried, because I've seen brilliant stories like this before challenge the believed limits of their medium only to double-back with an all-too conventional ending. However, let's assume Priest goes all the way. How do you follow this up? Do you set up another lineup? Or do you just drop the mic, walk away, and let the next writer deal with it?
Federal inquiries, a murderous Batman copycat, Wonder Woman's barely subdued fury, Aquaman disobeying international law, and growing public distrust — this is all from a single miscalculation, a single mistake made from an Batman. People are far from perfect, and we make mistakes all the time. From that one slight detail, this story has exploded. Again, Priest is taking a hatchet to the Big Two formula, and I continue to wonder where we go from here. It really is his Watchmen.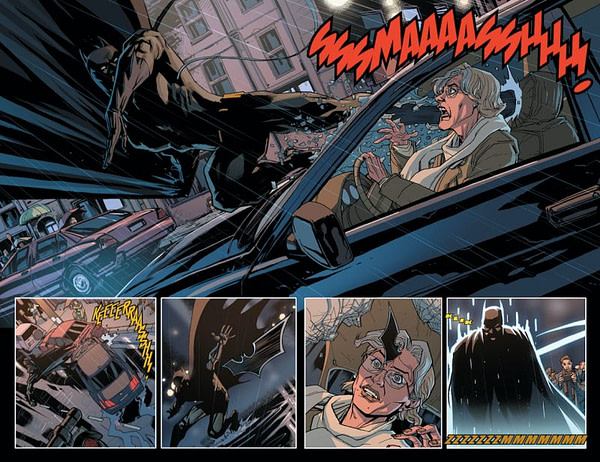 God bless Pete Woods for going along for this ride. His art remains great, and he captures every unsure expression and fearful moment of this epic. His color work is great, too, and he keeps up with every batshit idea Priest puts out with aplomb.
Of course I recommend this. Justice League #36 is one of the most insanely daring comics to come out of the Big Two in years. It's brilliant, unnerving, and insanely compelling all at the same time. You need to read this. If you like superheroes and wonder what their limits are, this is the encyclopedia of their limits. Give it a read.
What people say... Leave your rating
Order by:
Be the first to leave a review.
Show more