Justice League #7 Advance Review: An Absolute Blast
[rwp-review-recap id="0"]
Hawkgirl has ambushed Lex Luthor before he could reach the Totality. Meanwhile, John Stewart stands alone between Sinestro and the Earth. Sinestro's Ultraviolet Corps and Umbrax are on the brink of consuming the planet…or destroying it. Superman hopes to hold Umbrax back, but he's not at full power. The Flash attempts to tap into the Still Force, but Black Manta, Cheetah, and Gorilla Grodd aim to kill him before he can. Aquaman and Wonder Woman are Barry's first and only line of defense.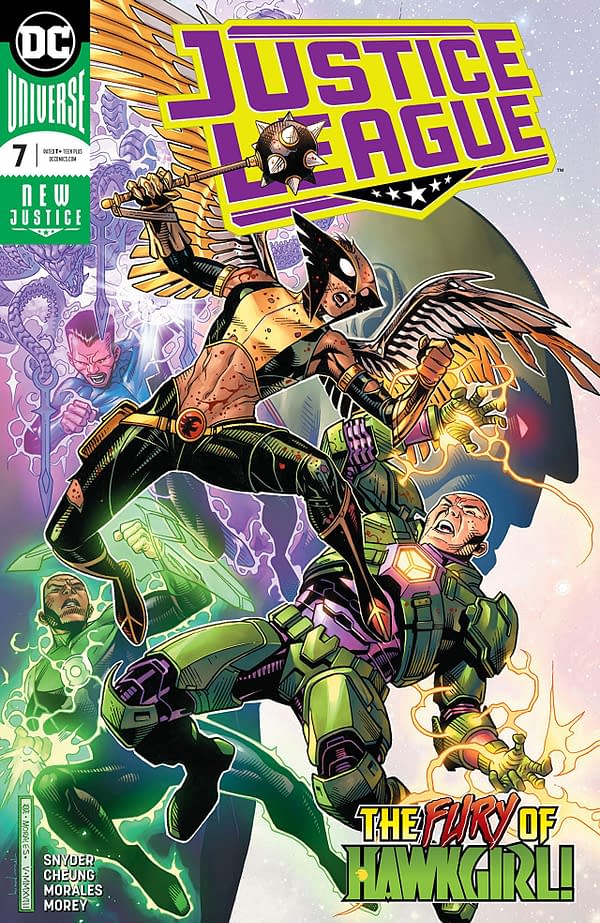 Justice League #7 brings the climax to this first story arc of Scott Snyder's book. Everything is on the line as the League stands against the Legion of Doom and their machinations.
It's an exciting read and puts Hawkgirl more in the spotlight than she has been so far in this series, which I greatly appreciate.
As far as what the Totality is…that is still a mystery after this issue. Martian Manhunter gets a lengthy monologue about it near the end of the book, but it doesn't really tell us anything about what it is.
There is more good banter to make this team feel more like a team. The Batman impressions are back, and the team bonds and buries past grudges. I like this close-knit team, and more team books could take notes from that approach.
Jim Cheung is back for another issue, and his work is very welcome. Justice League #7 us gorgeous, with imposing and epic figures, the unique and defined facial structures that Cheung specializes in, and the impactful fight scenes. Cheung, Mark Morales, and Walden Wong provide stellar inking, and Tomeu Morey's color work is expertly-balanced and vibrant.
Justice League #7 is another absolute blast of an issue from this impressive run on the title. Snyder is pulling out all the stops, and the book is consistently staffed with talented artists to boot. This is easily among DC's best titles of the moment, and this issue earns a strong recommendation. Give it a read tomorrow.
[rwp-review-ratings id="0"]
[rwp-review-form id="0"]