'Low' #21: Stel Caine Keeps Hope Alive in a Cell (REVIEW)
[rwp_box_recap id="0"]
Low is winding down its run with Image Comics, and issue #21 is the second installment in the seven-part finale.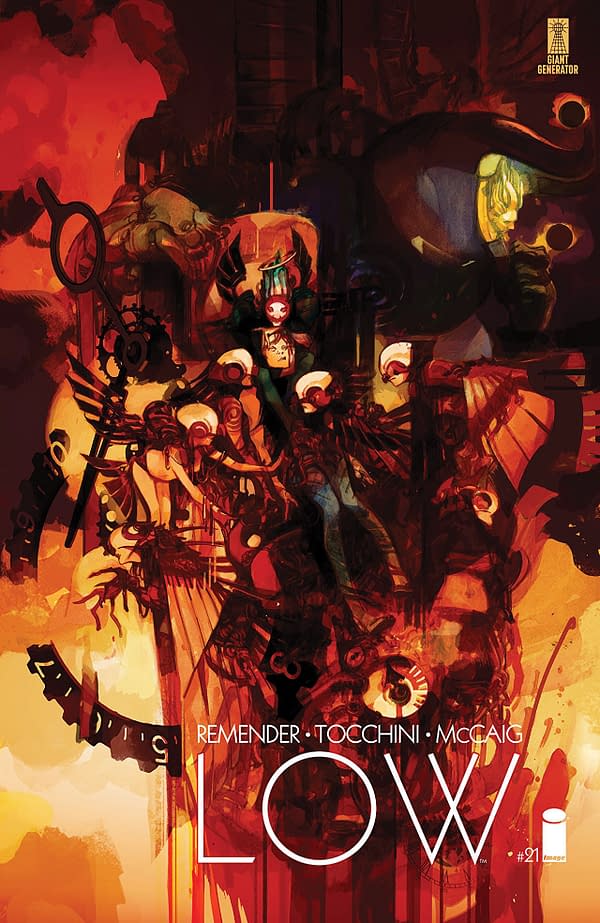 Stel has been captured by the Burnt, the remnants of the human race that managed to stay alive on the surface of the earth when most of humanity fled to live beneath the seas.
She's been put on exhibit with Zem, a hulking slab of manliness. The two of them are taunted by children, prodded by scientists, but generally live comfortably.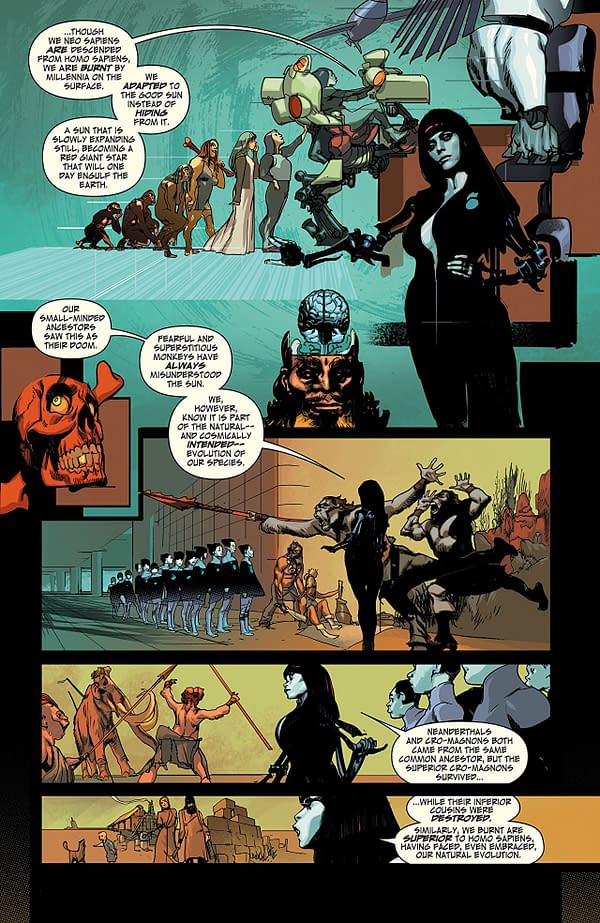 Still, a cage will always be a cage, no matter how comfortable.
Zem is bored out of his head. Stel, the eternal optimist, thinks she might be able to escape her confines at some point.
Little does Stel know, though, that something about her has changed- something that could hold dire ramifications for her and Zem in the future.
Rick Remender's scripting in Low is fantastic- Every character fully fleshed out, full of life, and populating a world completely unlike any I have ever seen, in a comic book or otherwise. The politics of the surface dwelling Burnt, with their scientists, bureaucrats, and soldiers, is staggeringly fleshed out.
Greg Tocchini's art is breathtaking- the world of Low is simply stunning to look at, especially the evolved alien-ness of the Burnt. These are the neo-sapiens, the next evolutionary step in our development as a species, and they are amazing, from their clothing, cities, and giant machines.
Even the exhibit that Stel and Zem are confined in is breathtaking, and it's all brought to eye-popping life with Andrew Robinson's amazing color work. I know I'm gushing, but I can't help it- Low is a gorgeous bit of sci-fi, and absolutely wonderful to wander through.
Towards the end of this issue, we get to see what the military of the Burnt looks like. It's terrifying. I'm enthralled.
Although Low is only 27 pages of material, it's a pretty intense read. There's a lot more story crammed into Low's 27 pages than comics twice this size, so you definitely get a lot of entertainment for your four bucks!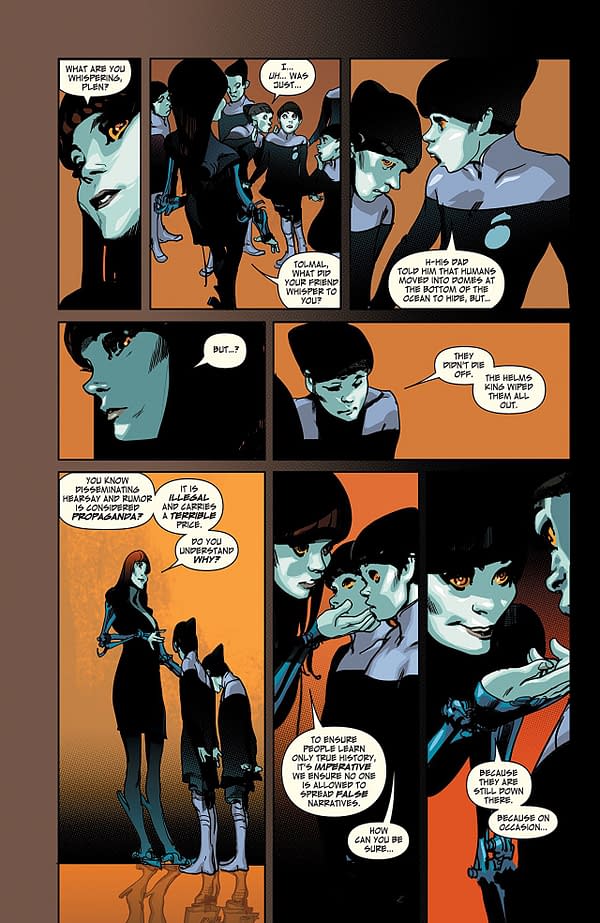 This is absolutely for mature audiences, and not just for the nudity. The themes presented in Low are pretty sophisticated. Recommended for fans of post-apocalyptic fiction, strong female characters, and jaw-dropping art.
Unfortunately, this would be a really hard book to just jump into. There's a lot of history covered in Low's 21 issues, and it would be easy to get lost trying to sort out who is who. The first few graphic novels shouldn't be too hard to track down at your local comic shop, and if they don't have it, you could probably order it or get them all on Comixology.
SUMMARY: Script: Rick Remender; Art: Greg Tocchini; Colors: Andrew Robinson; Letters: Rus Wooton; Editor: Sebastian Girner; Publisher: Image Comics; Release Date: April 10, 2019; Cover Price: $3.99; 27 pages.
[rwp-review-ratings id="0"]
[rwp-review-form id="0"]