If you've been wanting to pick up a whole crapload of the comic books and graphic novels published by BOOM! Studios, but couldn't possibly imagine spending more than $15 in total, then boy have we got a story for you! The latest Humble Bundle is called the Summer Reading List, and it's spotlighting over $492 worth of BOOM! comics. Check it out:
HUMBLE BOOK BUNDLE: SUMMER READING LIST BY BOOM! STUDIOS
Summer will be bright with this comic bundle from BOOM! Studios. Get Lumberjanes, Joyride, The Cloud, Mouse Guard, and lots more comics to take you on a glorious reading vacation.
Here's what you get for just one buck, the price of 1/4 of a regular comic book: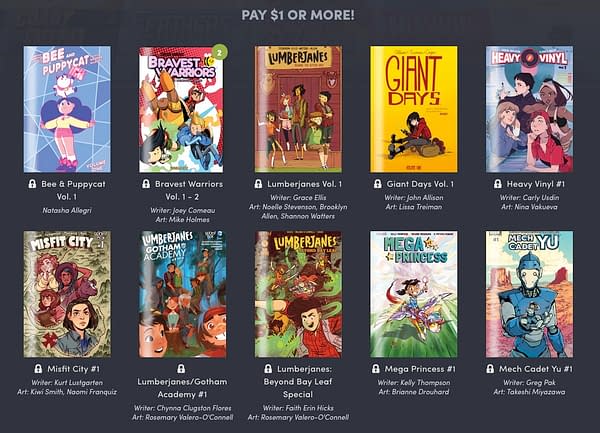 And for eight duckets, you can add:
Oh, a big spender, are you? Well, for just $15 clams, you can get your digital hands on these books as well:
The featured charity is RAINN (Rape, Abuse & Incest National Network). If you want in, you've got just under two weeks to head over to the website and get it.
Enjoyed this article? Share it!