Mighty Morphin Power Rangers/Teenage Mutant Ninja Turtles #1 Second Printing 'Thank You' Variant Selling For Up to $65
It was only a few years ago that Boom Studios launched Mighty Morphin Power Rangers #1 to sales of over 100,000 units, one of the last independent comics launches to do so and the only one that outsold every Marvel comic published in the same month. And the series has continued to be hot, with issue #25 selling over 800 copies in 15 minutes.
So once Boom announced Mighty Morphin Power Rangers/Teenage Mutant Ninja Turtles #1 launching in December 2019, we knew it would be hot – and that was confirmed at NYCC, when a preview issue of the crossover became one of the hottest exclusives of the show, though their rival Image Comics would ask me to point out that Spawn #300 took home the crown.
But with the second printing of MMPR/TMNT #1 hitting stores this week, it looks like Boom's teenagers with attitude are still a huge draw for speculators, with high sales at $65 for the one per store variant and the 1:10 clocking in close behind at $55.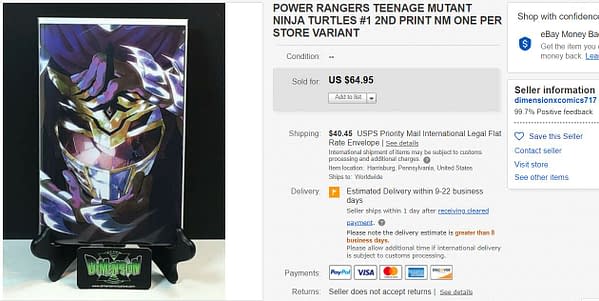 There are definitely some deals being made at lower prices for both the former and the latter, but I've heard that these covers might be the rarest released in the series so far – perhaps even moreso than the thus-far-overlooked black and white homage edition.
But does Boom have more surprises in store for their fast-tracked third printing, which is going to be even rarer than the second printing?
Based on the ending to MMPR/TMNT #3 this week, it looks like we'll get the first appearance of the Ninja Turtles as Power Rangers in March's MMPR/TMNT #4… which will send fans of both Rangers and Turtles back to comic shops looking for the whole series.
But will there be enough copies for fans of both big 90s franchises? The answer is, of course, yes, as we know Boom has never shied away from putting out new printings for readers but as retailer orders get smaller (and therefore rarer)…will speculators drive the prices even higher for these earlier printings?