Mile High Pedigree Planet Comics Run Coming To ComicConnect Event Auction Beginning November 12
Fiction House title Planet Comics has long been considered one of the most collectible titles of the Golden Age. The combination of hard-charging and inventive science fiction, compelling characters, good girl art, strong heroes and heroines, strange creatures on other planets, and overall outstanding execution by a cast of stand-out creators like Lily Renée, Marcia Snyder, Ruth Atkinson, Frances Hopper, Murphy Anderson, Matt Baker, Nick Cardy, Joe Doolin, Graham Ingels, George Evans, Ruben Moreira, John Cullen Murphy, George Tuska, and Maurice Whitman has kept it in the hearts and minds of readers, collectors, historians, and anyone who loves classic American science fiction since it was published.
With DC Comics' Wonder Woman gaining the wider attention that the character deserves, it should be noted that the Fiction House line — which featured heroic women from Sheena to Mysta of the Moon, and many more — has a very direct common influence with the Wonder Woman character. Jack Byrne, an editor of Fiction House, was Olive Byrne's brother — who was one of Wonder Woman creator William Moulton Marston's wives. Both of the Byrne siblings were strongly influenced by their aunt, Margaret Sanger. Sanger, along with Jack and Olive's mother Ethel Byrne, were both important feminists of their era. The meaning of the iconography of Wonder Woman and numerous Planet Comics characters is beyond the scope of this post, suffice it to say that the presentation of this combination of strength, beauty, and yes, sexy overtones was a purposeful extension of the influence of Sanger's philosophy on these characters. Anyone with an interest in Wonder Woman should take a look at Planet Comics and other Fiction House titles.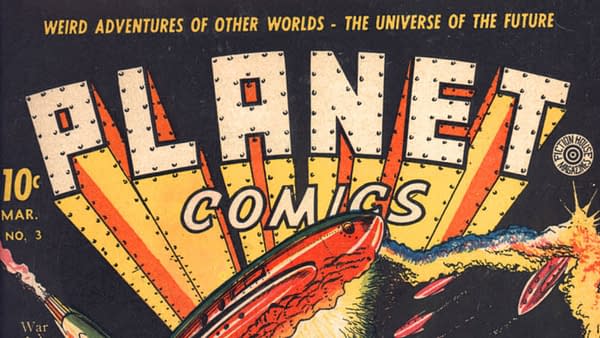 ComicConnect will be offering a rather astounding run of the series from the sought-after Mile High Pedigree assembled by Edgar Church in their upcoming Event Auction, which begins November 12. ComicConnect will be accepting consignments for their first Event Auction of 2019 while previewing choice selections from their December auction including some of these Planet Comics at their NYCC booth this weekend, Booth #2630.
But you can see pics of a whole bunch of them right here, right now on Bleeding Cool. Check out the gallery below — this is the run that defined comic book science fiction.

Affiliates of Bleeding Cool buy from and/or consign to ComicConnect.