Nightwing #38 Review: Making the Judge a Compelling Villain
[rwp-review-recap id="0"]
The Judge enlists the League of Limousine Assassins for his security, as Nightwing follows his next lead back to Guppy. After that, he calls up Lucy to learn which casino the Judge is holed up inside. She tells him, but it's locked up like a fortress. As such, Dick Grayson must find a creative way in.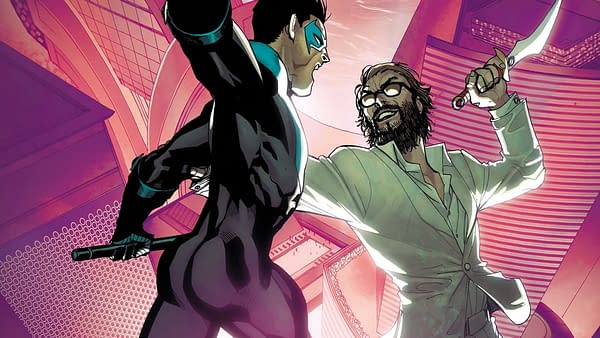 The Judge continues to form as an interesting villain with this issue of Nightwing. We get to learn more of his ethos inside intimidating bad guy speeches. Dick also shows more humanity towards Guppy, which adds a lot after the last time they ran across one another. Dick was a bit of — well, a dick, to Guppy the last time he found the put-upon fish-man. This makes up for it somewhat.
That scene was heavy on the emotion for a lot of other reasons, too, but that would be wandering into spoiler territory unnecessarily.
There's another especially glorious scene that I've already talked about in a different article, but you'll have to read it for more information on that.
The comic ramps up the tension in its second half as Nightwing closes in on the Judge. Sam Humphries has made a genuinely unnerving villain with the Judge, and it's really coalescing as "The Untouchable" moves onwards. It will also make it all the more satisfying when Nightwing beats the tar out of this guy.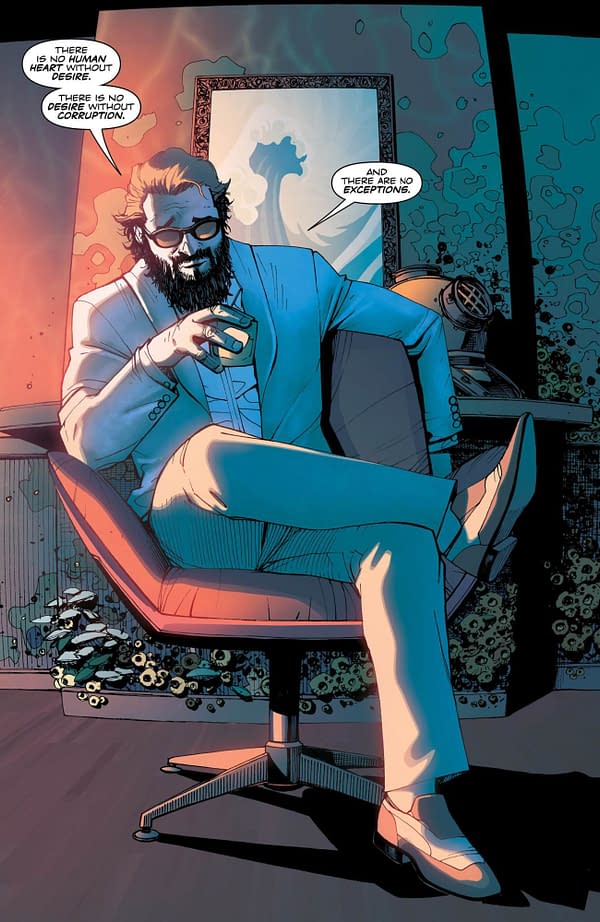 Bernard Chang's artwork continues to create a sleek and high-tech vibe matching the glitz and glamour of Bludhaven. He was a fantastic choice for Nightwing, and that becomes more apparent with every issue. His inkwork accentuates this feeling with its added weight to the shading. Marcelo Maiolo uses neon-heavy color palette that further adds to the pseudo cyber-punk environment.
Nightwing #38 continues the steady rhythm Humphries is getting into with Dick Grayson's comic. Each issue gets better and better, and hopefully that trend will continue. This comic gets a recommendation. Pick it up.
[rwp-review-ratings id="0"]
[rwp-review-form id="0"]