Nightwing #42 Review: Dick Grayson Becomes Bruce Lee
[rwp-review-recap id="0"]
Nightwing arrives in Tokyo to fight a gang calling themselves the Crimson Kabuki. They have kidnapped Robin, and, to save the captive sidekick, Dick must fight through the tower of warriors and their leader. The leader of the Crimson Kabuki claims to be powered by the blood of a dragon. Can Nightwing save his brother?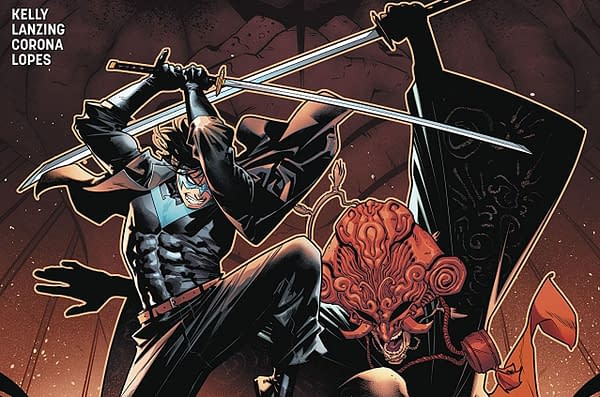 Nightwing #42 wears its Game of Death inspiration on its sleeve in bold and brightly-colored letters. It does so to the point of referencing both it and Bruce Lee many times.
That said, many genres have done their version of Game of Death and seeing Dick Grayson go through the motions isn't unpleasant. He has his own way of handling the situation, and his one-liners are solid throughout.
There is a narration that follows Dick throughout the comic, and the revelation of who is saying it is a cute finale to the issue.
The fight scenes and gimmicks of each of the warriors aren't wholly original. There's a dancer, a drummer, and a dude absolutely loaded with weapons. The leader isn't given that much depth, even if the comic makes vague gestures in the direction of making him a supervillain.
Also, I'm not sure if the dragon is real or not. It moves, but it is treated like a set piece at other times. Damian might have a pet dragon at the end of this comic. This needs to be followed up on by a title called "Robin and his Dragon." I'd read it.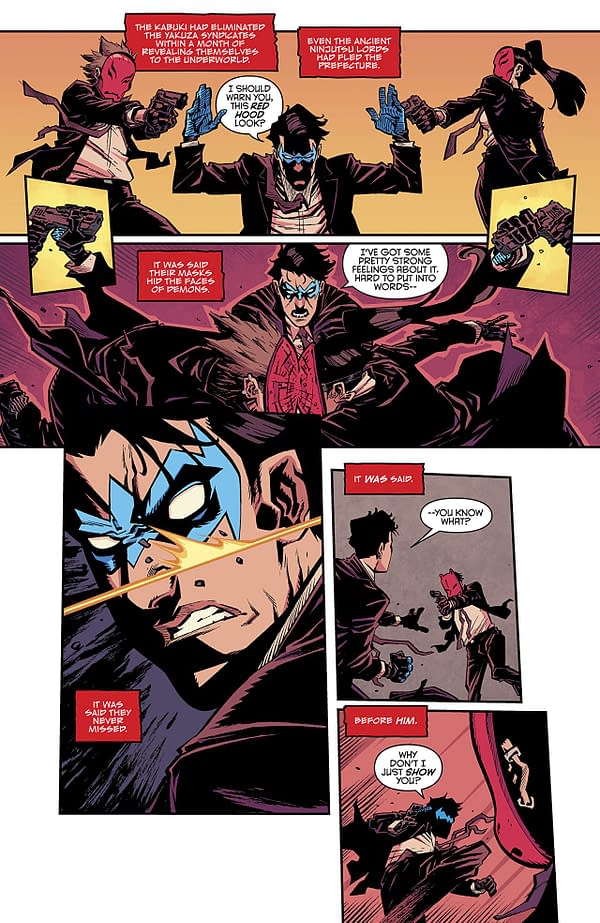 Jorge Corona brings a rough and stylized aesthetic to this issue which fits the Game of Death theme very well. The comic often resembles Samurai Jack in both style and set-dressing, and that's a great inspiration to draw upon for a book like this. The all-important action scenes look great, are creative, and flow well. Mat Lopes' color work is paler and more-washed out, which jives well with the art and narrative.
Nightwing #42 is a fun and gimmicky one-off comic with a light heart, great action, and enjoyable one-liners. With a solid understanding of its inspiration and solid artwork from Corona and Lopes, this one earns a recommendation. Check it out.
[rwp-review-ratings id="0"]
[rwp-review-form id="0"]