Which September and October DC Comics Will be Year Of The Villain?
At the Diamond Retail Summit, DC Comics has been laying out their event plans for the rest of the year and in 2020… with these presentation slides showing how Batman Who Laughs' final seventh issue will lead right into Batman/Superman and beyond.
How DC's Year Of The Villain will continue up to the end of 2019 but then also into 2020…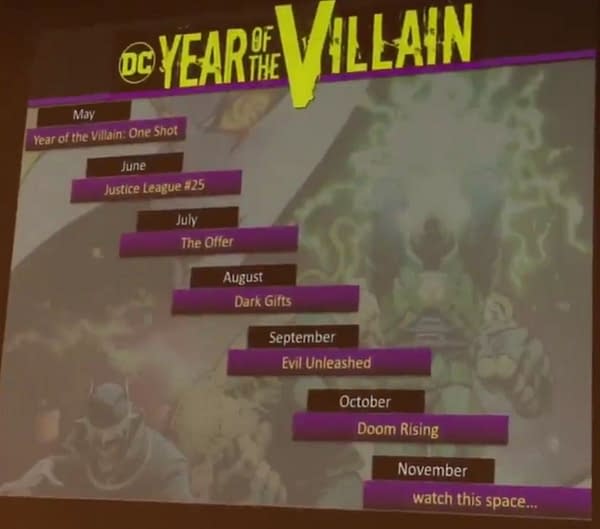 And giving us a quick look at which of the regular titles will be tying into the storyline in which month… with September's Evil Unleashed…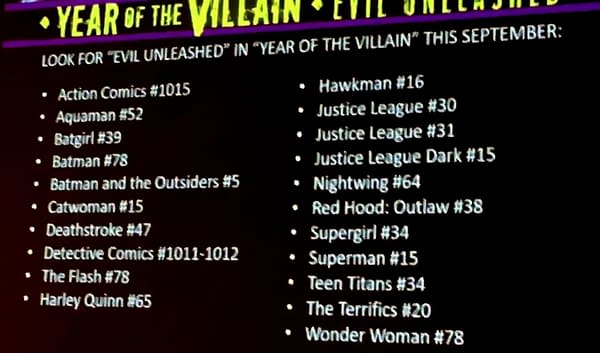 Action Comics #1015
Aquaman #52
Batgirl #39
Batman #78
Batman and the Outsiders #5
Catwoman #15
Deathstroke #47
Detective Comics #1011-1012
The Flash #78
Harley Quinn #65
Hawkman #16
Justice League #30-31
Justice League Dark #15
Nightwing #64
Red Hood Outlaw #38
Supergirl #34
Superman #15
Teen Titans #34
The Terrifics #20
Wonder Woman #78
And October's Doom Rising.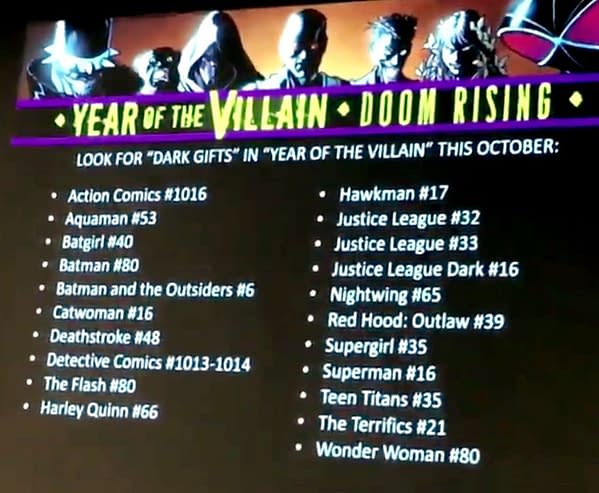 Action Comics #1016
Aquaman #53
Batgirl#40
Batman #80
Batman and the Outsiders #6
Catwoman #16
Deathstroke #48
Detective Comics #1013-1014
The Flash #80
Harley Quinn #66
Hawkman #17
Justice League #32-33
Justice League Dark #16
Nightwing #65
Red Hood Outlaw #39
Supergirl #35
Superman #16
Teen Titans #35
The Terrifics #21
Wonder Woman #80
Handy if you want to make a checklist – they did want to emphasise that reading and enjoying Year Of The Villain is not dependent on reading all the crossovers…
Announced at the Diamond Retail Summit in Las Vegas, check out the rest of our coverage with this tag. And courtesy of Dennis Barger of Wonderworld Comics, Michigan.