 At Brighton International Comic Expo this weekend, Jim Stewart was proud to debut the latest cannabis-themed anthology comic magazine, Ganjaman Presents, the first issue of which was published in 2008. The series so far has published the work of Gilbert Shelton, Hunt Emerson, Bryan Talbot, and plenty more. But the newly launched issue has quite a coup in that they have a cover strip written by Judge Dredd's John Wagner, titled Judge Dreadz, drawn by Ganjaman's Jim Stewart himself. And arresting a couple of killjoys on the front cover, painted by Alex Ronald. He's not the only Judge Dredder in the comic — Alan Grant writes an episode of the Astounding Ganjaman, also drawn by Stewart. The highlight for me, however, was an insanely beautiful Pilgrim strip by Hunt Emerson exploring the dangerous dreams that can come from mixing your weed with other local plants. Coloured by Stewart, it's an astounding example of comic book art in and of itself. Previous issues of the magazine have been reprinted and all four copies are available. Any interested retailers can email Stewart at Jimstewart65@gmail.com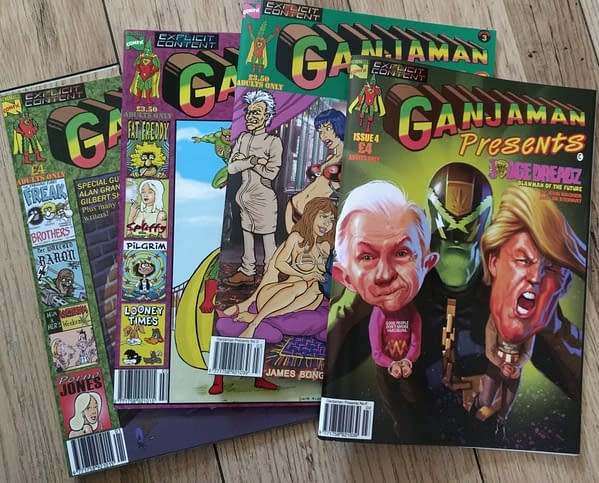 Enjoyed this article? Share it!