Stronghold Vol 2 by Brian Visaggio, Kevin Roberts, Zakk Saam, Heather Antos closes June 4.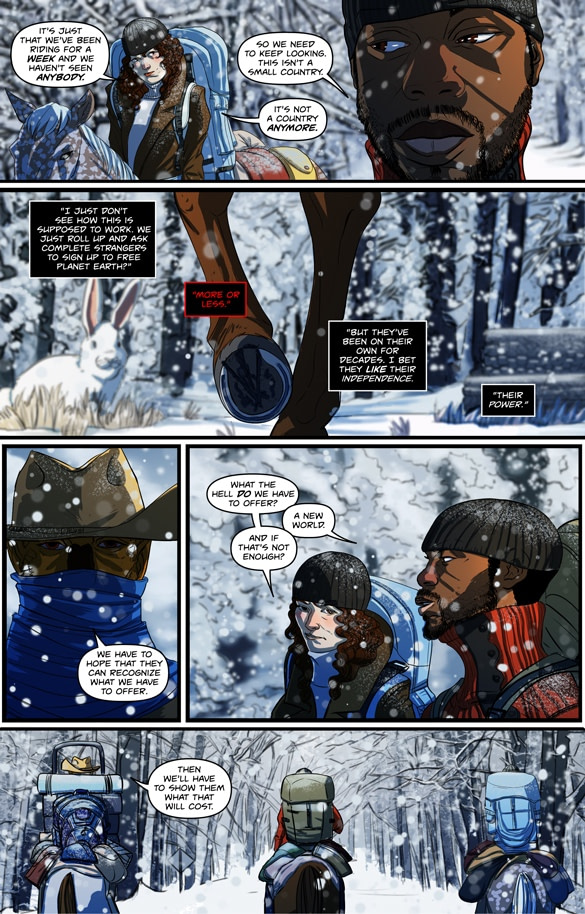 Brian Visaggio writes,
Power Rangers for Grown-Ups.
That was always the pitch for Stronghold. We wanted to take this thing we loved in our childhoods and turn it into something we could respect. Kevin and I mined the series, trying to find the things that made it what it was, what made it something special to us. And in the end, I am not entirely sure we were successful. Stronghold ended up something else entirely.
We got the basics, all right. The power suits. The giant robots. The alien threat. The mentor who took a group of unready, untried people and gave the, immense power and responsibility. But what makes Power Rangers itself is it's madcap sense of fun. It's refusal to take itself too seriously. Really, any adult Power Rangers would need more Psych and less Battlestar Galactica.
But I think we succeeded at making Stronghold something special all on its own.
Last year, Kevin Roberts and I were able to successfully fund the first collected volume on Kickstarter, and we're excited to be trying again this time. In the year since our last campaign, we've put out three more issues (which is what we're collecting here, so the work is already done) and I've managed to fund Andrew Jackson in Space, which will be at press shortly. Kevin and I both have other projects in the works, but Stronghold is our home.
The basic idea is that, rather than rending off an alien invasion, the war is over. The Earth's been conquered for twenty years. Our heroes are a group of half-assed terrorists who fell backwards into powers they aren't equipped to deal with suddenly tasked with saving the world.
It doesn't go well.
There's not much of our original source material in there. But instead, you've got a moody, slow-burn story of rivalries, jealousies, and intrigues, where everyone is trying to prove something, and nobody has anything left to lose. Everyone's a loose cannon. Everyone has an agenda. And a bunch of them happen to have the power to transform into superpowered armored space ninjas.
Written by myself, Brian Visaggio (Andrew Jackson in Space, Unlawful Good), and with art by Kevin Roberts (Unlawful Good), Stronghold Vol. 2: The Dead will feature 72 comic pages alongside a cover and art gallery featuring artists such as Stanley Chou, Jason Smith, Richie Pope, Nathan Nelson, and Eric Pfeiffer. Featuring edits by Marvel Comics' Heather Antos (she's the one responsible for Unlawful Good and works on every Star Wars book alongside Deadpool), with letters by Zakk Saam.
https://www.kickstarter.com/projects/740997472/stronghold-volume-2
Twitter:
@BrianVisaggio
@kemiroart
@HeatherAntos
@ZakkSaam