Real Life Superhero BeeSting Charged With Assault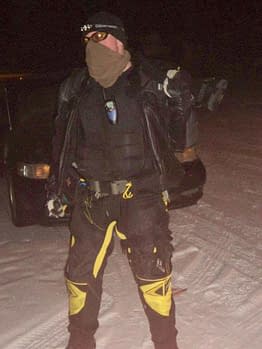 Real Life Superhero BeeSting has been charged on two counts, felonious assault and wearing body armor during the commission of a violent crime.
Early this week, Adam Besso in his BeeSting identity, took on a man in a trailer park in Stirling Heights who, apparently, had a loud motorcycle. That was his crime.
There was a confronttation between the two, a scuffle, and BeeSting's shotgun went off, hitting a (thankfully) empty trailer.
Besso has been bailed for $80,000. He was described as "wearing a tactical belt with pepper spray, handcuffs and scissors."
Felow real life superheroes are meeting to expel him from their group, the Michigan Protectors, over his decision to carry a gun.
Joshua Lowery, better known as Arsenal is quoted as saying "We don't want to be considered vigilantes as much as we want to be considered (to be) helping others."
BeeSting's website entry describes him with the following attributes.
Attributes/Training: Motivational, Direct, and Deliberate. Combat Veteran (Combat Arms), Combat Lifesaver, Advanced first aid/CPR, Jujitsu. Military occupational specialties in Urban warfare, counter insurgency, military police procedures (including detainee operations), communications, aircraft and vehicle maintenance. Situational awareness, disaster mitigation and disaster scene management.


Gear: Level 4 bulletproof vest, armored jacket/pants/gloves. Pepper spray, dropleg holster with sidearm, tonfa, handcuffs, first aid trauma kit, video camera, flashlight.

BeeSting spent years training and operating in the defense of his fellow brothers-in-arms. After recovering from his injuries following his deployment to Iraq, and a little soul-searching, he realized that the person he had become was not for his own personal benefit, but for the benefit of others. Taking on a modified Army Cavalry logo, and a utilitarian-based "costume", he now helps others to set up their own neighborhood crime watches in some of the most dangerous neighborhoods in the country.