 From the Star Trek New Visions #5 fumetti by John Byrne, out today. Aw man…. When I reviewed Nameless #1, I called it "Sandman meets Armageddon". Got pullquoted and everything Well Grant Morrison appears to have a different perspective…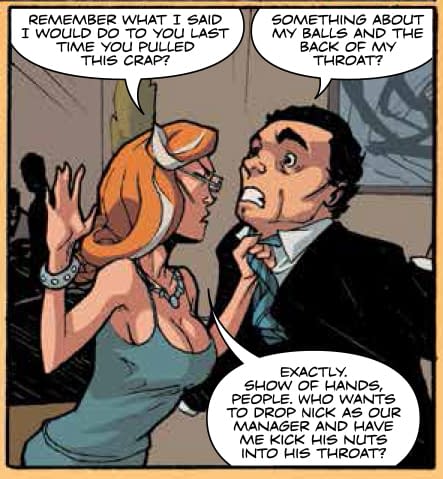 The Big Con Job #1 launches, as ex-Newsarama founder Matt Brady get a few things out of his system regarding comic book executives… But while Con Job is all talk, Day Men #6 shows exactly how it's done. Cluster #2 remembers it wrong – it's never the kids who play the quiet game of their own volition…. still, it avoids a naughty word! Ant Man Prelude reminds us there was a new Agents of SHIELD last night… as well as tying in the film to all that "Hail Hydra" stuff.
We may have an elderly Rocket Raccoon, but not so elderly that he can't pull Bufy The Vampire Slayer references out at a second's notice. And remembers happier, long ago days… Art Adams gives us an issue of Guardians Of The Galaxy Team Up... and the reason why Spider-Woman isn't going to want to be part of that any more… …and also get a costume change in her own title. I do think Spider-Woman may be signalling her moves a little here though. Still everyone seems to be looking at people's bits today, it seems. We mentioned that from Grayson last night…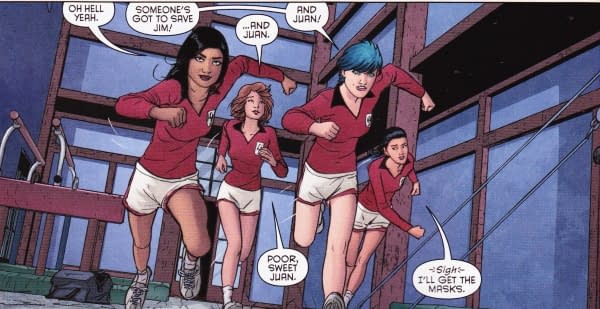 …and it continues today. They're talking about his buttocks, folks.
Does it ever? Stjepan Sejic joining Rat Queens hands us a lesson that, probably, can be applied to many aspects of life. Remember that webcomic that got taken down for "appropriation" of Japanese culture? I wonder what the hell they'll make of today's Crossed: Badlands… Big Man Plans, with the gorgeous Eric Powell's work singing off each page, sees him challenge the throne of "The next Will Eisner" from Dave Sim…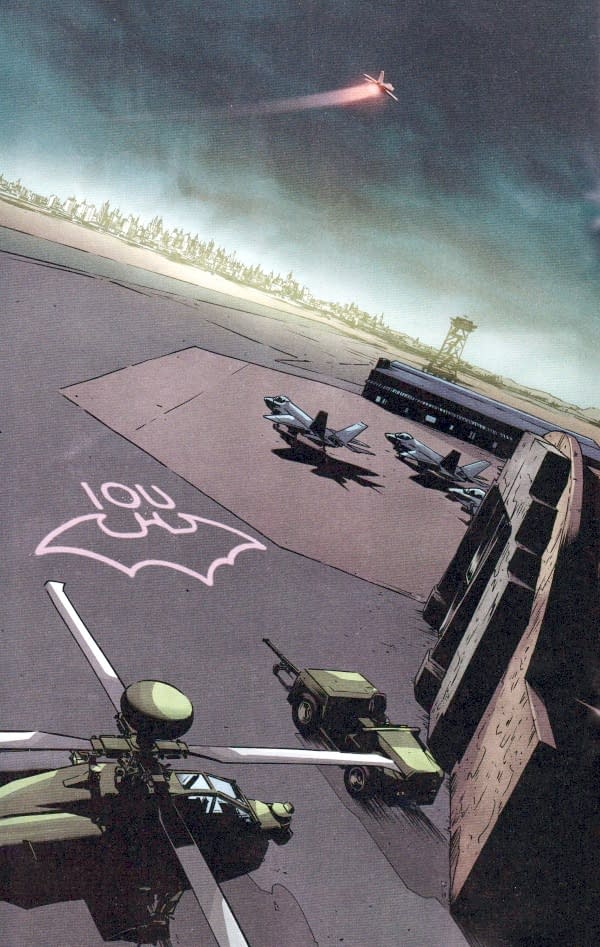 While in Batman Eternal, Bruce comes up with a novel way to get a flight. I am totally trying that with British Airways this San Diego. Also, he'd make a mean BatBansky. Earth 2 gives us all the Tomb Raider references we've been missing… While Earth 2: Worlds End is a little less verbose. Batman Sr. should make T-shirts for Hot Topic. Imperium #2 launches a new religious movement. I think confirmation services may get a little messy as a result.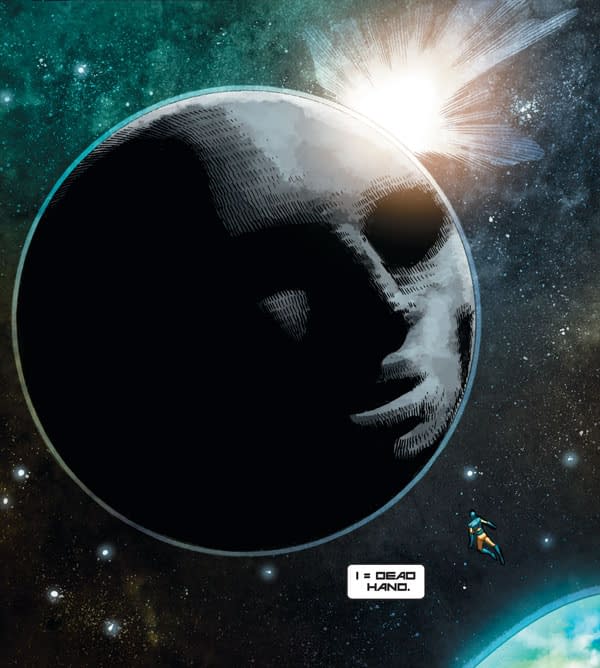 Location, location, location… X-O Manowar #34 showcases the holiday home choice du jour. A place in the sun, or would you prefer a little nostril shade?
While Uber shows off a very attractive Antwerp under the pen of Daniel Gete. Terrible shame if something were to happen to it…
Something happens to it. I get the feeling that the angels, from Angela: Asgard's Assassin aren't doing a Simon And Garfunkel cover version. It doesn't sound quite as commercial, though I'm sure there is an audience.

All-New Hawkeye #1 may be published well before the final issues of All-Old Hawkeye, but you'd be hard pressed to see a dramatic style change, in writing or much of the art – though some of the transition scenes between art styles, memories and realities crashing together but separating two worlds gives you the idea that this Hawkeye aims to be as challenging as the Fraction/Aja iteration.



While Saga looks at the physical issues of giving head when you have a television screen for a head. I mean, seriously, that's got to smart, right? Such a lot to live up to in such a big name, in Powerpuff Girls Super Smash Up #2. I am in total empathy for the dog right now. Monster Motors The curse of Minivan Helsing #1 More Than Meets The Eye #38 Transformers #38 gives us Zombies Vs. Robots… hey, I thought that was another book from IDW?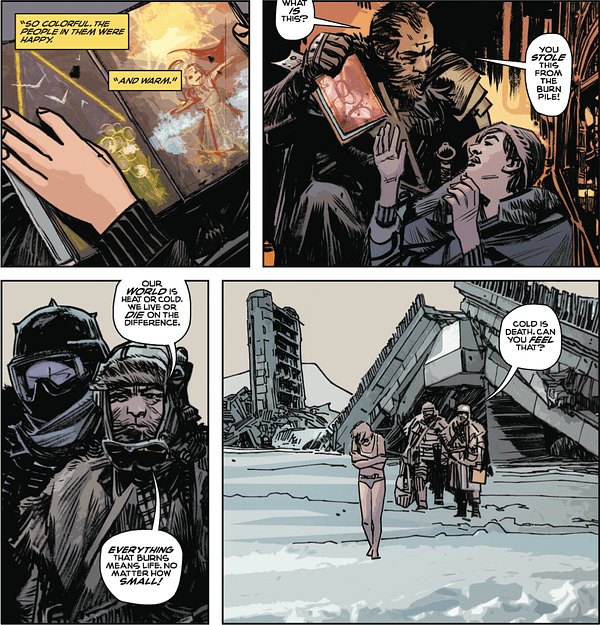 And that's a bit of a bun too! Winterworld #0 clearly demonstrates a preference for digital comic books…
While in Crossed +100 #3, old books have a different purpose. And Alan Moore gets the chance to talk about Robert Heinlein from a very different perspective..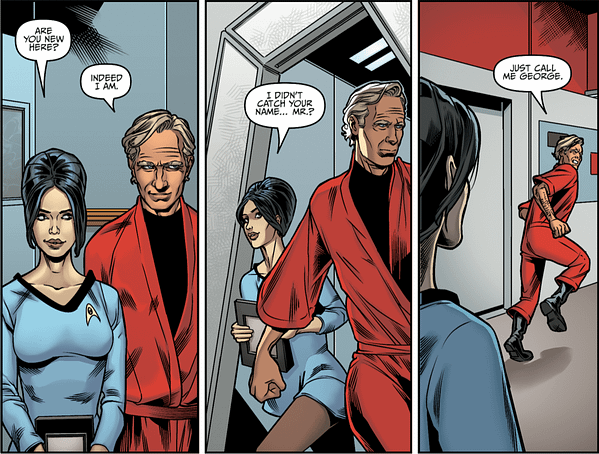 Those damn dirty Starfleet officers… George Taylor gets on board in Star Trek/Planet Of The Apes #3 Army Of Darkness #4 gives us a moment right from the playground. With Ash, nothing ever changes… A dead body, stars and stripes cut into the torso, the work of the killer "The American Spirit"… Warren Ellis makes a bid to have his passport challenged at every US Customs desk from now in ad infinitum, in Blackcross #1 Death Of Apollo #4 finds a way for toddlers to learn counting, that's a little more impactful than Sesame Street. But what else can you blow up? What happen who you blow up a camel? The same thing you get when you blow up anything. Blood Queen Vs Dracula #1 runs the experiment anyway, and comes to its hilarious conclusion. Altered States Vampirella makes a classic catering error. Next time, use mirrors to check, before offering a glass of A Negative 1668…. Clearly the library No Smoking signs in Herald #3 are faulty. If this happened in Catwoman, it would make headlines. But when a nun watching Jesus and the Devil locking lips happens in Holy F*ck #2… well, it's probably just oar for the course. Itty Bitty #1 reinvents Narnia… and also inspires the idea of starting a franchise, KFF, with a secret blend of spices, surved up with Turkish delight…. Planet Gigantic #2 reminds us that a son always loves his MOTHER. And always good to have on hand when things go ARGHHHH in the night… Have you ever seen a cat who you believe so much, taking such a stance? Hero Cats #4 rejects the lazy cowardly stereotype… Even as God Is Dead #30 embraces it.
While Garfield #35: His 9 Lives, has a… slightly more food-based approach to motivation. Well, that's what a neuter solution leads to. Halogen #1 gives us the launch of a new miniseries by Spera's John Tierney and Afu Chan, and Old City Blues' Giannis Milonogiannis. And kicks off
Feathers #3 solves problems in a way that I appreciate. Running at them head long and hoping everything works out.
It probably will. Won't it?
Find more coverage of comics published today right here.
Comics courtesy of Orbital Comics, London. Who are welcoming Scott McCloud this Saturday for drinks and signing of his new graphic novel, The Sculptor…
Enjoyed this article? Share it!