'American Horror Story: Apocalypse' – Sarah Paulson Directs, Video Reminds Us "On Wednesdays, We Wear Black"
While we still haven't gotten an official trailer for Ryan Murphy and Brad Falchuk's American Horror Story: Apocalypse — even though we're about nine days away from the Wednesday, September 12th, premiere of the eighth season's eagerly-anticipated Murder House/Coven crossover — we are getting a good look at Sarah Paulson in what might be her most daring role this season: director.
In the pic posted by Murphy on his Instagram account, the series co-creator praised Paulson's directorial debut on the show's sixth season — which also marks Jessica Lange's return to the series (Paulson: "I have the great pleasure of saying, yes, she (Lange) will be back"):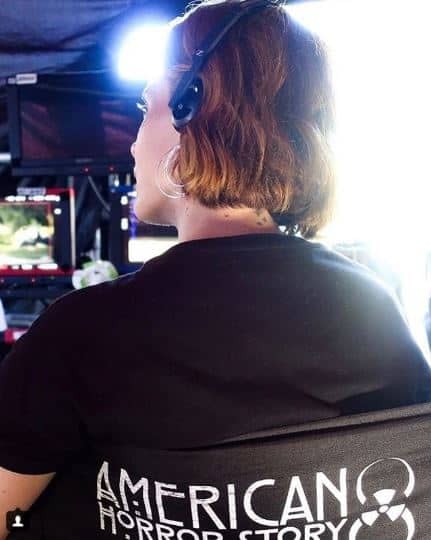 "The Supreme talent herself Sarah Paulson on set of American Horror Story making her directorial debut and killing it as we all knew she would. This year 60 percent of AHS episodes will he directed by women. Love u Paulson and proud of u!"
While Paulson wanted to make sure that her fellow witches understood…"The Rules"!
And with what might best represent Murphy's entire approach to American Horror Story: Apocalypse's marketing campaign, we give you the newest teaser:

Murphy has coordinated a nice mix of symbolic teasers and behind-the-scenes looks at the upcoming season, most recently posting a pic of Evan Peters's Tate on the set of the eagerly-anticipated Murder House/Coven crossover to address the lack of a trailer at the time:
Dylan McDermott posted a pic on his Instagram account of his Ben Harmon reunited with Peters' Tate on the set late last week
Earlier, we were treated to a look at Emma Roberts' Madison Montgomery rockin' a feather duster on the bones of those buried under the Murder House gazebo (where McDermott's Ben Harmon used to hide the "secrets"); and a look at Peters-as-Tate returning to some old first-season stomping grounds:
Less than two days after FX confirmed Connie Britton (Nashville) and McDermott (The Practice) would be returning to their original season 1 roles for American Horror Story: Apocalypse, series co-creator Murphy gave us our first look at the pair's return to the scene of many crimes – meaning Britton's Vivien Harmon and McDermott's Ben Harmon will be playing a major role in what lies ahead:
https://twitter.com/MrRPMurphy/status/1033500891087888386
Murphy took to Twitter and Instagram last week to post Coven cast reunion pics from the set of American Horror Story: Apocalypse: Paulson, Stevie Nicks, Lily Rabe, Emma Roberts, Frances Conroy, Gabourey Sidibe, and Taissa Farmiga.
https://twitter.com/MrRPMurphy/status/1031256087746342913
American Horror Story: Apocalypse s08e01 'The End': written by Ryan Murphy & Brad Falchuk, directed by Bradley Buecker

American Horror Story: Apocalypse s08e02 'The Morning After': written by James Wong, directed by Jennifer Lynch
Fans of American Horror Story were treated to some great news at this year's TCA summer press event: the horror anthology series had been renewed for a 10th season (FX Networks CEO John Landgraf: "He (Murphy) asked for a 10th season of American Horror Story which we were happy to give to him"); Lange would be reprising her Murder House role as Constance Langdon, appearing in the sixth episode of the season.
Paulson (who will also be playing a new character this season by the name of Venable), Lange, Roberts, Britton, McDermott, Peters, Kathy Bates, Cheyenne Jackson, Billie Lourd, Billy Eichner, Adina Porter, Leslie Grossman, Farmiga, Sidibe, Rabe, Conroy, and Nicks are set to return to Murphy's horrific universe. Joan Collins (Dynasty) is joining the cast as Peters's grandmother; Cody Fern (House of Cards) is joining as adult Michael Langdon; and Jeffrey Bowyer-Chapman (UnReal) and Kyle Allen (The Path) are set for guest appearances.
Now it's time to get your scorecards to see how everyone matches up, AHS fans: Rabe appeared in the Murder House, Coven, Hotel, and Roanoke seasons, while Sidibe appeared in Coven, Freak Show, and Hotel. Farmiga appeared in Murder House, Coven, and Roanoke; AHS mainstay Conroy has appeared in six seasons: Murder House, Asylum, Coven, Freak Show, Roanoke, and Cult. Nicks appeared as the White Witch during Coven.
Meanwhile… Paulson's Billie Dean Howard appeared in Murder House, and her Cordelia Foxx appeared in Coven. Peters played ghostly teen Tate Langdon in Murder House and fraternity president Kyle Spencer in Coven. Lange's Constance Langdon appeared in Murder House, while Bates and Roberts joined the franchise during Coven as Madame Delphine LaLaurie and Madison Montgomery, respectively.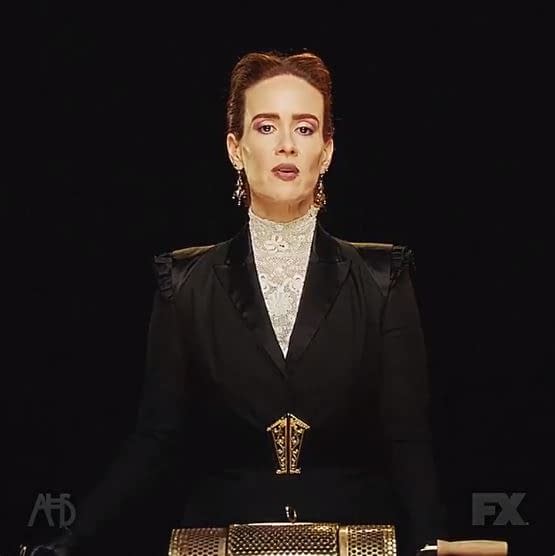 Oh, and did I mention that Paulson will also be playing a new character named Venable? Here's hoping each of Paulson's characters has their own contract…