American Horror Story: Apocalypse Season 8, Episode 6 'Return to Murder House' Brings Hope, Closure to End Times (REVIEW)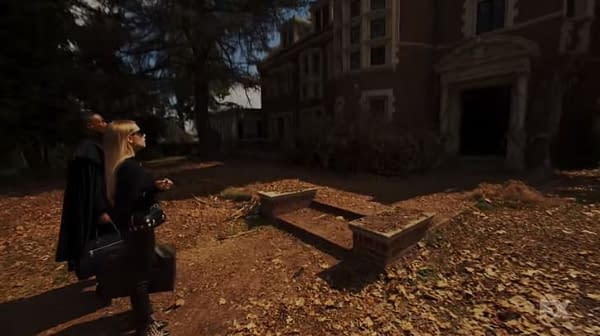 Welcome back to Bleeding Cool's weekly review of FX's American Horror Story: Apocalypse, where this week we're looking at the sixth episode of Ryan Murphy and Brad Falchuk's popular horror anthology series, 'Return to Murder House.'
Well, we know Cordelia (Sarah Paulson) set off some kind of attack to keep Michael Langdon (Cody Fern) from ascending to the status of Alpha (the warlock equivalent of Supreme) because The Devil's Seed doesn't seem all-powerful "Antichrist-y" when we met him in the show's "present" several episodes back – and this week's episode of FX's American Horror Story: Apocalypse begins to fill in those blanks. To find a weakness in Langdon's power, Cordelia asks Madison (Emma Roberts) and new warlock ally Behold (Billy Porter) to investigate his origins – to 'Return to Murder House.'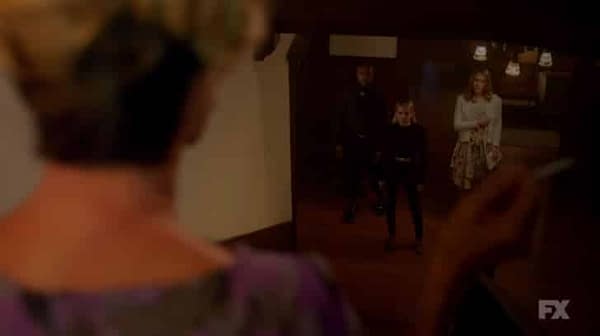 As you'll see in Bleeding Cool's review below, it was a very welcome return indeed: filled with hope and horror… closure and new questions… the Paulson-directed, Crystal Liu-written chapter is not only the best episode this season, but one of the best episodes in quite a few seasons.
Spoiler Warning: I'll be covering some themes and takeaways involving major and minor plot points from the episode, so just keep that in mind. Definitely not looking for pitchforks and torches outside my apartment.
American Horror Story: Apocalypse s08e06 'Return to Murder House': Written by Crystal Liu; Directed by Sarah Paulson; Guest starring Jessica Lange
https://www.youtube.com/watch?v=8EpZK3vrPno

https://youtu.be/xKrpgJTS-Vg
Sarah Paulson, Jessica Lange, Emma Roberts, Connie Britton, Dylan McDermott, Evan Peters, Kathy Bates, Cheyenne Jackson, Billie Lourd, Billy Eichner, Adina Porter, Leslie Grossman, Taissa Farmiga, Gabourey Sidibe, Lily Rabe, Frances Conroy, and Stevie Nicks have returned to Murphy's horrific universe. Joan Collins (Dynasty), Cody Fern (House of Cards), Ashley Santos (We All Fall Down), and Kyle Allen (The Path) are new cast members for the season.