Bill Reviews Baywatch – A Rare Find In Cinema: A TV Series Adapted To Film That Isn't Completely Terrible
[rwp-review-recap id="0"]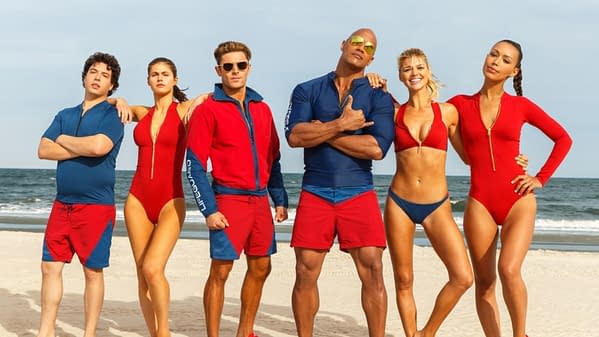 I'm going to start off with saying I've disliked, and mostly loathed most of the television series to film adaptations from the past several years: CHiPs, Dark Shadows, 21-Jump Street, and the list goes on. You kind of go into them knowing they're going to be bad, but Baywatch tried to get ahead of that expectation by having the trailers acknowledge that the film would be poking fun at itself and it's source material. Imagine my genuine surprise that the film itself is actually a lot of fun.
It won't be remembered as anything beyond popcorn-fluff comedy, and the men and women in the skin-tight signature red swimsuits, but audiences won't walk out of it wondering how they can ever get that hour and a half back (as people did in droves after watching CHiPS).
Dwayne Johnson plays Mitch Buchannon (who was David Hasselhoff's character in the series), as close to a comic's super-hero as one will generally get, and he's even in tight spandex. He's the leader of the Bay's lifeguard unit, and they work on their tans, save lives, and solve crimes along the way. No, it doesn't make a lot of logical sense, but hey, neither did the original show. It was there for slow-motion scenes of boobs bouncing along the sand, and this one continues very much in the vein. They find themselves up against Victoria Leeds (Priyanka Chopra) who herself says that she's not a James Bond villain… yet. She's doing her best to acquire through coercion, bribery, or murder, the entire stretch of beach along the Bay to clear the way for it to be used for her drug smuggling operation.
Sidekick lifeguards CJ (Kelly Rohrbach) and Stephanie (Ilfenesh Hadera) choose three new trainee-lifeguards. Summer (Alexandra Daddario) and Ronnie (Jon Bass), who are both repeat applicants, but this year have made the cut due to their perseverance and Mitch likes their "heart." And for the third new member, they get saddled with Matt Brody (Efron), a disgraced olympic gold medalist who has been disgraced, but Mitch's boss still thinks he'll be a good face to have on the beach for PR.
It's not bad, and watching Johnson and Efron play off each other is worth the price of admission alone. And to be fair, the rest of the cast hold admirably well and each have their own moments to shine. Even the every-nerd Ronnie, gets his moments to shine.
[rwp-review-ratings id="0"]
[rwp-review-form id="0"]