Bleeding Cool's Best Comic Panels of 2014
This is certainly a Bleeding Cool tradition worth upholding, bringing together the chosen best comics panels of the year from our site writers. From the just plain bizarre to the hilarious and emotive, this year had it all and some of the finest creators working in the medium really shine even brighter when you take a close-up look at what moments they manage to create in single panels. Contributors to this list include Rich Johnston, Hannah Means-Shannon, Christine Marie, Josh Hechinger, Buzz Tippett, Christopher Helton, and Nikolai Fomich.
Here are Bleeding Cool's Best Comic Panels of 2014:
Rich Johnston's choices are: Afterlife With Archie #6 by Roberto Aguirre-Sacassa and Francesco Francavilla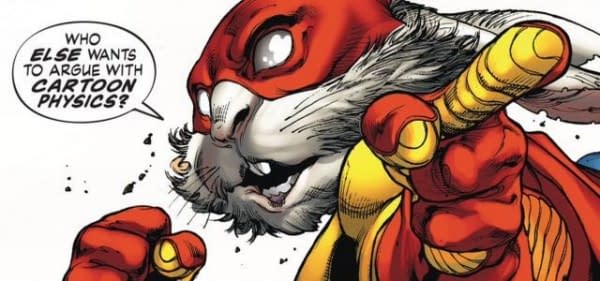 Multiversity #1 by Grant Morrison, Ivan Reis and Joe Prado
Avengers: AI. #6 by Sam Humphries and Valerio Schiti
Cryptozoic Man #3 by Walter Flanagan and Bryan Johnson
Hawkeye #16 by Matt Fraction and Annie Wu
New 52: Futures End #0 by Brian Azzarello and Ethan Van Sciver
Chew #39 by John Layman and Rob Guillory
Superior Foes Of Spider-Man #6 by Nick Spencer and Steve Lieber
The Bunker #1 by Joshua Fialkov and Joe Infurnari
Harley Quinn #3 by Amanda Conner, Jimmy Palmiotti and Chad Hardin
Batwoman #28 by Marc Andreyko and Jeremy Haun
Grindhouse: Doors Open at Midnight #8 by Alex de Campi and Gary Erskine
Forever Evil #6 by Geoff Johns and David Finch
Young Avengers #15 by Kieron Gillen and Jamie McKelvie

All-New Doop #1 by Peter Milligan and David Lafuente
Kick Ass 3 #7 by Mark Millar and John Romita Jr.
Invincible #110 by Robert Kirkman and Ryan Ottley
New Avengers #17 by Jonathan Hickman and Rags Morales Batman #28 by Scott Snyder, James Tynion IV, Dustin Nguyen and Derek Fridolfs
Earth 2 #23 by Tom Taylor, Nicola and Trevor Scott
Revenge #1 by Jonathan Ross and Ian Churchill
Crossed Badlands #68 by David Lapham and Francisco Manna Guardians Of The Galaxy #22 by Brian Bendis and Valerio Schiti Justice League 3000 #11 by Keith Giffen, JM DeMatteis and Howard Porter Batman Beyond Universe #13 by Kyle Higgins, Phil Hester, Tony Silas and Eric Wight Original Sin #5.3: Thor & Loki: The Tenth Realm by Jason Aaron, Al Ewing and Simone Bianchi Life With Archie #36 by Paul Kupperberg, Pat Kennedy, Tim Kennedy and Jim Amash Miles Morales: Ultimate Spider-Man #1 by Brian Bendis and David Marquez Trees #1 by Warren Ellis and Josh Howard Forever Evil #7 by Geoff Johns and David Finch Batman #29 by Scott Snyder, James Tynion IV, Dustin Nguyen and Derek Fridolfs Judge Dredd Megazine #345 by Alan Grant and Michael Dowling
Have that Coca-Cola Super Bowl ad playing while you put it up…
Ms. Marvel #2 by G. Willow Wilson and Adrian Alphona Saga #19 by Brian K Vaughan and Fiona Staples Uncanny X-Men #23 by Brian Bendis and Kris Anka Amazing Spider-Man #7 by Dan Slott and Giuseppe Camuncoli
Grayson #1 by Tim Seeley and Mikel Janin
Dicks: End Of Time #1 by Garth Ennis and John McCrea
Stray Bullets: KIllers #5 by David Lapham
Original Sin #4 by Jason Aaron and Mike Deodato All-New Captain America #2 by Rick Remender and Stuart Immonen
Letter 44 #4 by Charles Soule and Alberto Jimenez Alburquerque Sandman Overture #4 by Neil Gaiman and J.H. Williams III
Hannah Means-Shannon's choices are: The Cigar That Fell In Love With A Pipe, by David Camus and Nick Abadzis Fear, My Dear: A Billy Dogma Experience, by Dean Haspiel
Schmuck: Discotheque, by Seth Kushner and George Jurard
Buzz Tippett's choice is: Savage Dragon #199 by Erik Larsen
Every page was a double page spread! The panels are all pretty glorious but the image of Malcolm punching his way out of the belly of the beast!
Christopher Helton's choices are: Gotham Academy #1, by Becky Cloonan, Brenden Fletcher, and Karl Kerschl
Nikolai Fomich's choice is: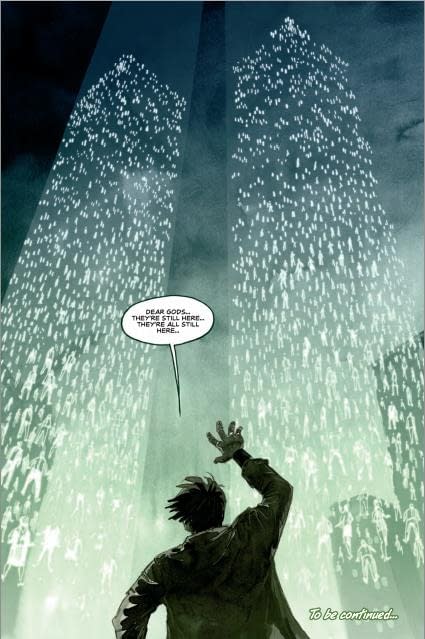 Thomas Alsop #2 by Chris Miskiewicz and Palle Schmidt
Josh Hechinger's choices are: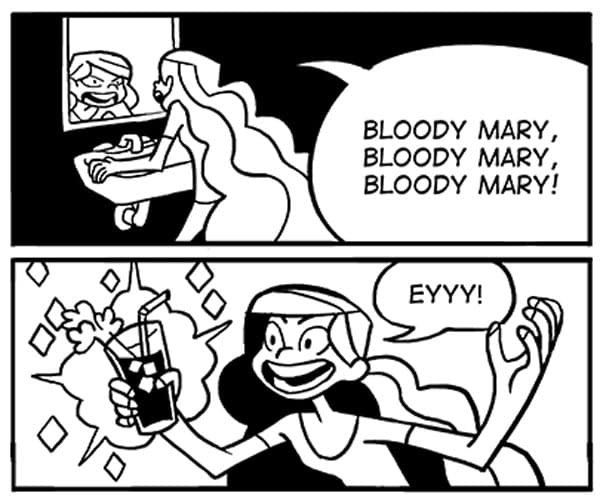 From "The Artist is Going to Hell" by Jemma Salume
Christine Marie's choices are: Oddly Normal #3 written and Illustrated by Otis Frampton
Oddly finally finds her place amongst other creative characters in Fignation.
Thanks for another great year to all our readers, and all the hard-working comics creators and publishers who have given us so much to think about, experience, and enjoy in 2014!