Charmed Season 1, Episode 4 'Exorcise Your Demons': Should The Vera Sisters Respect THIS Elder? (PREVIEW)
So "The Charmed Ones" Macy (Madeleine Mantock), Mel (Melonie Diaz), Maggie (Sarah Jeffery) have just started their training under whitelighter Harry (Rupert Evans), and guess what? The Vera Sisters have already gotten their hands on the Harbinger of Hell – in the form of Angela Wu (Leah Lewis) – and have her "safely" locked up in their home. That's some pretty impressive magic on the Harry Potter/first timers scale – but now what?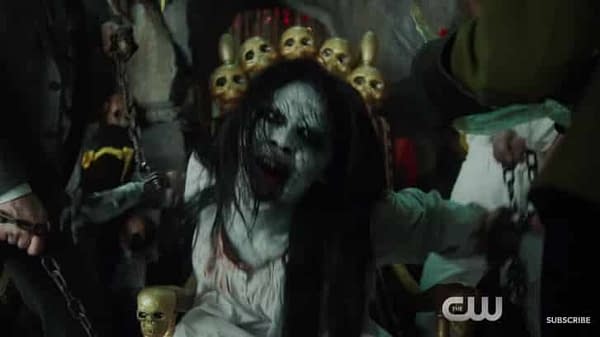 Apparently, they wait for the authorities – and by "authorities," we're talking about the Elders, who take care of these sorts of things. Even as The Vera Sisters continue struggling with the balance between the witch life and the mortal world, the following preview for the CW's Charmed, 'Exorcise Your Demons' shows they can't help but find it a little odd that a former Elder (Virginia Williams) would be sent to handle something with the title, "Harbinger of Hell":
https://youtu.be/nsmc3qugrf4
Charmed s01e04 'Exorcise Your Demons': STRONGER THAN YOU KNOW — While waiting for The Elders to arrive, the sister's patience is growing thin as they keep a watchful eye on their new charge. Once one of The Elders, Charity (guest star Virginia Williams), appears, she gives specific instructions on how to handle the situation. Mel (Melonie Diaz) does not agree with the solution and enlists Maggie (Sarah Jeffery) and Macy's (Madeleine Mantock) and even Harry's (Rupert Evans) help, but it means going against The Elders. Meanwhile, Macy, Mel and Maggie are all starting to realize that juggling their two worlds is becoming more difficult. Ser'Darius Blain and Ellen Tamaki also star. Melanie Mayron directed the episode written by Marcos Luevanos
Before this week's new episode, here's a look back at Bleeding Cool's review of last week's 'Sweet Tooth':

https://youtu.be/VwETXfZ3A0Y
"Stronger together." That's what Marisol tells her daughters, firebrand social justice warrior Melanie "Mel" Vera, and her sister, fun-loving Maggie, about their family. Mel is a graduate student in the women's studies department her mother heads at Hilltowne University; Maggie is a freshman considering rushing a sorority (to Mel's amused dismay) and going "on" again with her on-again off-again boyfriend Brian. But then, a shocking tragedy shatters their world and threatens their sibling bond: Marisol dies in a horrifying accident. Or was it?

Three months later, we find Mel unable to accept the official explanation of their mother's death, while Maggie accuses her of being morbidly obsessed. And then, another huge shock shows up at their front door: they have an older sister, brilliant geneticist Macy, whom their mother kept a secret all these years! Macy is new in town and doesn't know a soul (except for Galvin, the cute fellow scientist who's been showing her around). Macy is eager to connect with Mel and Maggie, but Mel can't handle another shock, and shuts her out. With the emotions of all three sisters running high, each of the girls suddenly exhibit impossible new abilities: Mel can freeze time, Maggie starts hearing others' thoughts, and Macy has telekinetic powers.

But don't worry, there's a perfectly reasonable explanation…or so says Harry Greenwood (who as far as they know is the officious new chair of the women's studies department), when he gathers the three sisters together to reveal they're actually powerful witches, as was their mother. And he's not really a professor, he's their "Whitelighter," a witch's advisor and guide! Not only that, but Mel was right: their mother's death was no accident – she was murdered by unknown dark forces.

It's a lot to take in, but ultimately the sisters accept their new destiny as The Charmed Ones…and their new duty to protect humankind from the demons that walk among us…one of whom killed their mother. With the Power of Three, they are stronger together… even if they have no idea what they're really up against.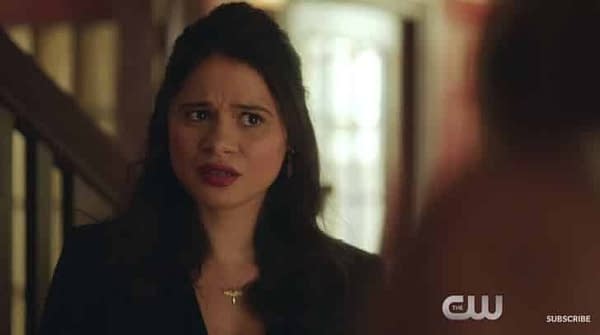 Based on the original series, Charmed stars Madeline Mantock, Melonie Diaz, Sarah Jeffery, Charlie Gillespie, Rupert Evans, Ser'Darius Blaine, and Ellen Tamaki; and is produced by CBS Television Studios in association with Propagate Content. The Jane The Virgin team of Urman, Jessica O'Toole, Amy Rardin, and Brad Silberling serve as executive prodcuers alongside Ben Silverman (The Office) and Carter Covington and (Faking It).