iZombie Season 5: NBA Legend/Comics Writer Kareem Abdul-Jabbar Turns Zombie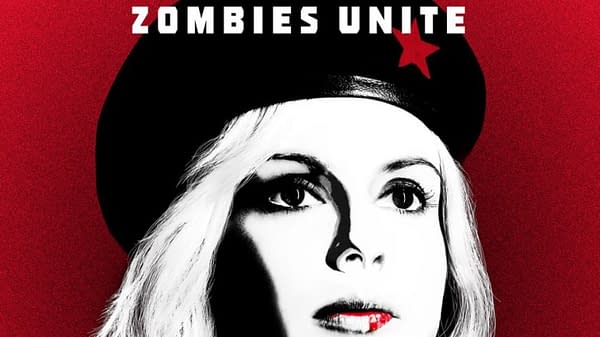 Looks like Kareem Abdul-Jabbar (Airplane!, Game of Death) is going from shooting baskets to eating brains, with the NBA legend/comic book writer (Titan Comics' Mycroft Holmes and the Apocalypse Handbook) set to guest star on the fifth and final season of Rob Thomas' zombie-dramedy iZombie. Series star Rose McIver tweeted a picture of herself with Abdul-Jabbar earlier this week – which may hint at an upcoming "demonic ventriloquist" storyline (just kidding):
Abdul-Jabbar's Zed is a zombie and one of only two "New Seattle" City Council members who didn't flee the city before the wall went up – with his fellow council member being a human, creating gridlock at city hall. With the wheels of government ground to a halt, Liv's (McIver) friend Peyton (Aly Michalka) — chief of staff for the deceased mayor — is left to hold the city together.
The fifth and final season of iZombie is expected to premiere some time on the CW in early 2019, alongside fellow network series Jane the Virgin and Crazy Ex-Girlfriend.
In a season 4 "post mortem" interview with TVLine, Thomas discussed what fans can expect from the final season now that "our characters are in some positions in power right now":
"Liv now has this folk hero status, Major is going to be heading Fillmore Graves. Until Seattle elects a new mayor, Peyton is sort of keeping all the plates spinning, at least in the city. And then we've got the doctor [who is] probably most likely to come up with some cure for zombieism." Thomas understands that that there are some issues that will need to be addressed/resolved before the series wraps up – just don't ask him yet how they'll get resolved:
"The fate of Major and Liv will need to be answered by the end of [next] season. That I can promise, that there will be a resolution. I don't know what that resolution will be yet, but it will feel resolved. And that was always one of those things that you're going to hold in your back pocket until your final season and figure it out then.

I think we're going to give some sort of answer to the fate of zombie kind. And again, I do not know what that answer will be, but we won't do the Sopranos ending. It won't just be like you're watching the show and then someone just hits stop in a random place. And I say that actually really liking the Sopranos ending, but I suspect that we're going to get more resolution than that."