By Cameron Hatheway
When destiny calls, will you pick up the phone and answer? One brave Glorkian Warrior does, and the rest of his evening unfolds into a wild adventure of epic proportions while delivering a peanut butter and clam pizza (don't knock it until you've tried it).
James Kochalka first came up with the idea of the Glorkian Warrior as a video game in 2006, and had it funded through Kickstarter a few years later. Indie video game studio Pixeljam made the Galaga-esque game, and it's now available at iTunes. What better to pair the video game with than a graphic novel starring none other than the Glorkian Warrior himself?
After following a rich career in indie comics, The Glorkian Warrior is Kochalka's first book with a traditional publisher (First: Second Books). Kochalka's traditional cartoony style and silly dialogue is prominent, making this graphic novel perfect for both kids and parents to enjoy together.
While the Glorkian Warrior is a bit of an imbecile, his trusty talking Super Backpack—who shoots lasers when fully charged—tries to steer him in the right direction, sometimes getting in pointless arguments with the stubborn hero at inconvenient moments when speedy decision making is desperately needed. Because Super Backpack has no choice but to go along with whatever decision the Glorkian Warrior deems best, the quest to deliver a pizza is no walk in the park.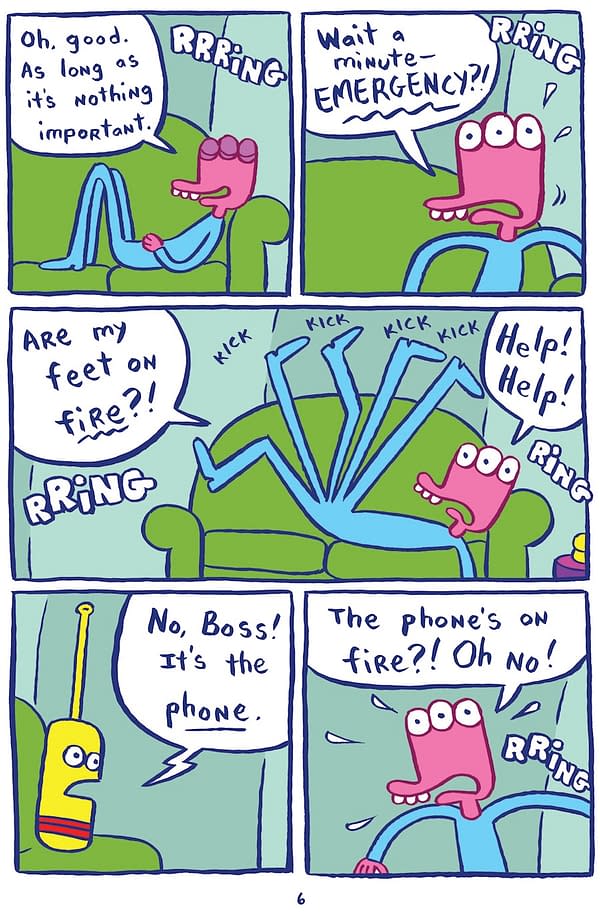 Every being the duo meets along the way seems to also want the peanut butter and clam pizza, and try their hardest to steal it away; a hungry giant named Gonk threatens to bonk them into putty if they don't fork over the pizza, while UFOs try to nonchalantly abduct the pizza shortly after. Every time the Glorkian Warrior gets in a scuffle, the pizza keeps getting new non-traditional toppings added to it. Surely a laser blasted, explosion baked, peanut butter, steering wheel, clams, and tears pizza with ash sprinkled on top will be the next big thing from Domino's, right?
He does end up delivering the pizza, but the twist at the end is one you definitely won't see coming.
Kochalka's art and coloring give the graphic novel that perfect look and feel of a kid's book, with a healthy array of bright coloring throughout. The creature designs are fun and creative, and can definitely be seen fitting into the medium of video games.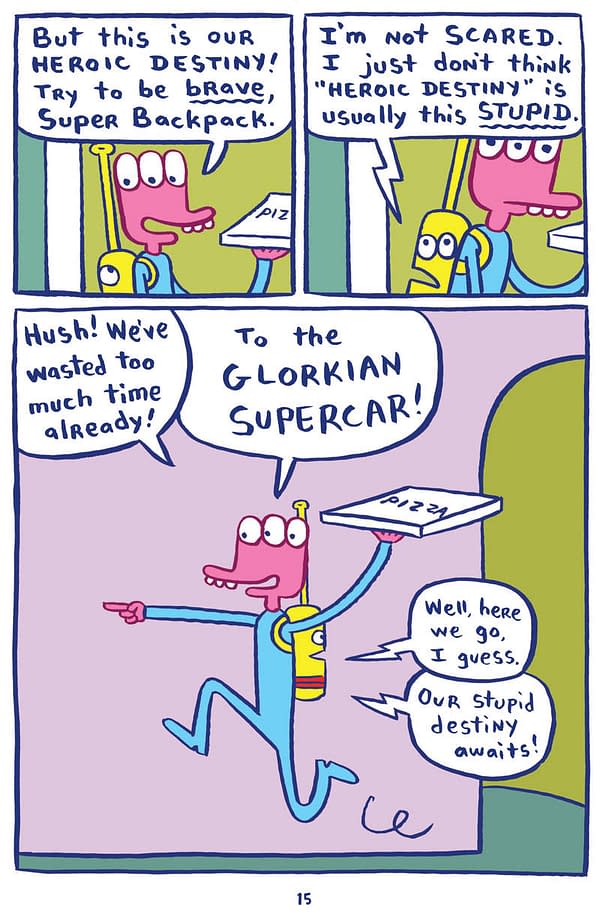 The story and dialogue are extremely enjoyable as well, for I found myself laughing out loud several times when the Glorkian Warrior interacted with Super Backpack. I can definitely imagine a child reading this book and rolling on the floor laughing their butts off the entire time. Kochalka knows what kids want to read, and a goofy spaceman delivering a pizza is high up there on the list.
While 110 pages may be a little long for some of the younger readers, it'll keep them busy for there are no dull moments; only laughs. I haven't played the video game the book is based on yet, but I'm definitely intrigued now after reading it. But first, I'll order a pizza.
The Glorkian Warrior Delivers a Pizza (First Second Books)
by James Kochalka
110 pages, FC
$12.99
Cameron Hatheway is the host of Cammy's Comic Corner, an audio podcast. You can share your favorite non-traditional pizza toppings with him on Twitter @CamComicCorner.
Enjoyed this article? Share it!