Kidding Season 1, Episode 1 'Green Means Go' Review: "I'm Not that Word. That 'P' Word"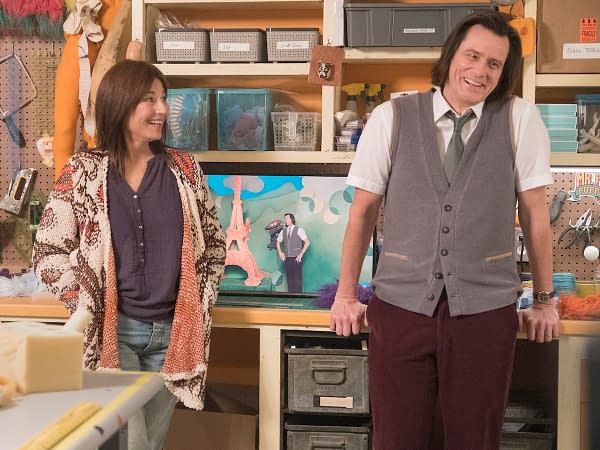 Welcome to Bleeding Cool's weekly review of the first season of Showtime's Kidding, beginning at the very beginning (a very nice place to start) with premiere episode 'Green Means Go.' The dramedy marks Jim Carrey's (The Truman Show) return to television in a series regular role, teaming with his Eternal Sunshine of the Spotless Mind helmer and series director Michel Gondry on the 10-episode season.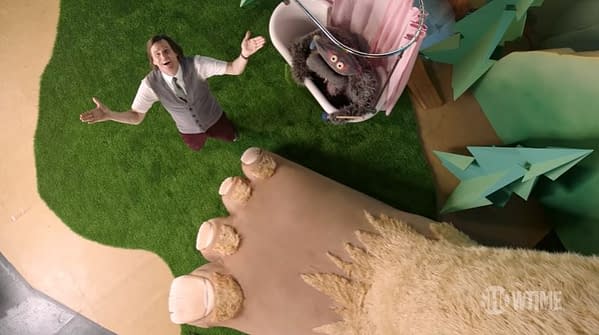 So did Kidding convince us that "Mr. Pickles' Puppet Time" is a land worth visting for nine more episodes? Check out our review of 'Green Means Go' below:
Spoiler Warning: I'll be covering some themes and takeaways involving major and minor plot points from the episode, so just keep that in mind. Definitely not looking for pitchforks and torches outside my apartment.
Kidding s01e01 'Green Means Go': Jeff Pickles decides it's time to talk about death on Mr. Pickles' Puppet Time. His executive producer, Seb, feels that Mr. Pickles the persona and Jeff Pickles the person need to remain separate. Deirdre punishes her daughter Maddy for not eating her veggies.

This might count as one of our biggest "extras," but if you need a reminder on some of the things discussed in the review then here's your chance to check out the series premiere again courtesy of Showtime:
https://youtu.be/NTrqSWS2oaw
Go behind the scenes with the cast and crew as they discuss the creation and inspiration underlying the show:
Carrey discusses his thoughts and feelings on his character Jeff, aka Mr. Pickles:

Kidding centers on Jeff, aka Mr. Pickles (Carrey), an icon of children's television and a beacon of kindness and wisdom to America's impressionable young minds and the parents who grew up with him. But when this beloved personality's family begins to implode, Jeff finds no fairytale, fable or puppet will guide him through this crisis, which advances faster than his means to cope.

The result: A kind man in a cruel world faces a slow leak of sanity as hilarious as it is heartbreaking. Jeff begins to push back against the limits of the well-oiled machine that is Mr. Pickles' Puppet Time, and of his executive producer, Seb (Frank Langella). Seb fears Jeff's mental state could ruin the branding empire they've built, and thus begins preparing the show for a life after Jeff, while Deirdre (Catherine Keener), the head puppet maker, grapples with her own personal and professional life issues. Judy Greer stars as Jeff's estranged wife, and Cole Allen plays their son.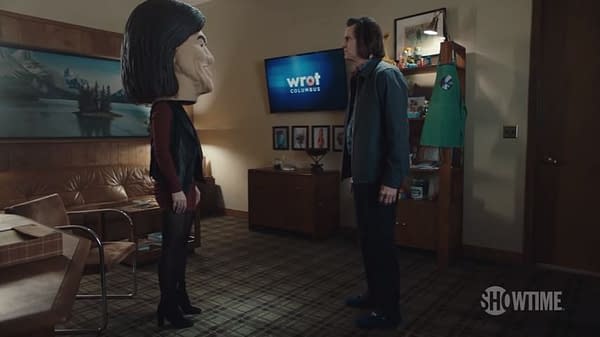 Directed by Gondry and premiering on Showtime on September 9th, Kidding also stars Judy Greer (I'm Sorry), Catherine Keener (Get Out, Death to Smoochy), Frank Langella (The Americans, Frost/Nixon), Justin Kirk (Weeds), Ginger Gonzaga (I'm Dying Up Here), and Bernard White (Captain America: The Winter Soldier). Carrey, Gondry, Dave Holstein, Jason Bateman (Arrested Development, Ozark), Jim Garavente, Raffi Adlan, and Michael Aguilar will serve as executive producers.