'The Last Ship' Season 4: Action! Suspense! Shirtless, Sweaty Men!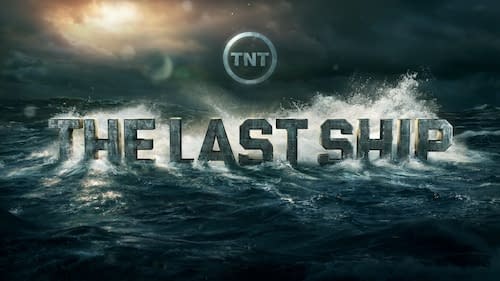 From Bleeding Cool reporter Hilton Collins:
Action, suspense, and shirtless, sweaty men punctuated the fast-paced clip TNT brought to Hall H Sunday afternoon to open their panel about The Last Ship, an action-drama about a group of navy officers charged with developing a vaccine for a virus that's wiped out most of the world's population.
In the clip, from the show's upcoming fourth season, main protagonist Capt. Tom Chandler (Eric Dane) fights an unnamed villain (wrestler John Hennigan) in a one-on-one fight to the death in an exotic Mediterranean location. Meanwhile, Chandler's buddies are elsewhere, enter a cave, guns blazing, to fight off an opposing force trying to bar them from entry. And still elsewhere, crew members on the titular last ship work furiously to restore power. With danger on three fronts, the clip ends when Chandler gets the upper hand in his death match. He looks up and some guy gives him the thumbs-down signal, indicating he should kill the dude. Chandler punches his opponent multiple times before the clip fades to black.
Did Chandler kill the bad guy? Did his buddies restore power to ship? Will there be more footage of half-naked, sweaty, muscular men fighting?
You'll have to tune into the premiere episode of The Last Ship Season 4 when it debuts August 20th on TNT. In the meantime, though, keep reading this article, 'cause they were in Hall H today! The panel comprised Dane and co-stars Bridget Regan (Sasha), Adam Baldwin (Mike Slattery), and producer Steven Kane.
Kane wanted to take the show to the Mediterranean and explore multiple themes throughout this season. Even though the show centers on a plague, Kane said that the show hadn't focused much on how the plague affected many survivors — it's been primarily concerned with military folks on the ship and action. Season 4 rectifies that by placing them in a different location, sans hazmat suits, so they'll interact with different types of people.
But this time, the virus has mutated.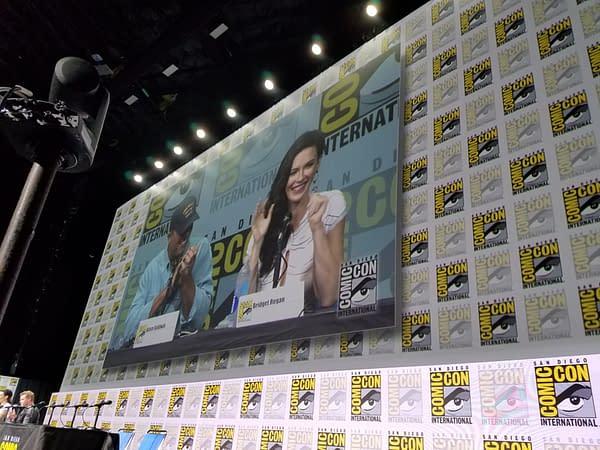 "The virus is no longer affecting human beings," Kane said. "It jumps kingdoms. Plants, food crops to sustain the biosphere."
There's one plant, however, that's immune, and its DNA is key to extracting a cure. Consequently, a chunk of Season 4 involves the good guys fighting with bad guys to get their hands on the disease-killing plant seed.
Season Four will also get more emotional. Previously, Chandler exiled himself by leaving the ship. He'd seen parts of his personality he didn't like. Upcoming story beats will explore what makes someone human in periods of duress, and how someone can — or can't — keep his or her bad side in check.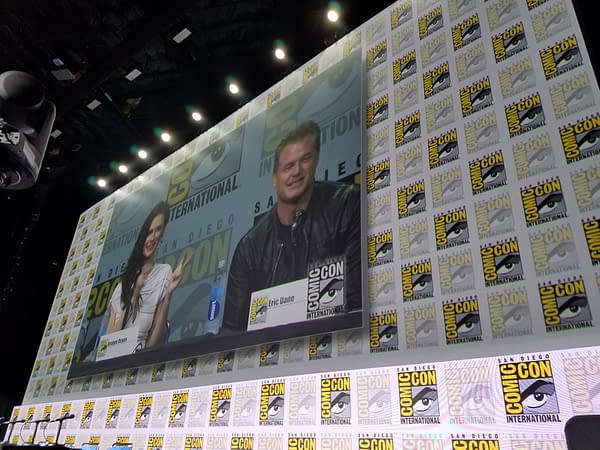 "It's been a very long hiatus for him, and we find him in the Mediterranean," Dane said. "I really think Greece was good for him and I wish we would've spent more seasons there, but duty calls."
"Duty," or Chandler's destiny to be a hero, even if he doesn't want it, is another theme for the season. Kane said that Chandler can't escape it: trouble finds him.
"The hero thing is not something I think he was very comfortable with," Dane said of his character. "Those are the best heroes anyway, the guys who don't want to be heroes."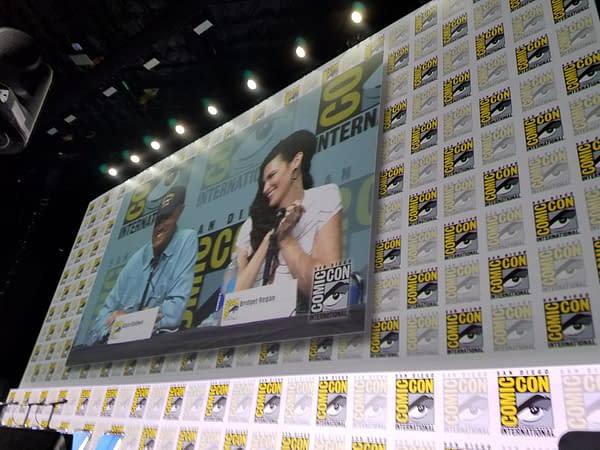 According to Dane, he and Hennigan prepared for that fight scene for a month, and some of the moves were variations of each other. Hennigan leveraged his wrestling background to help guide Dane through the scene.
"He led the dance and I did what I was told," Dane said.
Chandler's buddy Slattery misses him this season, but Slattery's continuing the mission. Baldwin said that his character has the ability to take over and run missions, but he hopes to see Chandler again. Baldwin also said elements of Slattery's history will come up in Season 4, but he had to keep details close to the vest.
Regan said that her character Sasha, Chandler's ex-lover, also misses him. He's not an easy guy for her to get over. It's especially hard because Sasha's so tough.
"Sasha's not a character who sits and thinks about how she feels. I think they all find it easier to focus on the task at hand and be fed by the adrenaline of the fights," Regan said. Sasha's armor starts to crack this season, which excites Regan because it gives her interesting dramatic material.
All panelists spoke highly of their fans in the Navy and the naval professionals who've assisted with the show's development. Kane said that TNT's going to the Point Loma base in San Diego to screen the premiere for the seaman stationed there. Over the years, cast and crew have visited Navy personnel, and the experience has been warm and encouraging.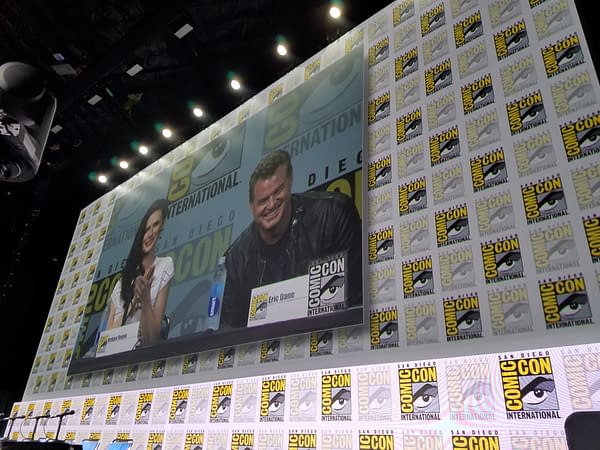 Baldwin spoke of naval officers' strength: "I think we're all, to a man and woman on our ship, impressed with the strength and courage and ability of young people to run these platforms of battle."
Veteran actor Peter Weller, who played the original Robocop, joins the show this year. Panelists were vague on his role, but Kane divulged a few details on discussions he'd had with Weller before offering him a place on the show.
"Peter and I talked last year at dinner. He has a house [in the Mediterranean]," Kane said. "Peter's a Renaissance man about the history of the region and art and mythology."
Kane told Weller he needed him on the show and had a part for him.
Weller appeared in a trailer that was shown at the panel's end, and he appeared to be a scientist or doctor of some kind who will undoubtedly be involved in the pursuit and of the pursuit of the plant and the possible development of a vaccine.
They're currently shooting Season 5, which will feature new villains and a completely different story.
The Last Ship returns August 20th on TNT.