I love the character Maleficent. She's a badass fairy who curses a baby simply because she wasn't invited to a party. I realize that's a little dramatic, but that's one way to get your point across!
Maleficent is one of Disney's most popular villains, and frankly, she does get a good chunk of screen time in Sleeping Beauty. I did enjoy the live-action movie based off of her, as well, but nothing beats the original. I collect a lot of Maleficent items, and whenever I go to Disney I always look for something new to add to my collection.
While at Goofy's Candy Company in Disney Springs, I noticed a familiar looking creation inside of their candy display. I wasn't too keen on dropping $10 for a candy apple, so I got the next best thing: A Maleficent cake pop, which was half the cost of the apple.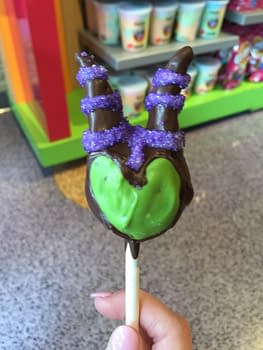 The pop itself was made of chocolate cake, while the horns were made of a rice crispy treat. These are hand-made, but absolutely worth indulging in once in a while. Since I assume the majority of you reading this may only go to Disney World once in a great moon, you should add one of these cake pops to your list. They make for a fantastic mid-afternoon treat, and you can even sit inside the store and enjoy the A/C!
Enjoyed this article? Share it!