'Pet Sematary' Directors Dennis Widmyer, Kevin Kolsch Break Ground on Filming
Just when you thought it was safe to deal with mangy cats and small children with scalpels, Director Dennis Widmyer took to social media on Monday to tweet that he and co-director Kevin Kolsch have officially started filming their adaptation of Stephen King's beloved horror novel Pet Sematary.
Produced by Lorenzo di Bonaventura, Mark Vahradian, and Steven Schneider, the new feature stars Jason Clarke (Winchester) as Louis Creed; Amy Seimetz (Alien: Covenant, A Horrible Way to Die) as wife Rachel Creed; and John Lithgow (The World According to Garp) as kindly neighbor Jud Crandall.
Paramount is set to release Pet Sematary on April 5th, 2019.
First published by Doubleday in 1983, here's an overview of King's original novel: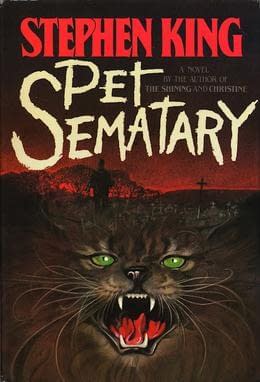 When Dr. Louis Creed takes a new job and moves his family to the idyllic and rural town of Ludlow, Maine, this new beginning seems too good to be true. Yet despite Ludlow's tranquility, there's an undercurrent of danger that exists here. Those trucks on the road outside the Creed's beautiful old home travel by just a little too quickly, for one thing…as is evidenced by the makeshift pet cemetery out back in the nearby woods. Then there are the warnings to Louis both real and from the depths of his nightmares that he should not venture beyond the borders of this little graveyard. A blood-chilling truth is hidden there—one more terrifying than death itself, and hideously more powerful. An ominous fate befalls anyone who dares tamper with this forbidden place, as Louis is about to discover for himself…
King's novel was adapted for the big screen in 1989, directed by Mary Lambert and written by King. The film version features Dale Midkiff as Louis Creed, Denise Crosby as Rachel Creed, Blaze Berdahl as Ellie Creed, Miko Hughes as Gage Creed, Fred Gwynne as Jud Crandall; with Andrew Hubatsek as Zelda and King appearing as a minister.