Valiant 2.0 is coming, also known as "Valiant Next". It's a major development for the relatively young company, in their new incarnation only 2 1/2 years old. Their strategies for what books to bring out when have been carefully planned, releasing major titles focusing on key characters in their first wave that would provide a nod to Valiant's long history while introducing new readers to the Valiant Universe. Now they're ready for their second phase, bringing in their next slate of established and new characters, some as ongoing titles, some as special miniseries in prestige format. All that starts on the cusp on 2015, and one of their leading forays into Valiant Next is Ivar, Timewalker, featuring the third of the Immortal Brothers so significant to the Valiant Universe. Ivar stands alongside the Eternal Warrior and Armstrong as a superpowerful being, but his approach to life is, shall we say a little different. He's a hedonist of sorts, a little like Armstrong, and lacks the driven focus of Eternal Warrior, but his "devil may care" attitude still sticks to the big picture. His motives are played close to the chest, and he's finally stepping out into his own year-long series written by Fred Van Lente and drawn by Clayton Henry with several covers and variant covers, including work by Raul Allen, Jorge Molina, David Aja, and Barry Kitson, arriving on January 21st.
Van Lente and Henry are, of course, the multi-award nominated team on Archer & Armstrong, where Ivar appeared as an important character, so it's been only a matter of time (pun intended) until they got to break him out into his own rather epic adventure. As a massive fan of time travel narratives and science fiction myself, I see the series as an excellent addition to the multi-genre aspects of the Valiant Universe.
While the new miniseries The Valiant (arriving December 12th, and reaching its second issue on January 21st as well) ushers in new readers and brings major Valiant characters together, Ivar, Timewalker really sets up the expansiveness and potential in the Valiant Universe for just about any kind of creative storytelling. Fred Van Lente gives us a window on the new series here and teases that this story will span all of cosmic time, from the "Big Bang" to the "Big Crunch", and oh, there are also dinosaurs. This should be quite a ride.
Hannah Means-Shannon: Fred, you already have a significant amount of experience working within the Valiant Universe. To what extent is that knowledge necessary to you to write Timewalker? Is there noticeable detail in the story that makes it clear that this story is set within the established Valiant Universe?
Fred Van Lente: I feel like continuity should be like the Special Sauce of serialized comics — there to give extra value to hardcore readers, but not something that interferes with the enjoyment of readers picking up this, or any other Valiant book, for the first time. Ivar, Timewalker is going to have Easter Eggs galore for regular Valiant readers — two of our most popular heroes appear in #1, for instance — but no, it's not necessary at all.
HMS: How does it feel to be at the forefront of adding a new element to the Valiant Universe in this way? You're making Valiant history here, quite literally.
FVL: It's very cool! I'm very happy to have been involved in Valiant 2.0 from the very beginning. The company's been great to me, the fan reaction has been awesome, and I'm proud to have created one of my favorite works ever in Archer & Armstrong… and I'm hoping lightning will strike twice with Timewalker.
HMS: Now, who actually created the Ivar, Timewalker concept? What part have you had in creating or developing Ivar as a concept and developing him as a character?
FVL: Barry Windsor-Smith first created Ivar as the brother of Armstrong and Eternal Warrior in Archer & Armstrong. He graduated to his own series that Bob Hall and Don Perlin started — it's probably my favorite of the Valiant 1.0 series, just really clever time travel stuff.
I introduced Ivar as a major supporting character in my Archer & Armstrong with #1, and he's played an important part of the series. Editor-in-Chief Warren Simons and I wanted almost from the get-go to give him his own series, but it took really the end of A&A to provide the gap in my schedule to get it started.
HMS: Maybe this is a little obvious, but fresh from work on Resurrectionists from Dark Horse, you're dealing with a story that crosses vast expanses of time and also seems to turn on the reality that human beings just can't be trusted with time. That their person foibles are going to be very dangerous.
Wedding a historical perspective to exploring human motivations seems to be a sweet spot for you right now. What about these kinds of stories engages you as a writer?
FVL: I like to approach the past in the same way a science fiction writer approaches the future — unexplored regions that allow us to discover more about ourselves as people. Ivar is even crazier than Resurrectionists in that it's like Doctor Who but with an unlimited budget, going from the Big Bang to the Big Crunch with everything in between. We visit something like five or six time periods in the first issue alone! HMS: It looks like, at least in the first issue of Timewalker, we're seeing a team up of the scientist Neela Sethi and the time-traveler Ivar attempting to keep a grip on the inception of time travel becoming a crisis. Can you tell us more about both characters and why seeing them interact makes for a good story?
FVL: Neela Sethi is a physicist at CERN who has Ivar show up on her doorstep to tell her she is about to (accidentally) invent a form of time travel that will unleash catastrophic consequences on space/time. At first she thinks he's a nut, but then when the exploding assassins show up she's somewhat persuaded. So they launch on a crosstime adventure to use Neela's discoveries against her enemies, and save the universe.
HMS: How much can you tease about this "time running out" scenario for Ivar's quest? What are the threats to existence if time travel runs rampant?
FVL: That would get too spoilery — but I would say, I like to think of Ivar as a combination of Constantine and Reed Richards — brilliant enough to save the day, but enough of a bastard to ruin everyone's life around him in the process. There's something he isn't telling Neela — but the reader will find out by the end of #1, and it is, if I may say so, quite a shock.
HMS: It looks like you get to write a story here with both dinosaurs and dystopias. What would your younger self think of these opportunities in comics?
FVL: I think he would just be impressed I have a steady job.
HMS: It seems to me that a time-travel story, and focusing on an agent of time travel, are elements of genre storytelling that the Valiant Universe has been missing so far, and a pretty bright idea for expanding the range of stories Valiant can tell. How far ahead is Timewalker planned to run, and will there be opportunities for crossovers because of the time-element? For instance, with someone like the Eternal Warrior who also spans history?
FVL: I have a year-long arc to begin with and we will see where we go from there. For a time traveler like Ivar the story possibilities are endless… And yes, I would expect him to run across one or maybe even two of his immortal brothers along the way…
And here's our 8 page preview of Issue #1 of Ivar, Timewalker:
Ivar, Timewalker arrives from Valiant on January 21st and is currently listed in Previews with item code NOV141680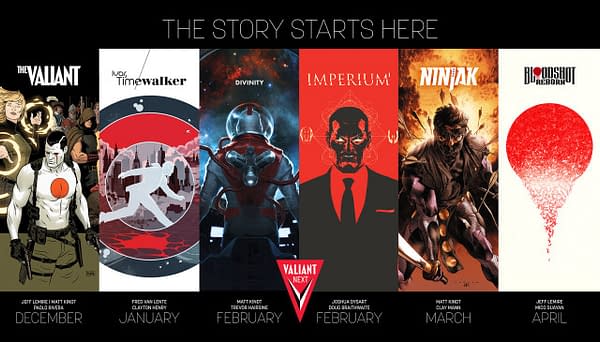 Enjoyed this article? Share it!