By now the world is aware of Ring of Honor — the second-largest wrestling promotion in the world. They've achieved a lot in a few short years, and official Todd Sinclair has seen it all.
But how does it feel to be the #2 wrestling company in the world?
"Pretty great. We've been around for 16 years, with gradual growth."
The sky is the limit, and since shows and pay-per-views have been selling out left and right, it's no wonder ROH is growing so fast. Has streaming been a big part of the popularity boom?
"It's helped a lot. The world wants instant gratification, and now they can see everything immediately."
Most ROH episodes are taped, and there can be a slight delay between taping and when the episode airs. Now, fans can get their fix immediately.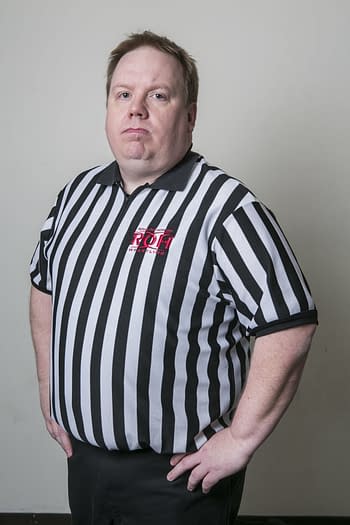 ROH has grown so much that they even recently opened an ROH Dojo — a place where new talent can train under the guidance of seasoned professionals. There ROH will train male and female wrestlers, managers, refs, and more. Pro wrestling is always evolving, and Sinclair is happy to be a part of a growing company. He got to visit the dojo this weekend, and he assured me that it was packed with new faces. An influx of new talent is a good thing, as it keeps things fresh and exciting.
Does he have a dream match he wishes he could officiate? Of course, don't we all?
"Roddy Piper against Jay Lethal. I think he's one of the greatest I've ever seen."
Sinclair was a Piper fan growing up, even if he was a heel. He says his dream area to ref in would be Australia. Currently ROH doesn't have plans to visit Australia, but you never know. He loves the idea of visiting new places and seeing new fans face to face. But what about his favorite place he's reffed in currently?
"I'm not the featured performer, I'm just doing my thing. But the San Antonio and Charlotte fans have latched on to me!"
So much so that one family was sporting shirts with "Sinclair" on them!
Wrestling, as we all know, can be a little crazy. So what's the craziest thing he's ever seen? Over 10 years ago during a Chicago Street Fight, fans started throwing metal chairs into the ring. Sinclair recalls going into the corner of the ring and going into the fetal position to protect himself, and he only got hit in the arm and leg. Other than that, he's experienced the normal heckling and yelling. Thankfully, no fan has tried to enter the ring.
"I'd maybe tackle the person."
And last, his favorite food?
"Steak. Steak tips. I'm a meat and potatoes kind of guy."
He even gave props to local Baltimore location — Chaps Pit Beef — which he enjoyed greatly.
Be sure to catch Best in the World this Friday Night via the HonorClub streaming service or pay-per-view!
Enjoyed this article? Share it!