Sesame Street's Mark Saltzman Wrote Bert and Ernie "As A Loving Couple"
In 1969, the famed felt pair of Bert and Ernie made their debut in the pilot episode of Sesame Street – and would remain a famous (and permanent) fixture on the long-running children's series. For nearly a half-century, these main Muppets used song, dance, and rubber duckies to make generations of kids into better human being. Of course, adults have shown their "thanks" by hijacking the conversation and spending an obscene amount of time trying to definitively assign – one way or another – a sexual orientation onto two puppets (leaving one to wonder if we've finally addressed the 9,847,732,124,891 other issues that were ahead of this one).
To be clear, the matter isn't how individuals see Bert and Ernie or even how they discuss the Sesame Street stalwarts with children: instead, it's about this almost righteous need to label the puppets as something instead of allowing them to be open for personal interpretation.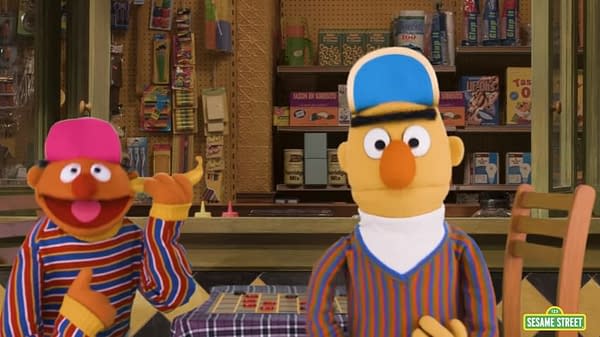 Throwing his opinion into the mix is seven-time Emmy Award winner Mark Saltzman, who started with Sesame Street in 1984 and would spend the next 15 years writing songs and scripts for the series. In an interview with Queerty earlier this week, Saltzman explained that his relationship with film editor Arnold Glassman was a major influence in how he wrote the characters:
"I remember one time that a column from The San Francisco Chronicle, a preschooler in the city turned to mom and asked "are Bert & Ernie lovers?" And that, coming from a preschooler was fun. And that got passed around, and everyone had their chuckle and went back to it. And I always felt that without a huge agenda, when I was writing Bert & Ernie, they were. I didn't have any other way to contextualize them. The other thing was, more than one person referred to Arnie & I as 'Bert & Ernie.'"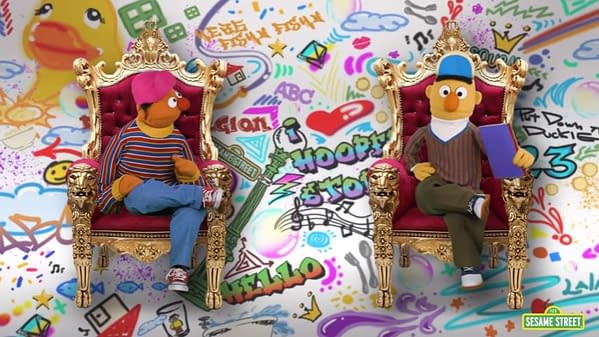 Though Saltzman joked that their looks were off, his personal dynamic with Glassman made it's way onto the screen through the characters because it best represented the life they was living:
"Yeah, I was Ernie. I look more Bert-ish. And Arnie as a film editor—if you thought of Bert with a job in the world, wouldn't that be perfect? Bert with his paper clips and organization? And I was the jokester. So it was the Bert & Ernie relationship, and I was already with Arnie when I came to Sesame Street. So I don't think I'd know how else to write them, but as a loving couple. I wrote sketches…Arnie's OCD would create friction with how chaotic I was. And that's the Bert & Ernie dynamic."

"That's what I had in my life, a Bert & Ernie relationship. How could it not permeate? The things that would tick off Arnie would be the things that would tick off Bert. How could it not? I will say that I would never have said to the head writer, "oh, I'm writing this, this is my partner and me." But those two, Snuffalupagus, because he's the sort of clinically depressed Muppet…you had characters that appealed to a gay audience. And Snuffy, this depressed person nobody can see, that's sort of Kafka! It's sort of gay closeted too."
Not long after those remarks went wild on social media, Bert and Ernie co-creator (alongside Jim Henson; with puppet maker Don Sahlin) and film director Frank Oz took to Twitter to offer his thoughts on the Bert/Ernie matter – and it's safe to say that he's not exactly on the "Team Saltzman" side:
(Reporter's Rhetorical Question: If it's "unnecessary" to label Bert and Ernie as being gay, then why did Oz feel the need to then label them as "not gay"?)
After a long stretch of back-and-forths with a number of followers, Oz posed a question before wrapping up his Twitter run for the day:
For their part, Sesame Workshop continues to try to stay above the fray, seemingly reminding everyone that Bert and Ernie "remain puppets, and do not have a sexual orientation":
https://twitter.com/SesameWorkshop/status/1042117602678587395