Stranger Things Season 2 To Sponsor Halloween ComicFest 2017
Ever year, 'round about Halloween, Diamond Comics Distributors runs Halloween ComicFest — an event in direct market comic stores similar to Free Comic Book Day, but themed to the season, and with opportunities for people to buy mini-comics en masse to give away to Trick-or-Treaters instead of sweets and candy.
I have always seen this as a good thing. However, it's not a charity, and retailers are expected to foot much of the bill as part of their promotional outreach. So anything that might help offset that and provide a little colour in the process might be seen as a good thing.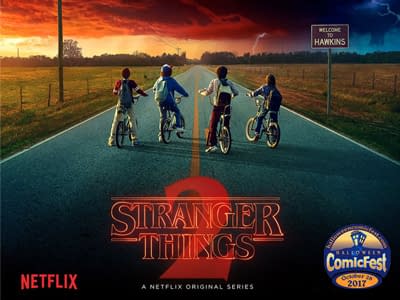 This is where the news that Netflix's Stranger Things is to sponsor this year's Halloween ComicFest 2017 comes in — their most prestigious sponsor yet. As part of the title sponsorship, Stranger Things Season 2 will appear on one side of the Halloween ComicFest 2017 themed plastic bags, and the cost of orders to retailers has been lowered as a result.
It's also nicely timed for the release of Stranger Things Season 2 on October 27th.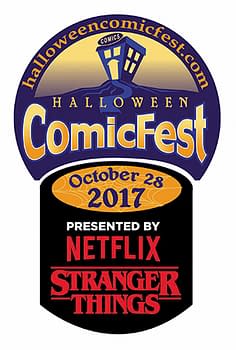 Here's another look at the upcoming comics for October 28th. THE FUNKO POP POP MARVEL EMMA FROST DIAMOND FORM PX VINYL FIGURE
FUNKO
A PREVIEWS Exclusive! When the Sentinels attacked Genosha and leveled the mutant haven, Emma Frost was among the victims caught in the carnage. Clearing away the wreckage, the X-Men were surprised to find her, unharmed, her body transformed in an indestructible diamond form. Frost was the first mutant to undergo a "secondary mutation"; in addition to being one of the world's most powerful telepaths, Frost could transform her body into translucent, indestructible diamond. Now, Emma Frost's Diamond Form joins Funko's POP! Vinyl Figure line. Standing 3 3/4″ tall, the translucent Emma Frost sports Funko's fan-favorite stylized design. Limited to only 10,000 pieces and released to coincide with Halloween Comicfest 2017, don't miss out on this PREVIEWS Exclusive Emma Frost Diamond Form POP! Figure! $11.99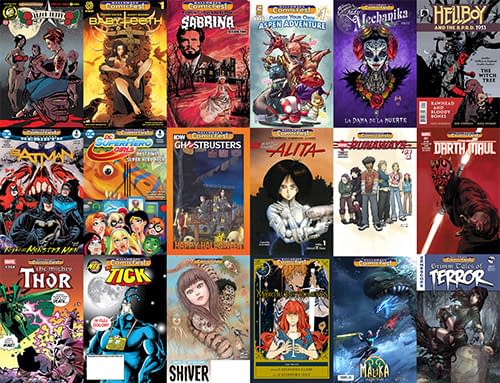 FULL-SIZE FREE COMICS
BLACK BETTY #1
ACTION LAB
JUL170021
The Zombie Tramp universe continues with Black Betty #1 by Shawn Gabborin (Action Lab Editor-in-Chief) and Timothy Weaver (Spera). This is a special issue is a sneak peek of the ongoing series debuting after Halloween ComicFest. In the meantime, this is a perfect opportunity to point fans towards Zombie Tramp ( JUN130714), Vampblade ( MAR161004), and Dollface ( MAY171011). [MATURE]
BABYTEETH #1
AFTERSHOCK COMICS
JUL170022
Aftershock continues its streak of well-written creator-owned comics with Babyteeth, an antichrist story. This special black and white reprint of the first issue will be perfect to drive fans towards the other issues out by Halloween ComicFest, including issue #2 ( MAY171047), #3 ( JUN171133), and #4 ( JUL171308). [MATURE]
THE CHILLING ADVENTURES OF SABRINA SEASON 2
ARCHIE COMICS
JUL170023
The Archie Horror line continues with this reprint of The Chilling Adventures of Sabrina #7. "With the launch of titles like Afterlife with Archie ( MAR140833), The Chilling Adventures of Sabrina ( MAY161133), and Jughead: The Hunger ( JAN171318), Archie's defined itself as not only the most relevant and engaging comic publisher out there – but experts in the horror genre," said Archie Comics President Mike Pellerito. [TEEN]
CHOOSE YOUR OWN ASPEN ADVENTURE
ASPEN MLT
JUL170024
Aspen brings a unique story with its characters that'll entice fans into the universe. "Aspen Choose Your Own Adventure is an exciting combination of a comic book, coloring book, activity book and more," said Aspen Comics Vice President and Editor-in-Chief, Vince Hernandez. This is the perfect opportunity to point fans towards Fathom Vol 1 ( APR140878). [ALL AGES]
LADY MECHANIKA: LA DAMA DE LA MUERTE
BENITEZ PRODUCTIONS
JUL170025
This is a steampunk bestseller perfect for readers looking for a fun tale in the genre. Benitez Productions' Halloween ComicFest issue features the first chapter of the Lady Mechanika: La Dama De La Muetre trade ( JUL171463) coming out in September. You can also direct fans towards the first ( SEP151087) and second ( FEB161202) volumes after the event. [TEEN]
HELLBOY AND THE BPRD 1953: WITCH TREE/RAWHEAD & BLOODY BONES
DARK HORSE COMICS
JUL170026
Off the heels of the new Hellboy film announcement, this Halloween ComicFest title is a reprint of the 2015 one shot with the same name. Retailers will be able to direct fans immediately to the collected edition ( APR160065) and the previous miniseries Hellboy the BPRD 1952 ( APR150064). [TEEN]
GHOSTBUSTERS: DIA DE LOS MUERTOS
IDW PUBLISHING
JUL170027
This reprint of Ghostbusters #10, included in the 2014 Ghostbusters Vol 7: Happy Horror Days ( FEB140442). The story follows Melanie Ortiz's return to NYC during the Day of the Dead. There are plenty of Ghostbusters trades to direct fans to if they're searching for more stories after Halloween ComicFest, including International Vol 1 ( APR160495) and The New Ghostbusters ( APR160492). [TEEN]
BATMAN: NIGHT OF THE MONSTER MEN
DC COMICS
JUL170028
A reprint of Batman #7, this story kicks off the first crossover of the Rebirth era: Night of the Monster Men, which sees our favorite Gotham Knights face off against Dr. Huge Strange. Out on 10/25 right before Halloween ComicFest is the Batman: Night of the Monster Men trade ( JUL170456), which will be perfect to point fans towards, as well as Batman Rebirth Vol 1 ( OCT160291). [TEEN]
DC SUPER HERO GIRLS
DC COMICS
JUL170029
As with last year's Halloween ComicFest and the previous two Free Comic Book Days, DC is previewing the latest DC Super Hero Girls graphic novel: Past Times at Super Hero High ( JUN170333) out in September. Retailers can also point fans towards the other DC Super Hero Girls graphic novels: Finals Crisis ( APR160322), Hits and Myths ( AUG160270), and Summer Olympus ( MAR170353). [ALL AGES]
RUNAWAYS #1
MARVEL COMICS
JUL170030
With the new Hulu series right around the corner, now is the perfect time for fans to rediscover Brian K. Vaughan's seminal run on the now classic series Runaways. On Halloween ComicFest, retailers can point fans directly to Runaways: Pride and Joy ( AUG161033) and Runaways: Teenage Wasteland ( NOV160985), as well as other new printings of Vaughan's time on Runaways. [TEEN]
DARTH MAUL #1
MARVEL COMICS
JUL170031
The most popular Sith Lord of the Prequel Trilogy comes to comic shops in this reprint of Darth Maul #1. By the time that Halloween ComicFest comes around, the trade paperback collecting the first five issues ( MAY170950) will be available for fans of the series to pick up at their local comic shop. [TEEN]
THOR BY WALT SIMONSON #1
MARVEL COMICS
JUL170032
The Marvel movie after Halloween ComicFest is none other than Thor: Ragnarok, starring Hela. Marvel's reprint of the classic encounter between Thor and Hela, as well as a backup story by Stan Lee and Jack Kirby showing the first appearance of Hela, this is the perfect tie-in to the upcoming film. With Thor: Ragnarok incorporating elements from World War Hulk, this is the perfect time for fans to discover the new Omnibus ( APR171130) out in October before Halloween ComicFest. [TEEN]
BATTLE ANGEL ALITA/SAILOR MOON ETERNAL PREVIEW
KODANSHA COMICS
JUL170033
"This preview marks the return of some milestones in manga history," said Kodansha Comics Associate Director of Publishing Services Ben Applegate. "We'll also be including art from Ghost in the Shell and Akira!" Retailers will be able to immediately steer fans towards Kodansha's volumes of the manga included in their Halloween ComicFest comic, including Sailor Moon ( JUL111150), Battle Angel Ailta ( JAN131197), Ghost in the Shell ( JUL121132), and Akira ( AUG090981). [TEEN]
THE TICK #1
NEW ENGLAND COMICS PRESS
JUL170034
The Tick remains one of the staples in comics history and this year, The Tick offers a colorized reprint of The Tick #1 after the first season of the new show debuts on Amazon. Fans of the series on Halloween ComicFest will be able to laugh with other New England Comics Press titles like Big Blue Destiny ( JUL151478) and The Complete Edlund ( JUN151435). [ALL AGES]
JUNJI ITO'S SHIVER
VIZ MEDIA
JUL170035
"Junji Ito is the godfather of horror manga," said VIZ Media Publishing Sales Manager Mark de Vera. "VIZ Media's upcoming release showcases a collection of Junji Ito's short stories that he considers to be his best work." Fans who enjoy Ito's work on Halloween ComicFest can find more with Frangments of Horror ( APR151804), also available from VIZ. [TEEN]
THE MORTAL INSTRUMENTS
YEN PRESS
JUL170036
The popular Mortal Instruments book and television series comes to comics for Halloween ComicFest! The fan base for this series is large, and you can point them directly to the trade that comes out this September, solicited in the August PREVIEWS catalog ( AUG172199). [TEEN]
MALIKA: DRAGON TRIALS
YOUNEEK STUDIOS
JUL170037
Featured in major outlets like The Washington Post and The New York Times, YouNeek Studios has been making waves in the comic book industry. This original and captivating story is perfect to point fans towards Malika: Warrior Queen ( MAY172065). [ALL AGES]
GRIMM TALES OF TERROR
ZENESCOPE ENTERTAINMENT
JUL170038
This special edition of Grimm Tales of Terror ties directly into the upcoming independent movie coming out towards the end of 2017 or early 2018. Retailers can point fans of the Halloween ComicFest title to the trade paperback ( APR172243) and Grimm Fairy Tales ( MAR121300). [TEEN]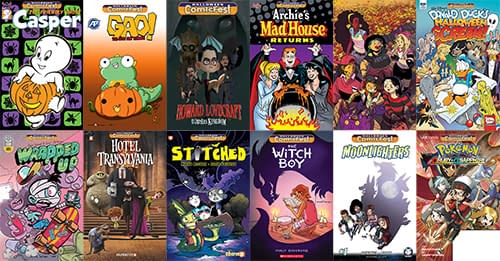 ALL-AGES MINI-COMICS (ALSO AVAILABLE IN GRAB BAGS)
CASPER THE FRIENDLY GHOST
AMERICAN MYTHOLOGY
JUL170052
Everyone's favorite friendly ghost is back in this reprint of classic Casper tales. Perfect for fans old and new, retailers can point people on Halloween ComicFest to additional titles like the new series from American Mythology, including issues #1 ( MAR171275) and #2 ( JUN171169). [ALL AGES]
GAO #1
ANTARCTIC PRESS
JUL170053
Taking advantage of the kaiju craze, Antarctic Press releases an adorable mountain of menace on the world for Halloween ComicFest. Although the main Gao storyline won't be out until after Halloween ComicFest, fans can find more all ages fun from Antarctic Press with How to Draw Adventure Friends and Heroes ( NOV120840) and the Zombie Kid Diaries ( MAR128245). [ALL AGES]
HOWARD LOVECRAFT AND THE UNDERSEA KINGDOM
ARCANA STUDIO
JUL170054
The popular series starring Ron Perlman and Mark Hamill continues in comics ahead of the next movie! This all ages take on Lovecraftian mythology is perfect for kids and adults. Fans who enjoy Howard Lovecraft can find the whole graphic novel ( JUL171403) out in September. [ALL AGES]
ARCHIE'S MADHOUSE RETURNS
ARCHIE COMICS
JUL170055
Archie's Madhouse returns once again for Halloween ComicFest showcasing original and classic Archie fun. "What better time to celebrate that than Halloween with Halloween ComicFest?" asked Archie Comics President, Mike Pellerito. "We've got offerings for all our fans of classic Archie." There are plenty of classic Archie stories for fans to enjoy after Archie's Madhouse Returns, including a 1000 Page omnibus that came out this June ( MAR171344). [ALL AGES]
BOOM! BOX'S SOME EN-HAUNTED EVENING
BOOM! STUDIOS
JUL170056
"The casts of Lumberjanes, Giant Days, and all your favorite BOOM! Box series meet for the first time in this crossover event that's just one issue," said BOOM! Studios President of Publishing & Marketing Filip Sablik. "This is unlike any crossover you've ever read, bringing together some of the most diverse and beloved new fictional characters of the decade in a comic that'll thrill longtime fans and turn new readers into returning readers to discover just why BOOM! Box is the way so many new fans are discovering the world of comics." Fans who enjoy this comic can immediately find jumping on points to Lumberjanes ( FEB151172), Giant Days ( AUG151215), and other BOOM! Box series. [ALL AGES]
DONALD DUCK HALLOWEEN SCREAM #2
IDW PUBLISHING
JUL170057
Donald and his nephews Huey, Dewey, and Louie face off against a haunted house in this reprint of a classic Donald Duck story. Fans of this Halloween ComicFest mini comic will enjoy the new Ducktales series ( JUL170523) from IDW, as well as classic Donald Duck stories like Timeless Tales ( FEB160350). [ALL AGES]
WRAPPED UP
LION FORGE
JUL170058
Milo may be a regular kid like you and me, but he and his family are also mummies! In this newest comic from Lion Forge's Cub House imprint, fans will find a fun all ages story that leads directly into the new monthly series debuting this October and solicited in the August PREVIEWS catalog ( AUG171833). [ALL AGES]
HOTEL TRANSYLVANIA
PAPERCUTZ
JUL170059
This all-new excerpt from the graphic novel based on the hit Sony Pictures Animation movie series will be a surefire hit on Halloween ComicFest. The first volume will debut from Papercutz in September ahead of Halloween ComicFest ( FEB178302). [ALL AGES]
STITCHED
PAPERCUTZ
JUL170060
This special excerpt from the premiere Charmz graphic novel is perfect for the young kids and tweens finding themselves in shops for Halloween ComicFest. Following Crimson Volania Mulch, Stitched is all about a resourceful patchwork girl determined to find her lost memories. Fans can be directed to the first volume First Day ( MAR171971), which came out this past May. [ALL AGES]
THE WITCH BOY
SCHOLASTIC/GRAPHIX
JUL170061
Thirteen-year-old Aster finds himself in a predicament: although boys are supposed to grow up to be shapeshifters and girls to be witches, he finds himself fascinated with witchcraft. Though he practices in secret, when a mysterious danger threatens his friends and family, Aster will have to be true to himself to save them. Retailers can point fans to the full graphic novel, which debuts in November after Halloween ComicFest. It's solicited in the August PREVIEWS catalog ( AUG171754). [ALL AGES]
MOONLIGHTERS
SPACE GOAT PRODUCTIONS
JUL170062
"Moonlighters is about broke college-age werewolves who do supernatural odd-jobs to pay the rent," said Space Goat Director of Marketing and Sales, JD Boucher. "Readers who are fans of Lumberjanes, Kim Reaper, and Scooby-Doo should really dig the all-queer cast and the expressive, animated art style. Plus there's a were-corgi!" Fans will be able to pick up the complete first issue towards the end of the year. [ALL AGES]
POKEMON OMEGA RUBY AND ALPHA SAPPHIRE
VIZ MEDIA
JUL170063
"What makes the Pokémon Adventures manga so great is that it takes the characters from the Pokémon video game series and injects them with tons of personality, character and motivation," said VIZ Media Publishing Sales Manager, Mark de Vera. "The Omega Ruby and Alpha Sapphirearc, the latest of this long-running manga series, features the return of fan favorite characters Ruby and Sapphire in a new adventure with plenty of new friends, foes and Pokémon to go along!" Retailers can point fans immediately to the first volume of the complete series
THE T-SHIRTS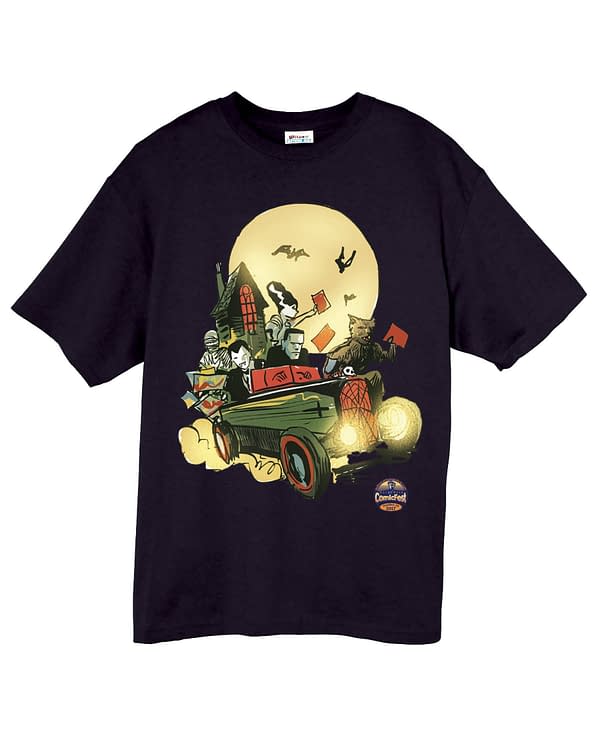 T-SHIRTS FRANCAVILLA $11.99
Fan-favorite artist Francesco Francavilla provides the artwork for the first Halloween Comic Fest Commemorative Artist T-Shirt! Pick up this limited edition t-shirt and show your love for comics this Halloween! M and F designs, sizes from S to XXXL