KirkmanWatch: From a recent Invincible;

TyWatch: Ty Templeton explains Green Lantern.
SupermanUnderwearWatch: Hello citizen, this is Superman. I come to you for help spread my cause. DC Comics has decided to take my red underwear away! It is my mission, with the help of you, to tell DC Comics to give me back what belongs to me. My RED UNDERPANTS! Help me spread the word and follow me on Twitter @SupesRedUndies.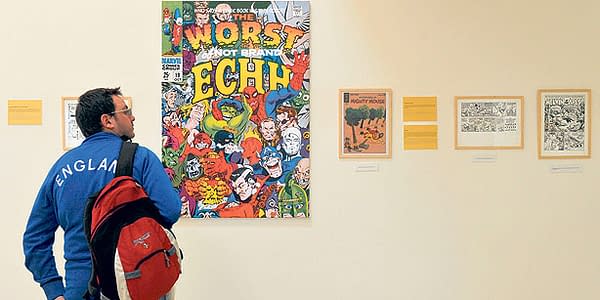 TurkeyWatch: The Comic Strips in the Second Degree exhibition opens at the İstanbul French Institute in the city's Taksim neighborhood.
[it] is essentially based on parody takes, well-known fantastic and legendary heroes, and images from the cinema, literature, myth, television and art worlds, presenting them in the "second degree," with a satirical spin to form variations of a self or a personality that ultimately become characters themselves. Familiar names featured in the exhibition include Harry Potter, Robin Hood, Conan, Tarzan, Sherlock Holmes, various superheroes, characters from the television series "The Simpsons" and the Mona Lisa with her piercing gaze conveniently stifled by the head of a large duck.
FakeTimeSquareSpider-ManWatch: Watch out on Time Square for fake branded charity collectors;
Spiderman spends his days encouraging small tips from the parents of Peter Parker's biggest fans, wide-eyed little boys, while putting on a show of heroism by lifting pubescent girls off the ground as their friends eagerly snap action shots.

His work location? Conveniently at 42nd and Broadway, close to the theater, home of the new hit play "Spider-Man: Turn Off the Dark."

It's reasonable to assume that most tourists believe this Spiderman is an added feature to the Broadway performance, hired either by the play's production company or Marvel Comics.
SizeMattersWatch: From the Shreveport Times;
Starting today, Sunday comics and games are larger than before.

We attempted something new with our redesign to put comics in a tab format, and we heard from many of you that some of the comics were too small. So we decided to go back to the broadsheet format to allow for larger images.
And here's a look through the paper's comic strip history.
ForeskinWatch: The Foreskin Man comic still keeps getting press….
"This is generating a lot of attention that is pushing people to look into this a little bit more," Hess told The Associated Press. "The more you look into it, the worse it gets. It is a serious human rights violation. Now a lot of people are going to learn about circumcision and be thinking about it before the November ballot."
Critics agree that it is drawing attention _ but, they say, not support. In a June 8 editorial, the San Francisco Chronicle said the comic's "classic anti-Semitic imagery is inexcusable" and shows an "ugly undercurrent to the campaign."
"`Foreskin Man' provides yet another reason to vote against the circumcision ban," the newspaper stated.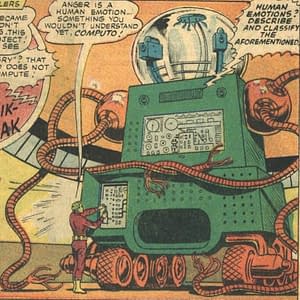 This is Computo the Comic Link Conqueror speaking. I come for your women. But for now I merely collate comic-related bits and pieces online. One day I will rule. Until that day, read on.
They say I am a work in progress. The fools.
What Consumers Should Know from the DC Retailer Roadshow
The first major point that Dan DiDio emphasized is his "guarantee" that these books will be coming out on time for the foreseeable future (and yes this includes Batman: The Dark Knight!).  They are absolutely committed to getting these books out in a timely and consistent basis.
Full Captain America "Behind the Shield" Featurette | Superhero Hype
a behind-the-scenes promo featurette about Captain America's shield as wielded by Chris Evans in Marvel Studios' Captain America: The First Avenger.
As DC Comics' creative go-to-guy, Michigan-born Geoff Johns has the job he'd always dreamed of | Detroit Free Press | freep.com
DC liked what it saw. Johns started out writing "Stars and S.T.R.I.P.E.," a 1999 comic book with a character inspired by his sister, who died in the TWA 800 crash. He also cowrote "JSA" with David S. Goyer, an Ann Arbor native and Hollywood veteran who is writing "Man of Steel," the next Superman movie.
Enjoyed this article? Share it!