Sweet Release! Axiom Verge, Story Of Seasons, MLB The Show 15, Angry Video Game Nerd Adventures, April's Free Games
By Jared Cornelius
Welcome back to Sweet Release! Bleeding Cool's look at the new video games on store shelves and digital platforms this week. As we round out the month and look back, March turned out to be pretty good for games. With PlayStation's Spring Fever sale brining unique downloadables out, and a fair amount of big boxed releases, it looks like every platform ended up with something. This week we say farewell to March, but usher in April with the month's free games for subscription services and we start off by talking about what might be the indie sensation of the year.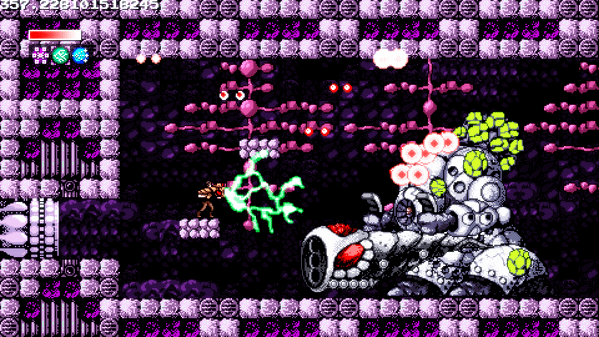 If you've followed any of my writing you may know I'm a huge fan of exploration based action games typically referred to as, "Metroid-Vainas". The phrase comes from gameplay popularized in Super Metroid and Castlevania Symphony of The Night, where level advancement is gained by unlocking new items and abilities to aid in traversal and puzzle solving. This week we get what might be the next big thing in the genre, by way of a single man. Tom Happ is the sole proprietor, developer, and creator behind Axiom Verge, the last big game in the Spring Fever promotion on the PlayStation Network. The 16 bit styled "Metroid-Vania" revolves around a scientist being transported to a strange world after a failed experiment. Unsure whether he's dead, on an alien world, or somewhere else, the scientist must explore 9 interlocked labyrinths to find the truth. Axiom Verge takes advantage of its retro style by including exploitable glitches that, "break past the boundaries of normal gameplay". It also has a built in Speedrun Mode for dedicated fans intent on insane levels of completion. A truly gorgeous homage to the 16-bit era of gaming, Happ looks to have successfully created a game that not only looks and feels authentic to the time period, but also seems like the logical place a Super Metroid sequel could've gone. Place your bets folks, Axiom Verge looks like this year's Shovel Knight. Axiom Verge released Tuesday on the PlayStation 4 and PlayStation Vita.
In one of our only retail releases this week, Marvelous and XSeed Games are putting out Story of Seasons out on Nintendo 3/2DS. If the game looks familiar you may know the series by its other name, Harvest Moon. The long running farm/life simulator first popped up in 1996 on the Super Nintendo and has produced over 15 sequels on 9 different consoles. The new name is apparently a stab at rebooting the franchise in other territories and features the classic gameplay with some new twists. The game plays out mostly as a farming simulation with players creating a character and tending to their farm with a light dating role playing element. The newest feature is online connectivity with players being encouraged to trade with other players. It's a niche title and it falls under the "you know if you like this" blanket of games. Story of Seasons released Tuesday for the Nintendo 3/2DS.
The big retail game this week is actually MLB The Show 15. Sony's platform exclusive baseball game is widely regarded as the best, even though it's really the only one on the market. I'm not going to lie, I find baseball tedious and boring, but this is also a game that falls under the "you know if you like this" blanket, so here are the bullet points.
*More real life equipment brands!
*Virtual stubs and trading cards!
*30 MLB alumni!*Year to year saves from MLB The Show 14 (Ok, that one sounds like its pretty good)
MLB The Show 15 released Tuesday for PlayStation 3, and PlayStation 4. There's also a PlayStation Vita version that's download only, so if you see a physical copy it only includes a download code.
The internet has helped foster an interesting connected community, from human dolls to food architects we're in a really weird time of online celebrity. James Rolf is one of those strange celebrities, but you may know his from his proper title, "The Angry Video Game Nerd". A "reviewer" of classic games Rolf made a name for himself by drinking terrible beer and savaging some of history's worst titles. In 2013 Rolf went from real life cartoon character to pixelated video game character when developer FreakZone Games made Angry Video Game Nerd Adventures. The 8-bit inspired retro platform game is kind of like the weird lovechild of Mega Man 2 and your Google history after getting drunk. It's got 10 stages, a ton of video game references, and is reportedly quite difficult. Developer FreakZone has a short but pretty good track record with an I0S platformer based on the terrible 60's movie Manos The Hands of Fate, most prominently known for its savaging on Mystery Science Theater 3000. It's a shockingly competent game for a platformer on touch screen devices. A version passed Steam Greenlight but's been held up for some reason. I'm rambling and Angry Video Game Nerd Adventures releases on Wii U Thursday with a Steam version currently available.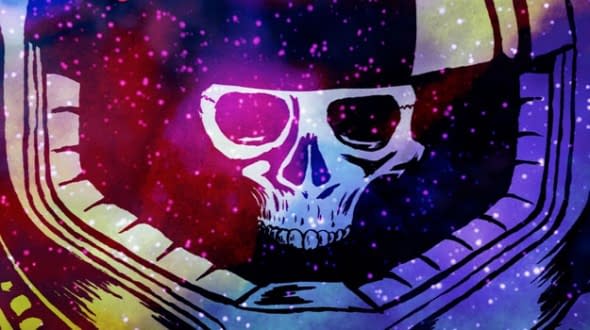 If Axion Verge doesn't seem like it'll be bleak enough for you, maybe take a peek at Out There: Omega Edition from Mi-Clos Studios. The outer space exploration game is one part visual novel, one part resource manager, and one part rogue. Play as an awakened astronaut, lost in a far corner of space. Traverse the galaxy looking for signs of life as well as supplies, while you make critical decisions about your survival. The game features no combat and is more interested in pitting players against the environment that enemies. Out There also features procedurally generated solar systems, meaning each play-thorough is unique. Out There: Omega Edition is out on Steam and other download services Tuesday, with an I0S version currently available.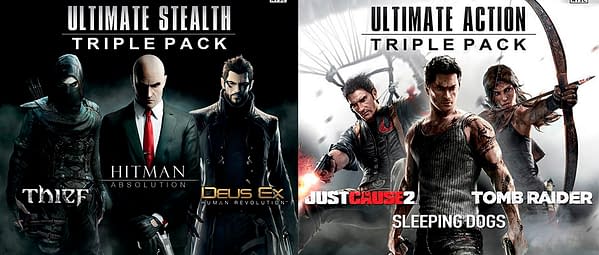 Ubi Soft is continuing to bundle up last generation titles at a more value price. For the mere pittance of $29.99 you can have yourself "The Ultimate Action Triple Pack" or "The Ultimate Stealth Triple Pack". The first contains the completely awesome Just Cause 2, which is absolutely worth the price of entry and is one of my favorite games ever. It also includes the reboot of Tomb Raider and Sleeping Dogs. The stealth pack isn't quite as good, with Hitman Absolution, Deus Ex: Human Revolution, and the lackluster reboot of Thief. Both are console exclusives with Xbox 360 getting the superior Action Pack and PlayStation 3 getting the Stealth pack. Both games released Tuesday for their respective consoles.
We're right on the edge of a new month and that means new games if you subscribe to Xbox Live Gold or PlayStation Plus.
As of this writing, PlayStation Plus has announced Woah Dave! will be free on PlayStation 4. Its cross buy with PlayStation 3 and PlayStation Vita versions already out, so if you own one version you own them all. PlayStation 3 users will also get the Oil-Punk stealth game Dishonored. Keep your eyes on Bleeding Cool for an updated list sometime this week. Microsoft is stepping up their game this month by offering double the games. The Xbox One gets Pool Nation FX and Ubi Soft's weird arty RPG, Child of Light available for download all month. Xbox 360 users get a whopping four free games, with the 3rd person stop and pop shooter Gears of War: Judgment and 2D world builder Terraria free from the 1st through the 15th. They'll be replaced by Ubi Soft's 3rd person stealth-murder-boat-adventure, Assassin's Creed IV: Black Flag. The free games get rounded out with EA's Gears of War want-to-be, Army of Two: The Devil's Cartel.
That's it for this week, you can check out my other regular column, Typing on The Dead. Its Bleeding Cool's Walking Dead recap and dissection, and it just got a new entry last Friday with issue #139! Why not check out other cool articles, like Geek Shopping from fellow New Jersey native Christine Marie.
Jared Cornelius is some guy from the Jersey coast who's on his way to shaping young minds. If you'd like to help pick those shapes, contact him on Twitter @John_Laryngitis.