Alasdair Stuart writes:
For many in the UK, Christmas is marked by the arrival of a double-sized Radio Times that, somehow, always seems to use the same Santa art for the front cover. For many others, Christmas only begins when 2000AD do their 100-page end of year blow out issue. It's like an office party with war robots, a Christmas do with added Big Meg Justice. It's out tomorrow. Here are some things about it.

1. The Right Thing, The Wrong Town
Michael Carroll opens proceedings with a nice, solidly grim little Dredd story set on New Year's Eve. Mega City 1 is still in tatters after Day of Chaos and a group of looters find something far more than they bargained whilst out scavenging. It's a smart script that manages to show us both sides of the issue at the same time as hitting the inevitable beats of any Dredd story told from the perp's POV. There's some nice complexity to the motives here and a couple of memorably dark gags in the ensuing chase sequence. Leigh Gallagher's art is also a good fit for the Big Meg, and Chris Blythe's colors delineate between the polite lie of City life and the desperate nature of the scavengers really well. Annie Parkhouse's lettering also, as ever, scores highly.


2.Maniac About Town
The first new character of the issue is…actually an old one. Created, albeit briefly, by Grant Morrison, Ulysses Sweet is a charming, rakish sociopath. He's also, judging by this opening instalment, in very good hands. Guy Adams, who I'll be interviewing shortly, is a relative newcomer to comics but he hits some difficult targets here. Ulysses is charming and chilling by turns, and the premise of his onboard AI conscience is already causing some good friction. Paul Marshall's art helps no end, accentuating the violence but never drowning in it. Chris Blythe's greytones help immensely too, giving the art depth without swamping it. Finally, Ellie De Ville differentiates between Ulysses and his onboard 'Jiminy' very well, giving us no doubt of just how unstable our 'hero' is. Charming, massively over the top and chilling, the rest of this is definitely something to look forward to in 2014.
3. The 10 Second Welshman
The 10-Seconders are up next with 'Harris' Quest for the Perfect Xmas Pint'. This is one of the most fun of 2000AD's new wave of serials, set in a near future where godlike creatures have all but wiped the planet out. The resistance fighters that are left are named the 10-Seconders because that's how long, on average, one lives when they face a 'god' in combat.
Things have changed though, and this quiet (ish) story finds Harris, one of the original characters on his own in a huge alien vessel. Rob Williams' has a fine ear for dialogue and Harris' stream of consciousness thinking out loud is nicely handled and often funny. Edmund Bagwell's clean lines are a good fit too, emphasizing the scale and alien nature of the 'gods' without losing their character along the way. There's what seems to be a bit of an art flub surrounding the severity of an injury Harris sustains but it's still a fun, nasty piece that sets up the next volume very well. Top marks to Simon Bowland for great lettering too, especially on the sound effects.

4.Robot Remembrance
Pat Mills! Clint Langley! Annie Parkhouse! Horrible mechanical violence! The ABC Warriors are back in Return to Mars. This is a smartly done, small scale piece that emphasizes both the absurdity and brutality of the ABCs. The piece is essentially a Tubal one-shot and Mills combines typically muscular robo banter with some well handled character beats. Langley and Parkhouse also do great work here, especially on the flashback, although the final page reveal is damaged a little by a slightly wacky angle choice. Nonetheless, this is both a welcome pause for breath and a sombre, reserved piece in a series best known for demented robo-bombast.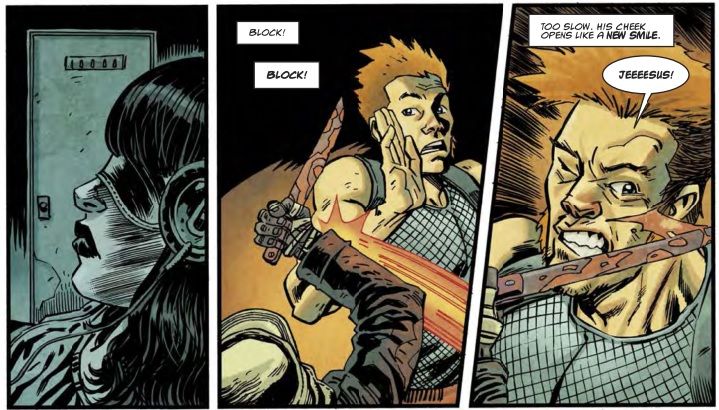 5. No Country for Old Gunsharks
Dan Abnett's Sinister Dexter are up next with 'Generican Dream: Room Only', and, as is always the case with Abnett, there's a lot going on. Both the start of the next major story arc and a story in its own right, it allows both Abnett, and his characters, to reflect on how far they've come. It's been a long, strange road for the two gunsharks and there's a moment here where, just for a second, Finn lets his guard down and allows himself to feel every mile traveled. It's a perfect character beat, and perfectly timed too. It's the time of year for reflecting on the past and Finn does just that. This being Sinister Dexter, it almost gets him killed.
The fight scene in this story is genuinely great. There's a really smart decompression of time as the fight begins, and Abnett places us squarely in Finn's head as he frantically tries to get the upper hand. Fight psychology is still a rare and precious thing in a comic and it's really well handled here. P.J. Holden's art also shines here, giving us a clear idea of who's doing what to who as the fight rages across a wonderfully divey motel room. Dylan Teague's subtle colors are also great in this scene, and Annie De Ville's lettering again impresses.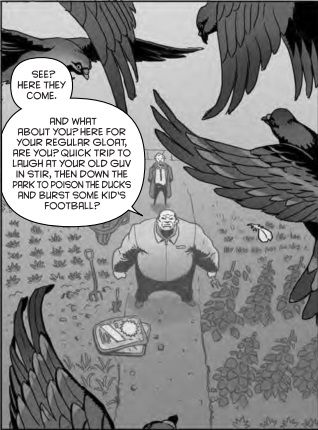 6. The Bad Old Days
Absalom is putting the old firm back together in 'Old Pal's Act' and it's for the best possible reasons. That all but ensures it will end badly but, like the Mills piece, this Gordon Rennie short is a cleverly packaged recap of the basic premise of the series (Old cockney police officer fights the supernatural even as he's morally compromised by it. And yes Rivers of London and London Falling fans should be all over this.) as well as telling a story in its own right and moving the series as a whole towards something that feels a lot like an endgame. Supernatural London coppers are big right now, and Absalom is one of the very best, or worst, depending on which side of the law you, and he, are on. Tiernen Trevallion's art is a perfect counterpoint to the script too; everything existing in literal, and metaphorical, shades of grey. Bowland once again does sterling work on letters.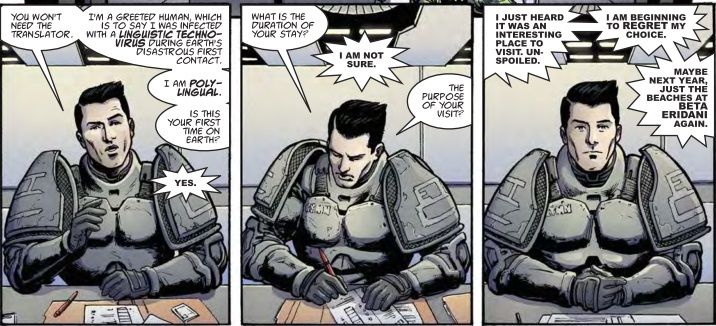 7. Welcome to Earth
Nothing to Declare is a Grey Area story. Written by Dan Abnett, with excellent art by Patrick Goddard, colors by Abigail Ryder and lettering by Ellie De Ville, it's the smallest scale piece in the issue. It's subdued too, even bleak. It's also arguably the best story in the issue.
Told in the first person, it puts us in the head of an alien making their way to Earth for the first time. We see the members of the Exo Transfer Control deal with each alien with boredom or hostility as we move ever closer to being let out onto the planet. Each of them is dressed in armor, each is bored of their job and as we're passed from one to another we find out what happened to make them this way. First contact, a first contact that went extremely badly. Moving further into the system we get hints of human abduction and alteration, of a recent war and that Earth has become a dumping ground for aliens. It's
a bleak little story, crammed with visual and linguistic invention (The ETC acronym, etc, making each officer seem too bored to finish their official spiel is especially fun). Intelligent, wry science fiction of a sort only 2000AD can do.
7. Something to Declare
8. Tharg Goes Wild
And so we come to Tharg The Mighty, starring in 'Building a Better Comic'. Scripted by T.M.O this is the traditional, Droid-centric story but, for the first time in years, it feels like a misfire rather than a fun distraction. Anthony Williams has a nice loose style that echoes that of series like Robo-Hunter and Annie Parkhouse turns in more excellent lettering but the script is over indulgent and over long. It might just be how much of this year has drowned in meta-jokes about comics in comics, but for me at any rate, this is the weakest story here by a good margin.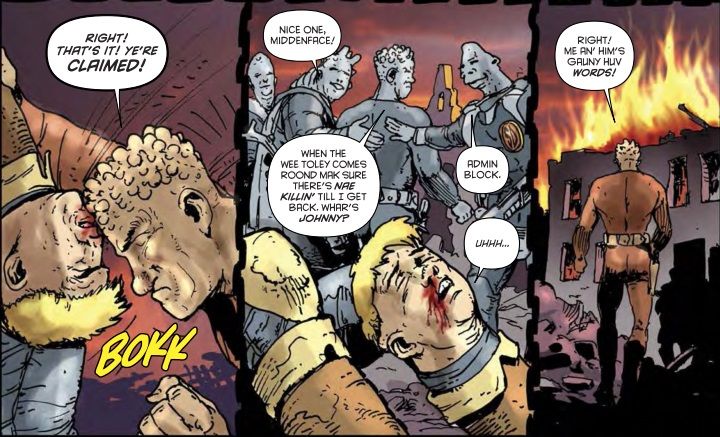 9. Casualties of War
John Wagner, Carlos Ezquerra and Simon Bowland close the issue out with 'The Life and Death of Johnny Alpha 4: Dogs of War'. Superficially this is another in the long chain of action scenes that dominate this series. For many people that's a recommendation but, for me, Strontium Dog hasn't felt interesting, or welcoming, for some time. The war has led to interminable action scenes being spread across multiple parts and it's been difficult to fight the sense of this being a story you sit out until it's finished. That changes here though, as we get an exploration of the realities of modern warfare, a very dark side of Alpha and moral complexity coming from Middenface Mcnulty of all people. It's character driven, fast and features the same mutant vs human violence, just with added weight and moral complexity. Ezquerra and Bowland are never less than impressive and it's nice to see Mills on top form again too.
So, another year, another 100 page special and another raft of stories showing us where 2000AD is heading in 2014. It's a strong line up, mixing old and new and ensuring that there's something for everyone here. Like a selection box just without the faintly disappointing smaller chocolates and much more face punching and robots, the 100 page 2000AD special is a perfect time to try the comic out and is available from today priced £4.50.