Things To Do In New York, Philadelphia, And New Jersey This Week If You Like Comics (And Nightworld!)
Monday, August 4th The ninety-third meeting of the NY Comics & Picture-story Symposium will be held on Monday, August 4, 2014 at 7 pm at Dixon Place, 161A Chrystie Street, between Rivington and Delancey in New York City. The event is free and open to the public. Presentations will be by Sophia Wiedeman and Anna Raff with moderator: Kriota Willberg. Sophia will discuss her work and writing process, her most recent mini comic series, The Lettuce Girl, and the complicating issues of writing fairy tales and comics that are not necessarily for children. Ten years ago, Anna quit her job as a designer at The Metropolitan Museum of Art to pursue a career in illustration. In this talk, she will discuss her roundabout path to her first book contract.
Monday, August 4th Nat Towsen's Downtown Variety Hour with Sasheer Zamata, Baratunde Thurston, Box Brown, and More! will be meeting at 153 East 3rd Street in New York from 8 to 9PM.
They say:"Brunch is for loud idiots with children named "Ryder" and "Aiden". Outdoor movie screenings are a hellish, passive-aggressive struggle for lawn territory with no lumbar support. The real way to relax in New York this summer is to head down to Nat Towsen's Downtown Variety Hour at Upright Citizens Brigade Theatre, East Village, where there are no rich doors and poor doors (because all of the doors are poor doors). This month's show features:
Sasheer Zamata
* Cast member at NBC's Saturday Night Live
* Co-star of Pursuit of Sexiness
* Hilarious standup comedian
Box Brown
* New York Times bestselling cartoonist
* Author of Andre the Giant: Life and Legend
* Performing a live comics reading with archival video!
Baratunde R. Thurston
* CEO/co-founder of Cultivated Wit
* Author of How To Be Black
* Former head of Digital at The Onion
Downtown History
* Learn about the city you inhabit while laughing and drinking
* This month's guest expert: Paul-Anthony LaCen, game designer and pro poker dealer
* Our topic: The history of gaming in New York, from poker, to pinball, to video arcade.
NYC Trivia
* Answer questions and win prizes from our local business sponsors!
* This month's prizes: Pizza and comic books
Tickets are $5 and the event is all ages. If you're under 16, just wrap your entire body in a brown paper bag and have someone else carry you in".
Wednesday, August 6th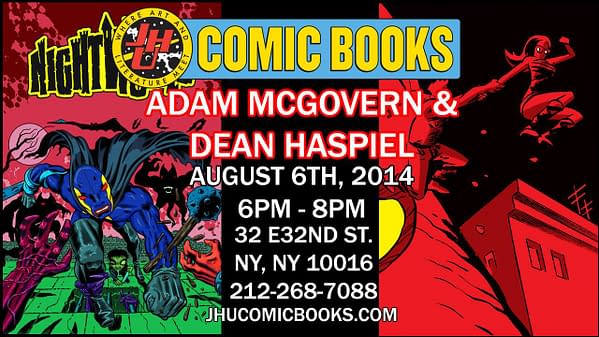 JHU Comic Books Presents: Adam McGovern Signing Nightworld #1 and Dean Haspiel Signing Fear, My Dear from 6-8PM at 32 East 32nd Street in New York. They say: "JHU Comic Books is proud to present a fantastic signing with two great talents, showcasing a great original debut in Nightworld #1 and a fantastic new release of Billy Dogma material in Fear, My Dear. Adam McGovern (Dr. Id, Extinction Seed) starts off his insane new series, Nightworld, with us, which "offers haunted romance, hellish humor, metaphysical fisticuffs and B-movie psychodrama at its best!" This comic is gorgeous, hilarious and absolute madness. You'll love it, we promise! Dean Haspiel (The Fox, Fantastic Four, American Splendor) uses his near-mythological talents to bring some new Billy Dogma stories to us in the much-loved Fear, My Dear. His The Fox: Freak Magnet has also just recently been released by Archie Comics and is a treat to behold! If you love independent comics, especially weird, crazy and fun ones, you REALLY don't want to miss it! Purchase of Nightworld #1, Fear, My Dear or The Fox: Freak Magnet required to participate in signing".
Wednesday, August 6th
Barnes and Noble on 86th and Lexington Avenue in New York (at 150 East 86th Street) will host a panel discussion about creating indie comics entitled "Pulling Back the Curtain on Creating Indie Comics" at 7PM. They say: "Join this Comic-Con style discussion panel as comic book artists and writers Nick Tapalansky, Alex Eckman-Lawn, Kate Glasheen, Katherine Kasenow, and Shane-Michael Vidaurri discuss the ins and outs of creating and publishing indie comics. Come and hang out for a candid chat about the realities of making indie comics, from conception and pitching all the way up through putting a final book in front of your excited peepers. Bring along some questions and listen to us try not to sound like dorks as we attempt to answer them with all the combined powers of our brains! WARNING: Contains unvarnished truth and reckless honesty. Also, nerds".
Friday, August 8th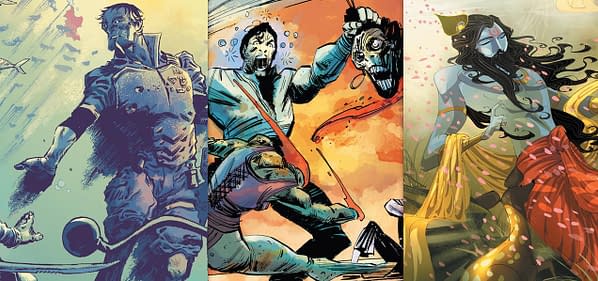 Barnes and Noble Tribeca at 97 Warren Street in New York will host an Image Comics signing at 6PM featuring Steve Orlando, Frank Barbiere, and Abhishek Singh. They say: "Stop in and visit Steve Orlando, Frank Barbiere and Abhishek Singh, creators of Undertow, Five Ghosts- The Haunting of Fabian Gray, and Krishna- A Journey Within, from Image Comics! We'll talk comics and be friendly".
Friday, August 8th Locust Moon Comics at 34 South 40th Street in Philadelphia will host a Nightworld Book Release Party for the new Image comic at 7PM. They say: "Join writer Adam McGovern to celebrate the release of Nightworld, a cult-hit black-magic tiger-force thrill ride to the dark side. This book has to be seen to be believed. Adam will be signing books, greeting fans, and holding forth on the very nature of reality itself. Be there".
Saturday, August 9th
Dewey's Comic City in Madison, New Jersey will host a signing by Nightworld co-creator Adam McGovern from 1-3PM to celebrate the new Image book (also). They say: "Ignatz Awards nominated indie writer Adam McGovern, the co-creator of Image Comics' newest and highly anticipated Nightworld series, will be signing copies of the first issue, Saturday, August 9th from 1 to 3pm, at Dewey's Comic City, 13 Park Avenue, Madison, NJ. Issue #1 arrives on Wednesday, August 6th".