Thirty-Four Thoughts About Thirty-Four Comics – Uber, Grindhouse, Garfield, Spawn, Mara, Lazarus, Mind The Gap, Fantomex, Action Comics, All New X-Men Special, Mighty Avengers, Infinity Hunt, Movement, Earth 2, The Star Wars, CBLDF Liberty Annual, Hinterkind, Witching Hour, Hit, Robocop, Todd The Ugliest Kid On Earth, Crossed Badlands, Superior Foes Of Spider-Man, Mighty Avengers, Detective Comics, Iron Man, Hunger, Bushido, Spera, Quantum And Woody, Shadowman, Suicide Risk, Bedlam And Occultist
Okay folks, I've just read a lot of comics this week. I'm coming up for air. We start as we mean to go on, with Uber #6 by Kieron Gillen and Canaan White. And rather than live live soley in the super, we also get some pre-super setups and the horrors of war. And some rather fruity language to suit.
And talking of…. certain activities occuring within one's underwear, we have Alex De Campi's new sexploitation comic Grindhouse. It's just nasty, just the way it should be. You know, I remember when Alex and Kieron used to contribute to the same fanzine/comics. Clearly they rubbed off on each other a little. And as for that second panel, wouldn't it make this Boom! comic more entertaining? After all, are they describing monsters? Or deep-seated misogynistic fear of vaginas? Whether going into one… …or coming out of one? Mind The Gap there, giving us a less explicit journey. For now. While in Hinterkind #1 launching today… they are talking about an actual tail here. Honest. Wouldn't it be more honest to lose the hashtag, Todd McFarlane? Spawn continues it's purple prose journey into the darkness. Such a very different comic to when it started, but it always retains certain elements of that first issue, playing up their incongruity. See Todd? That's honest from Hit #1. Mara is crushing your planet. Crushing your planet. Ha, you are planetless. Steppenwolf also seems to be doing a little planet-threatening in Earth 2, but more in a subjugation fashion. And he's doing rather well it seems. It's a different story in Mighty Avengers.
There's a bit like this in Civil War. Also in Secret Invasion I think. And the Avengers movie. But the idea of a mob of non-powered superhumans standing up to a cosmic bad ass really works. Okay, they'll get their asses handed to them. "No Pasarán" – a phrase than means "they shall not pass" and traditionally used by anti-fascists, in Spain and in Britain. And in Lazarus, our two eternal warriors make… well.. the beast with no backs I guess. Fantomex MAX was, apparently based on an unnamed Scottish writer's pitch, now reworked by fellow Scot Andrew Hope after "creative differences". He tried to return the character to its original Grant Morrison style, and must have succeeded because, well, FantoMAX (as we should call it) reads totally like a swearier Seaguy. Hey, after Villains Month had concluded, I thought we were done with the evils that parents do, for a little while at least? Anyway, this is how you make an evil Superman in Action Comics, just in case you ever needed one for anything. Okay, seriously, how old are the All-New X-Men in their first Special? How far from the past do they come from? Because 3D was popular in the nineteen fifties. And as for their shock at getting to Times Square, we refer you to the answer we gave previously. Also, they've been here already in this timeline, why get so surprised this time? Or if the All-New X-Men Special was set before that point, why get so amazed then? It just doesn't add up… I'm going to go with anyone hanging around the DC Universe should know that you don't go around tipping up potential superfolk in wheelchairs and knocking off their glasses, whether they are in the Movement or not, unless you want your ass handed to you. And possibly find yourself in the wheelchair. Just saying. In The Star Wars #2, based on Lucas' original screenplay for the film before it was totally rewritten, it's interesting to see that George Lucas still seems to be directing the action. Kelly Sue DeConnick seems to be channeling her recent trips to the UK quite a bit in The Witching Hour. Captain America: Living Legend is, aptly, a comic book once though lost, now revived and serving its country by being sold in comic book shops. And it is rather lush art from Adi Granov that may excuse its tardiness. And gives us a new twist to the Russian space programme we were previously unaware of… Suicide Risk is right, it does really hurt. Hey can we get a what-what on that? Close enough, courtesy of The Infinity Hunt #2. While Superior Foes Of Spider-Man have other concerns than their hands to worry about. They're all about just looking after heads – theirs and other people's. With some rather entertaining pictograms. Batman feels a similar way in Detective Comics, though he seems to be taking more of a Scarlet Witch attitude to it all. But with that costume on, he reminds me more of someone else. No, not quite, though the reuniting of man and pizza in Iron Man is a rather emotional moment for all concerned… Oh yes, that's right, Robocop. Though maybe he could say "no more murder" a bit more, if he wants people to have a different attitude towards him. Hunger #3 is out today – you remember that comic? That it exists? And Ultimate Rick Jones catches up with the past few years of Ultimate spoilers… New Image book Bushido launches today as our lead tries to work out whether or not he is a samurai. I'm going to say with that samurai sword and those clothes and the fight that you are already fighting with that sword and scantily clad women wielding knives are calling you samurai that… yes? You are?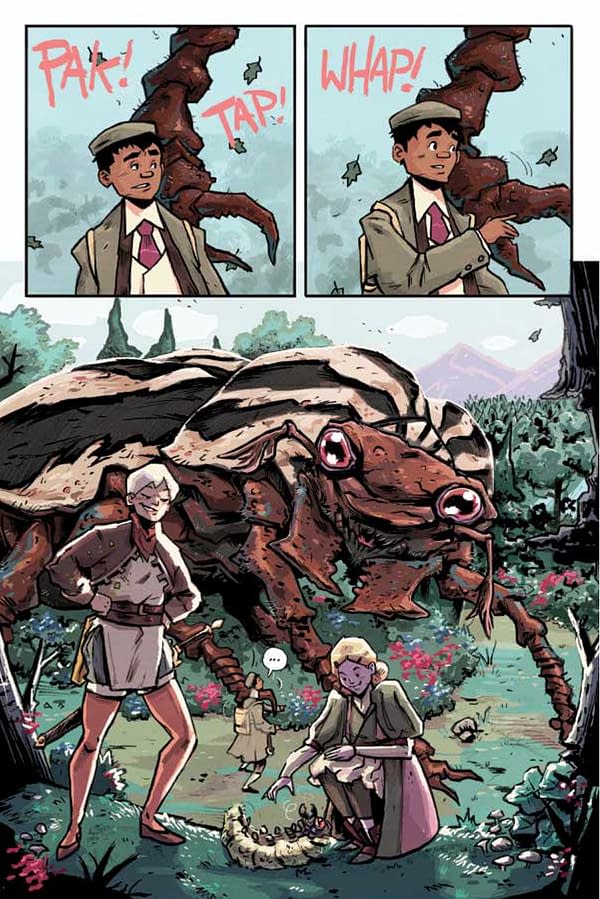 While in Spera from Boom/Archaia, monsters have a way of getting your attention without biting your head off. And Quantum And Woody get a goat. Most goats cause damage and destruction if placed in a home. This goat can find the fucking self destruct button. Goat Win! Shadowman must have taken quite some time to draw. Sickles are handy for carving up pumpkins though, so that all might work out fine. See, this is why no one should ever have children. Occultist #1 knows the truth. They turn into monstrous semi-demons from the second they are born. And, as the CBLDF Liberty Annual 2013 shows us, they don't get much better. Especially when they grow up to read comics in a world where Dr Wertham was right. Todd The Ugliest Kid On Earth explores the nuances of racism with its usual tact and diplomacy.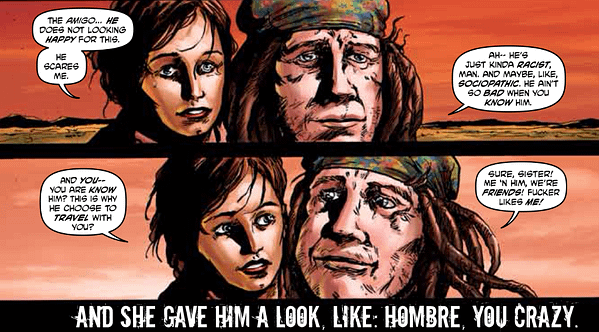 While Crossed Badlands, finds there's someone to love about ever racist if you look deep.

And Bedlam has its own sense of humour, but plays it so much straighter than Todd…
You know, doies Todd McFarlane ever pick up Todd The Ugliest Kid On Earth, published by the company he's a founder of and think "are they trying to tell me something?"
Now to watch Agents Of SHIELD. Shhh, no spoilers, I hear Michael Jackson turns up in the end credits.
Comics courtesy of Orbital Comics, London. With their new Esad Ribic exhibition of original art.