Andrew Lincoln Wants Rick's Hand Chopped Off, And More From NYCC 2017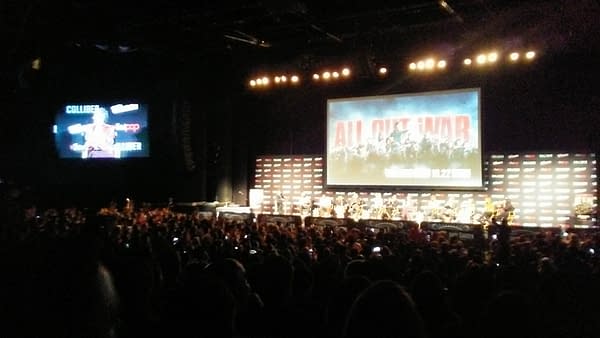 Over the past few years, The Walking Dead and ReedPOP's New York Comic Con have gone together like Negan's Lucille and Glenn's head (ooph), and this year wasn't about to be any different. With the show's Season 8 premiere and 100th episode only two weeks away, the cast and crew from AMC's hit zombie series held a press conference and full panel at the historic Theater at Madison Square Garden for their part of NYCC 2017.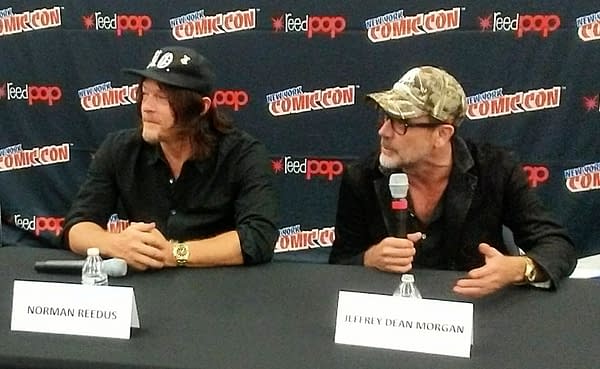 The interview sessions were split into two groups: Andrew Lincoln (Rick), Lennie James (Morgan), Tom Payne (Jesus), Katelyn Nacon (Enid), show creator Robert Kirkman and executive producer Greg Nicotero were in the first interview group; while Norman Reedus (Daryl), Jeffrey Dean Morgan (Negan), Melissa McBride (Carol), Austin Amelio (Dwight), and executive producers Dave Alpert and Gale Anne Hurd were in the second group. For the main panel, everyone was on stage together, with Talking Dead host Chris Hardwick serving as moderator.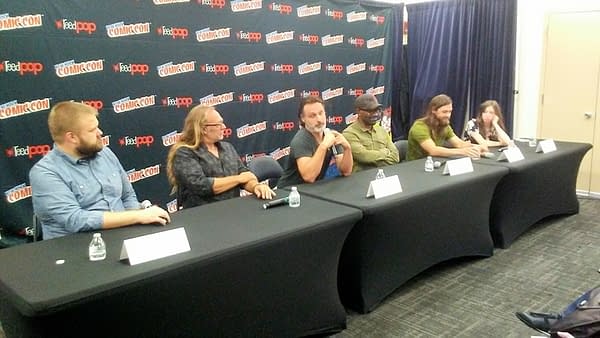 Here are just some of the highlights from both events:
● Lincoln is looking forward to having "old Rick Grimes" back this season, and jokingly accused Kirkman and Nicotero of getting enjoyment out of making him cry last season — to which they readily agreed. Kirkman: "All joking aside, if we gave Andy 35 seconds, he could [cry]."
● Nicotero is promising some "great stuff" coming up effects-wise this season, though not so much in the first episode. In a nod to the show's past, he promises long-time fans will recognize some tribute walkers and familiar scenarios along the way.
● A question regarding how the characters have changed over the seasons turned into an unexpected discussion of when Rick's snot was and was not used on camera. Lincoln: "Do you have someone who looks after my snot?"
● When asked what the chances were that he'll develop any zombie projects as part of his exclusive Amazon deal, Kirkman answered with a decisive "Zero. I've done plenty with zombies." He went on to reconfirm his commitment and excitement over the direction of The Walking Dead at AMC.
● For James, the appeal of the show is how you get to grow and evolve with your character, and that changes to the characters are organic and flow with the overall story.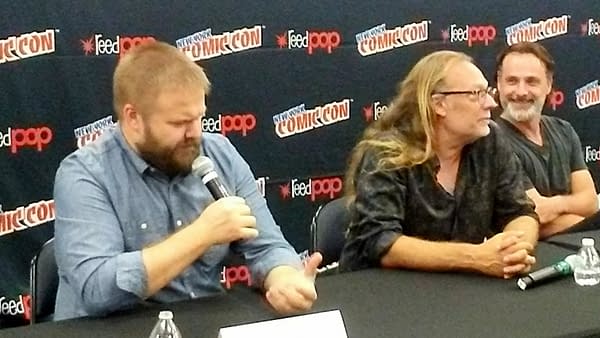 ● Nacon has enjoyed the journey that Enid has taken over the course of the season, and how she's taught herself to feel again and connect on a personal level with those around her — thanks to Glenn's influence.
● Lincoln sees Rick as having achieved an almost "zen-like" sense of peace after having endured all that he went through during Season 7, making him a more formidable foe for Negan.
● When asked what moment their character would do over if they had the chance, James brought the room to silence when he gave his answer as Morgan: "I would've shot my wife." He then went on to explain how a short-term heartbreak would've given him and his son a chance at a better life moving forward from the loss.
● Nicotero and Lincoln discuss Lincoln's idea for Rick's "ultimate demise," but Nicotero seemed uncomfortable about putting it out there — though he said it was a "really good pitch." Lincoln gets prodded to talk about it now, but he dodges the pressure.
● Lincoln admits that he's been campaigning for a while for Rick to lose his hand, but jokingly blames the cost and the effects department for stifling his plans (but then again, we don't see Rick in the flash-forward from the shoulders down).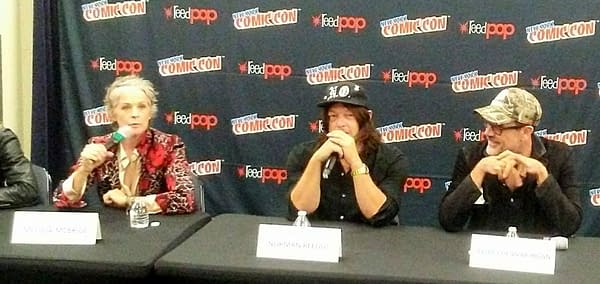 ● When asked about the role the show and horror in general plays in our current political climate, Alpert attempted to jokingly downplay any direct social commentary on the show's part. Hurd acknowledged that horror creates an alternate fear that allows people a momentary escape from the fears of their real lives.
● Morgan gets a little scared and confused when asked to comment on the one-year anniversary of the "death" of Lucille, not realizing the questioner was referencing the comic book. He gets ribbed for not being up on the comic books, but Morgan apparently thought he was making a reference to Glenn's death: "I was gonna be like, 'Well, I feel all bad about it.'"
● When asked what was in store for Daryl and Dwight in Season 8, Amelio and Reedus both agreed that there will still be lots of tension between the two, and any sense of trust or cooperation between them won't be happening any time soon.
● McBride hints that "Carol's Cookies" might be making an appearance this season, and alludes to something a little more ominous: "Carol will be baking…something" this season.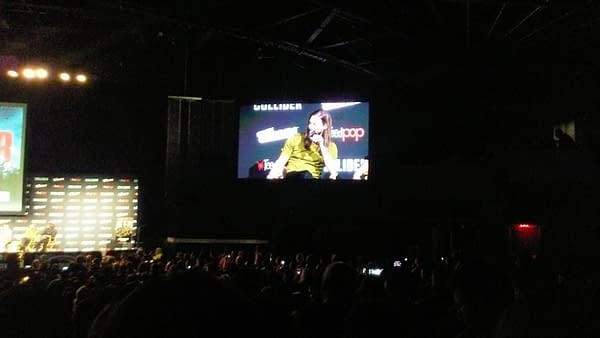 ● McBride sees the relationship between her and Daryl as one the bright spots of the series' 100 episodes, and that it transcends labels like "brother/sister-like" or "boyfriend/girlfriend-like". Their love for and bond with each other is based on the foundation that they help each other not only survive, but also find a sense of peace and happiness that both have sought their entire lives.
● Morgan credits the strength of the character in both the comic book and on the show as to why Negan can be both loved and hated at the same time. He's really appreciated how the character and his performance is being received by the fans.
● Reedus sees Daryl going along with Rick's plan this season, but teases that he would be willing to "go rogue" if his instincts kick in. McBride says straight out that Carol is ready to fight, but that doesn't mean that she won't go through some issues dealing with it, a-la Morgan.
● The cast had a great time filming The Walking Dead/Robot Chicken special. Morgan said, "I had fun — felt like I was in my element." He told the audience about a sketch that didn't make the cut involving a man who opens up an eye patch business after the start of the walker outbreak — which is pretty damn funny if you're a long-time fan. ● When asked what their character would do over again if they could, Morgan said Negan would probably rethink the whole Rick/Carl/lose a hand deal. McBride believes Carol regrets not being nicer to Mrs. Niedermeyer about her pasta maker. Reedus believes Daryl wishes he would've had a better option than a bazooka against The Saviors, and Amelio joked that Dwight wished he wouldn't step out from behind bushes so much or shoot people long distance.
● Reedus likes the acclaim the show has garnered over the years, and that they're still able to take a joke and laugh at themselves, referencing a quote from Kurt Cobain about how he knew Nirvana had made it when "Weird" Al Yankovic parodied 'Smells Like Teen Spirit.'
● Reedus: "This is a huge season coming up. Very ambitious."
Reporter's Note: To find out what this pic below is all about, scroll to the bottom and search through the first few minutes of the panel. Probably one of the best moments from the panel — along with Lincoln doing The Worm.

AMC's official synopsis for The Walking Dead Season 8, as well as for the season's first three episodes:
"Last year, Rick Grimes and his group of survivors were confronted with their deadliest challenge yet. With the comfort of Alexandria, they let their guard down, only to be reminded how brutal the world they live in can be. The introduction of Negan and the Saviors broke our group.

Feeling powerless under Negan's rules and demands, Rick advocated the group play along. But seeing that Negan couldn't be reasoned with, Rick began rallying together other communities affected by the Saviors. And with the support of the Hilltop and Kingdom, they finally have enough fire power to contest the Saviors.

This year, Rick brings 'All Out War' to Negan and his forces. The Saviors are larger, better-equipped, and ruthless — but Rick and the unified communities are fighting for the promise of a brighter future. The battle lines are drawn as they launch into a kinetic, action-packed offensive.

Up until now, survival has been the focus of Rick and our group, but it's not enough. They have to fight to take back their freedom so that they can live. So that they can rebuild. As with any battle, there will be losses. Casualties. But with Rick leading the Alexandrian forces, Maggie leading the Hilltop, and King Ezekiel leading the Kingdom — Negan and the Saviors' grip on this world may finally be coming to an end."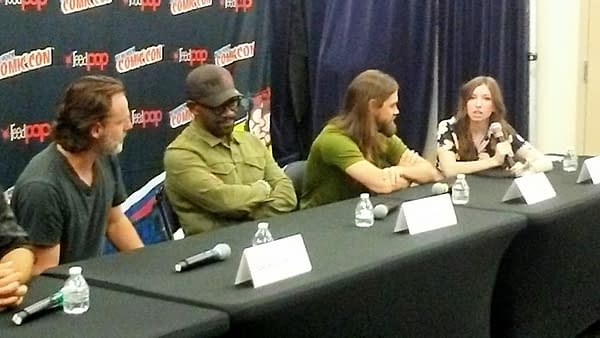 The Walking Dead Episode 8×01 'Mercy': Rick and his group, along with the Kingdom and Hilltop, have banded together to bring the fight to Negan and the Saviors.

The Walking Dead Episode 8×02 'The Damned': The plan involving Alexandrians, Kingdommers and Hilltoppers unfolds; as Rick continues to fight, he encounters a familiar face.

The Walking Dead Episode 8×03 'Monsters': Conflict with the Saviors leads to unintended consequences for the Hilltop, the Kingdom, and Alexandria; morality proves tricky in wartime.
And here's the full NYCC 2017 panel: