The Weekly Static s01e22: Sabrina, Constantine, Vampires, and More! Give me some rope I'm coming loose, I'm hanging on you. Give me some rope I'm coming loose, I'm pulling for you now. Give me some rope, I'm…The Weekly Static!*
(read in a summer movie trailer voice)
In a world corrupted by darkness…one man will show them the light. Coming Summer 2018, it's… The Weekly Static is our righteously desperate-yet-endearing look at the past week in the land of the networks, cable, streaming, smoke signals, cloud formations, and shadow puppets from what an interesting, unique and entertaining perspective. At least that's how it reads on paper – let's see how it goes… So what exactly is the moral of this little story? It's pretty simple:
● Offer a blunt, honest perspective on a handful of random TV news posts from the past week that also highlights your relentless team of news-thirsty Bleeding Cool writers and the quality work they do. My views are my views and not a reflection of the opinions of those who wrote the article. Translation? I own what I say 110%.
● Spotlight a news item we missed, but we're pretty damn sure you'll find it interesting.
● Feed my voracious ego with copious amounts of praise, adulation, social media shares, pizza, Superman Funkos, Eisner Awards, write-in votes for the 2020 U.S. Presidential Election (not letting this one go) and opportunities to play "Victim #8" in a Freddy, Jason or Michael movie (admit it…it would be kinda' cool).
Netflix Taps Mad Men's Kiernan Shipka for Riverdale Spinoff 'Sabrina'
Walking Dead Stuntman John Bernecker's Mother to "Seek Justice" for Son's On-Set Death
The 75th Annual Golden Globes Are Tonight, We'll Be Live Tweeting
The Toys That Made Us: 6 Brands That We are Going to Need Episodes on Pronto
ABC Developing Indian-American 'Hero,' 'Jetsons' with Live Effects
New Krypton Trailer Has Superman's Grandfather Making "Timely" Decision
Constantine Animated Series to be More Like Hellblazer Comic
Bryan Fuller Officially Joins 'The Vampire Chronicles' Creative Team

Comedy Central's Late-Night Lineup Goes Live After Trump's State of the Union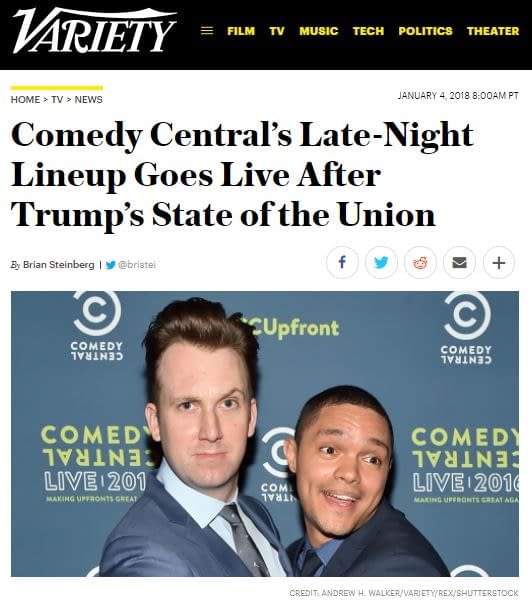 "President Donald Trump's coming State of the Union address could provide late-night hosts with instant material, and Comedy Central's wee-hours programs don't intend to squander the opportunity.

Both "The Daily Show with Trevor Noah" and "The Opposition with Jordan Klepper" will air live episodes on Tuesday, January 30, the night Trump is expected to deliver his speech to Congress and the American public. Both shows will simulcast the first segment of their live episodes via Facebook Live. The hosts intend to use the moment to offer instant analysis and commentary on the event…"
*With buckets of honor and respect flowing through the Karma-sphere to the mighty "Fighters of Foo."