'You Have To Go And Talk About It' – Grayson #1 Lives Up To Its Hype
By Shawn Perry
Earlier this week, Grayson #1 hit the stands and I am happy to report it was a promising and highly entertaining debut for the new series by Tim Seeley and Tom King. Whether you're for or against Nightwing taking off the mask and playing spy, this series looks primed to take one of DC's most-popular characters into uncharted territory with style and is already off to a great start! As discussed in my review of Nightwing #30 last month, I have been very intrigued by this series and think it should be an exciting new chapter in the history of my favorite superhero. While Dick Grayson has one of the deepest legacies in the DC Zeitgeist, in my opinion, this series is the first that will be the first to focus on what makes him most unique as a hero because he is far more interesting without the mask.
That is why Batman has always been so proud of him, he taught him how to use the mask as a tool but not let it become him. Bats' greatest tragedy became his greatest triumph. But putting Bruce aside, really, Dick is a very well-adjusted dude for an orphaned vigilante living in a world filled with aliens, meta-humans, psychotic and super-powered terrorists. Now he faces his ultimate test in that he can no longer hide behind a mask and cannot ask for help. The stakes have never been higher for Grayson and the world he inhabits has never been less black and white, as former CIA counter-terrorism operations officer King told USA Today.
It's bliss to serve a higher cause and save people but the hard part of it is it's tough to go home and lie to your family and pretend to be a different person. He's doing something that's going to cause pain to his friends and family, but he believes in the cause. That tension between having to do something good but having the cost of it being pain to his family, it drives him a little crazy. He has to save the world, but he's dealing with an organization that may go beyond his comfort zone.
Well, in the real world nobody every gets to change the world without stepping outside of their comfort zone. Part of the appeal of Dick Grayson is that he has always been a young man in-transition and that makes him relatable to readers like myself. Rather than another idealized mythic hero he is just a guy to whom much was given and much is asked of and that sort of grounded reality is valuable because it is hard to come by in the emotionally sub-normal realm of mainstream superhero-driven comics. In Grayson, the former boy wonder is taking off the mask and proving himself as a man rather than as a sidekick, substitute or affiliate of the world's most famous vigilante. Because no matter what the character has been doing over the years, his past with the bat has loomed large and held him back from truly having to become his own man. That is not to say there haven't been some brilliant runs on the character by talented writers like Chuck Dixon, Kyle Higgins and Grant Morrison – because there have been – only that this new status quo makes this series a great opportunity to showcase a new type of hero for a new era in the DCU, as Seeley said.
He's been Robin, he's been Batman, and now he's out in the cold by himself working for an organization that purports to be on the side of the angels, but clearly, there's some weird stuff going in. Their penchant for manipulation instantly makes them nefarious.
Sounds good to me – shall we get on with the review, then?
[*Spoilers ahead!]
Personally, I loved the first issue of Grayson and thought it featured great introductions the supporting cast. One of the characters I was excited to see was Midnighter who, based on his brief dialogue, shares similarities with Grayson in that he has no super-powers, his own moral compass and a penchant for cracking jokes. Dick needs good adversaries now more than ever and I am a firm believer that the best adversaries share more similarities than differences. Moreover, as Dick goes through changes throughout the series there is no better way to extenuate those changes thematically than with a formidable character that represents his old ways of thinking. The realism of Janin's design is a nice touch too.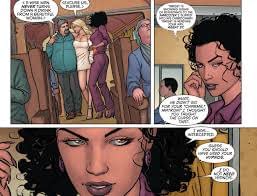 Another character I look forward to seeing more of in this series is Helena Bertinelli and not just because of how well Mikel Janin's pencils bring her to life. That's just a small part of it. While her origin have not been explored yet, it is clear she is an experienced part of Spyral and will be Dick's partner. Surprising no one, it did not like take long for a frenemies-with-benefits relationship to get teased here which should only add to the inevitable intrigue of the 'how deep is Dick getting' questions that are sure to develop as the series progresses. In case you are wondering, yes, I was referring to the secret organization Dick is infiltrating.
Seeley and King do a great job introducing the world of Spyral without inundating readers with too much information for a first issue. They quickly establish that Dick has just started working for the organization and his first adventure involves the capture and containment of a sympathetic old man encumbered with a meta-anomaly. While it would appear that Spyral was on the side of the angels this time there is likely more than meets the eye, as is the case with one of the head honchos of Spyral who, literally, has a spiral for a face. His design is kind of cool, reminds me of something out of Saga.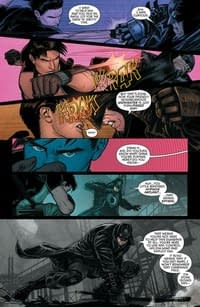 As Rich Johnston discussed, the last page of the issue reveals that Spyral already knows the identity of many of the world's superheroes, including Batman. It also stands to reason that they know exactly what Grayson is up to so the question becomes – why are they letting him in and who is playing who here? Does Grayson have an ace or two up his sleeve? What are the moral implications of using hypnotic weapons and will Grayson be expected to kill? All of this lingering intrigue as well as the fabulous art of Janin and Jeromy Cox, which brought smooth texture and vibrant color to the jazz of this first issue, has me impatient for the next issue to drop.
In close, whether you are a long-time fan of the Bat-Family or are looking for a slightly more grounded series that takes place in the DCU – pick up this book and strap in for what promises to be a wild ride. This a smart comic that does not talk down to the reader and, while it will likely get a lot of flack for being reactionary or derivative of Shield, it has already shown a lot of originality. In short, I believe this series has some great stories in store for Dick Grayson and will provide a lot of shocking twists along the way, as King teased.
It's DC's The Americans, this is something where, at the end of it, you have to go and talk about it.
Shawn Perry is a comic book and film enthusiast striving to be here now. He currently resides in East Hartford, Connecticut. Tweet him @thesperry and feel free to email at Shawn.Perry88@gmail.com.