Regular Show, Written By A Regular Voiceover
Actors on long running shows sometimes start to get ideas above their station. They start to believe that they know the character more than the writers do, after lived in the character's shoes for so long.
Before you know it, they are saying things like "my character wouldn't say this, "my character wouldn't do this" or "my character wouldn't wear such an ugly cardigan." They start negotiating for costume choice, dialogue amendment and the right to sit down and drink a smoothie on set rather than engage in a fight scene. And then start writing scripts in which they save the day, which pisses off all the show's regular writers. Thank goodness none of this is true of Minty Lewis, who plays Eileen on Regular Show, and writing today's spinoff comic, issue 13.
Lewis worked as a senior designer for Viz Media and a graphic designer on Shonen Jump, before creating a long running series of mini-comics of her own, called P.S. Comics, winning an Ignatz Award that saw her picked up to be a storyboard artist on Regular Show – which also led to her voicing the character of Eileen on the show.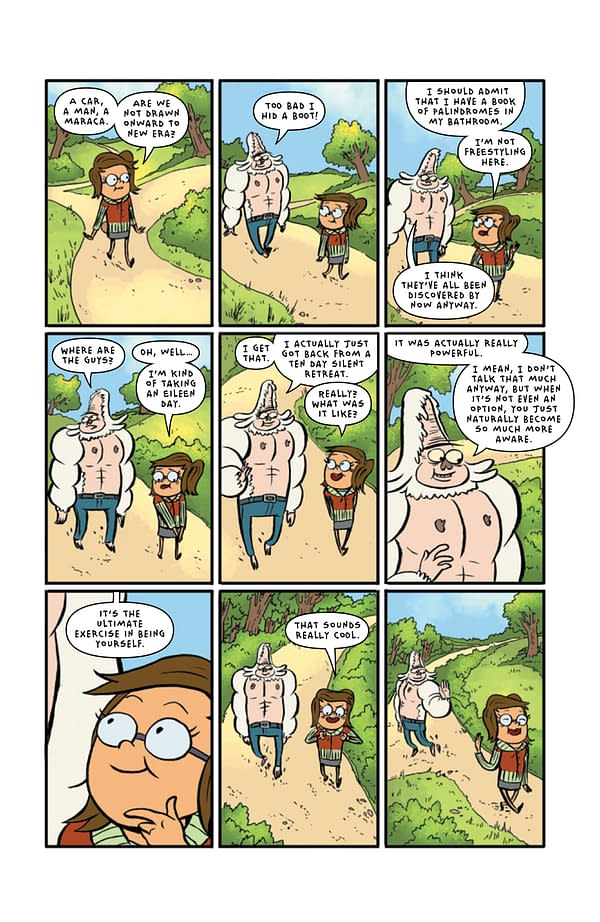 So if anyone should be pissed, it's her fellow voiceover artists for invading their turf. And for writers? We should be happy to welcome her back to comics.
And so, rather than getting a story about Eileen saving the day, because this is a regular show, it's a story about Eileen having a quieter day. Looking at the flowers, smelling the coffee, dealing with her friends latest romantic encounters, going for a walk and summoning the courage to be alone, rather than settle into societies expectations of companionship. And it's really sweet too. Drawn by Allison Strejlau, published by Boom! today.