 Valiant spurred on widespread speculation last week with a teaser touting the return of Deathmate…and now we have the answer.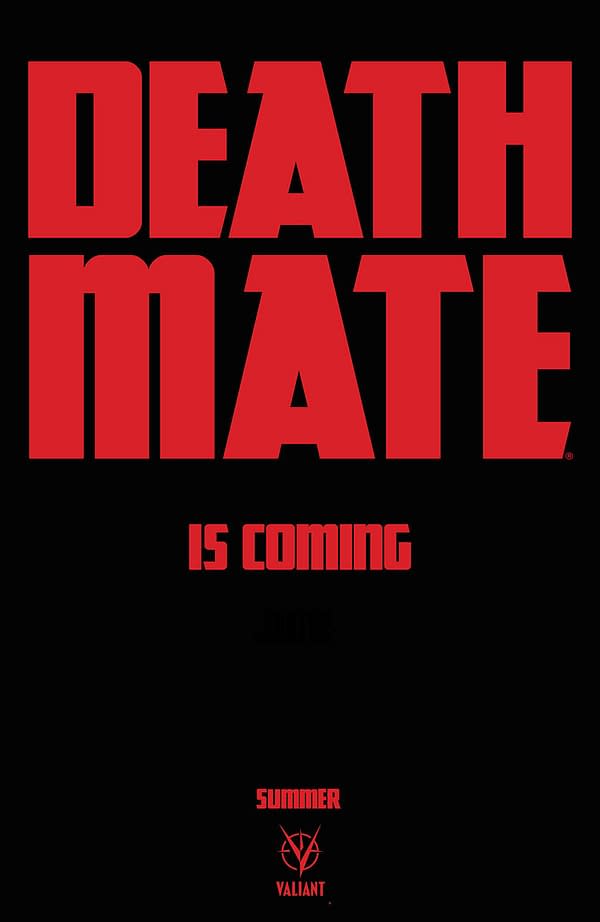 And it's definitely not an event or an inter-company crossover. (Sorry WildC.A.T.s fans.) Rather Valiant has just announced that their latest iteration of Deathmate is an all-new character – created by Jeff Lemire, Mico Suayan, and David Baron – for "Bloodshot Island," a new storyline beginning in June's Bloodshot Reborn #14.
And instead of returning to the roots of the original Valiant/Image Deathmate crossover, the publisher is calling Deathmate "Valiant's newest A-level threat" – one that is hunting Bloodshot and multiple other Bloodshot prototypes from across the decades on a mysterious desert island, where every day they attempt escape and are killed…only to heal and start again from scratch.
Says Valiant:
Stranded on a mysterious desert island with no recollection of how he got there, Bloodshot is running for his life! But as he tries to make sense of his surroundings, he's quickly discovering that this is no ordinary tropical paradise… Surrounded by decommissioned relics of the same bloodstained project that created him – World War II Bloodshot, Cold War Bloodshot, Vietnam Bloodshot, and other antiquated experiments – Bloodshot is about to find out where Project Rising Spirit sends it old soldiers to die…and then rejuvenate and die again! Can this seasoned band of killers trust each other long enough to survive the threats that lie in the jungle around them…and unlock the secret at the heart of the island's existence before they're each permanently retired? And just what is the sinister force called DEATHMATE that now hunts them at every turn…and what is its untold connection to the life Ray Garrison left behind? Adds Valiant's Editor-in-Chief Warren Simons:
"Moreso than anything that's come before, BLOODSHOT ISLAND is Jeff and Mico firing on all cylinders for what is sure to be BLOODSHOT REBORN's biggest, most action-packed storyline to date. But it's not just bullets and Bloodshots… By the time the smoke clears, the mythology behind one of Valiant's most popular and enduring heroes – and his importance to the broader Valiant Universe – will be forever changed by the revelations that lurk within the jungle of BLOODSHOT ISLAND."
And interior artwork by Mico Suayan can be pored over below… Bloodshot Reborn #14 by Jeff Lemire, Mico Suayan, and David Baron – part one of "Bloodshot Island" and the first appearance of the new Deathmate – arrives in stores in June 2016 with covers by Tomas Giorello, Ben Oliver, Kano, Stephen Segovia, Clayton Henry, Ryan Bodenheim, Darick Robertson, and Jeff Lemire. Valiant will also be revealing more about Deathmate and her role in Bloodshot Island this weekend at C2E2 2016 during their VALIANT: 4001 AD AND BEYOND panel on Saturday.
Enjoyed this article? Share it!