The Silver Surfer is back, and if you're wondering how he's spent his time away since his last ongoing series, the answer is that he's been playing a lot of Red Dead Redemption 2. At least, that's the conclusion we're forced to come to after seeing his new cowboy getup in this preview from next week's The Best Defense: Silver Surfer.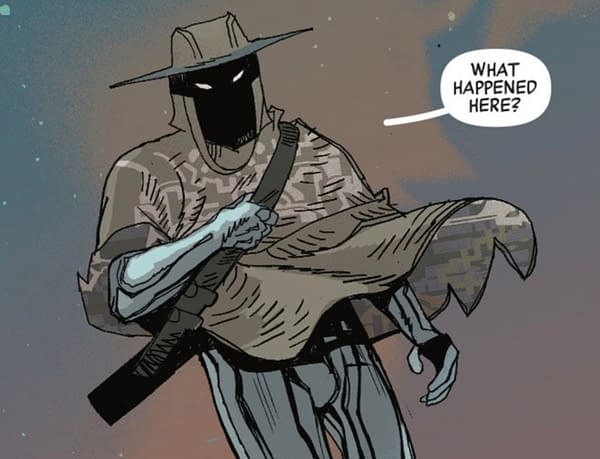 Well, it's one of the conclusions, at least. The other is, jeeze dude, put on some pants.
Yes, we know that the Silver Surfer never wears pants, but somehow, when he's fully naked, it doesn't seem quite so obscene. It's something known as the Donald Duck effect. Donald, as a cartoon duck, wouldn't seem out of place if he were naked all the time. Ducks don't generally wear clothes, and he's got feathers besides. But because Donald wears that sailor shirt and hat, it just highlights the fact that he's choosing to go bottomless.
The same thing applies here, and Marvel should really add more shadows to Batpenis the Surfer's smooth groin away.
The Best Defense: Silver Surfer hits stores on Wednesday. See a preview below, pilfered from an AV Club EX-X-XCLUSIVE.
The Best Defense: Silver Surfer
(W) Jason Latour (A) Jason Latour (CA) Ron Garney
"THE BEST DEFENSE" PART FOUR!
• Shall not the Judge of All the Earths do right?
• Norrin Radd is not so certain.
• But it falls to him who is the Silver Surfer to decide which planets will live…and which will feed the unending hunger of the world-devouring Galactus!
• A single honest person can tip the balance…if only the Surfer can find one in time!
• And the Train rolls on…
Rated T+
In Shops: Dec 12, 2018
SRP: $4.99
Enjoyed this article? Share it!