[rwp-review-recap id="0"]
Satana and Blade investigate where Necrodamus acquired the pieces of Judas Silver while Necrodamus himself prepares for the final stage of his plan.
Later, the Spirits of Vengeance go after the dwarf who forged the pieces of the Judas Silver into a weapon for Necrodamus, which leads to Damion Hellstrom and Satanna pursuing a familial reunion.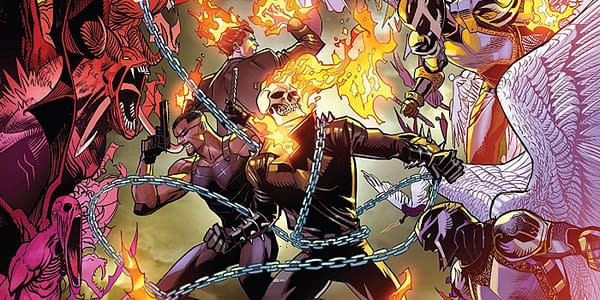 Spirits of Vengeance #4 proves to be the highlight of this miniseries, and it is definitely the best issue since the first. We get more time with our characters, if only a little. Plus, the plot feels more focused and tight. We have definite forward motion; there is none of the meandering and aimlessness that has plagued this miniseries thus far.
Some of the humor actually works too. The meeting with the dwarf and the Hellstrom family reunion are both great scenes.
It's still far from perfect. A fair amount of the humor still misses. Plus, it has a very mundane way of simplifying celestial ideas which didn't really need explaining to begin with. It tries to explain the rules of this "covenant" between the forces of Heaven and Hell, and it manages to make it all quite dull.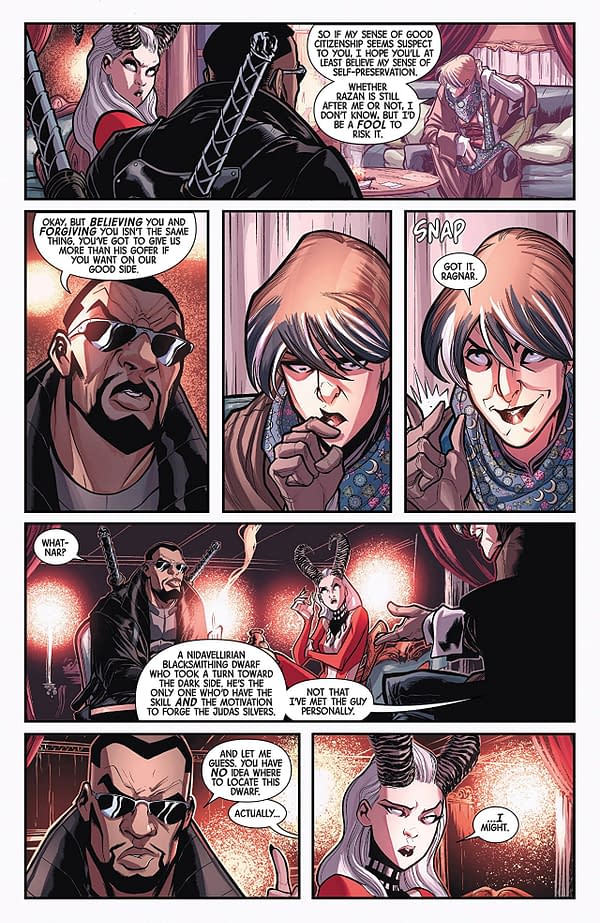 David Baldeon's artwork feels put to better use, too. His style is quite good for surrealist hellscapes and unique environments. He gets space to be creative, even if it has the occasional hiccup. Ghost Rider's design looks a bit goofy with his massive shoulder pads. We get to see an angel towards the end, and it's a pretty uninspired design.
Also, the meeting with the dwarf is quite odd because the panel layout makes him look like a giant compared to the Spirits of Vengeance. His panels are mostly close-ups, and they are in the distance in their own. You never see them in the same panel at a leveled perspective, so, if you hadn't seen this character in previous issues, that he was a giant due to Baldeon's art style and the fact that this is a crazy occult story with demons and angels. It was quite confusing at first, and it's an oddly easy thing to fix. No one apparently noticed this, though. This says as much about the editing as it does the artist.
Eventually, you see Ghost Rider close to him, and then the rest of the Spirits. However, that's three pages into the meeting.
Andres Mossa's color art is put to good use here, too. There are plenty of scenes made bright and eye-catching with flames countered by deep, dark blacks.
Spirits of Vengeance is a very flawed series based around a story that has been stretched astonishingly thin. However, I still had a lot of fun with this issue, and I expect you will, too. Spirits of Vengeance #4 gets a recommendation. Check it out.
[rwp-review-ratings id="0"]
[rwp-review-form id="0"]
Enjoyed this article? Share it!