Spoilers: Robins, Foxes & Peacekeepers in Batman Comics Today
Today sees the release of Batman: Urban Legends, Detective Comics, and Future State: Gotham, all with various takes on the current Batman gallery in Gotham – and what's to come. So in Future State Gotham, we have Jason Todd in his new future role as Peacekeeper Red…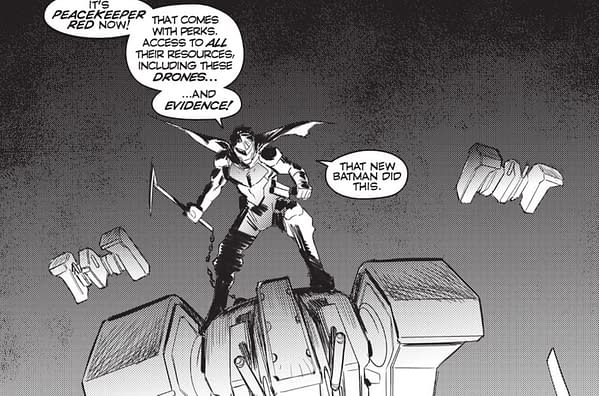 Certainly, in Batman: Urban Legends, we get to see more of the events that may have led Jason Todd to this future, in the Gotham of the present…
…but we also get a long-awaited get-out clause. Who is the mysterious figure?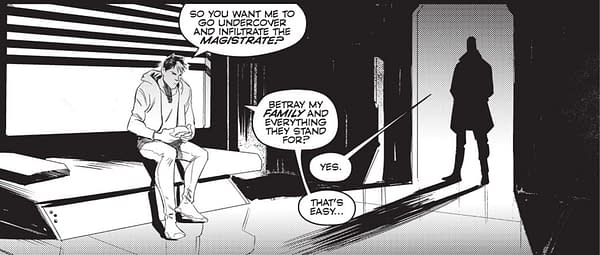 Given at that point, Bruce Wayne is meant to be dead…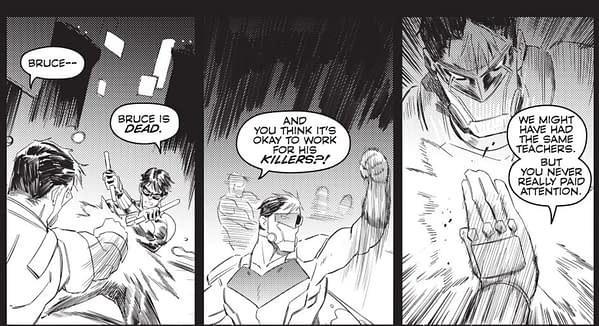 Could it be Lucius Fox? He helped set up the whole Magistrate system for Mayor Nakona and does seem to have some serious concern over the militarisation of the young.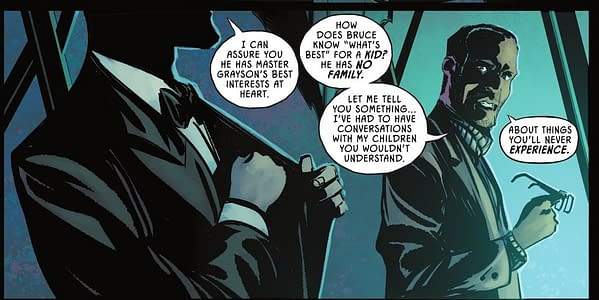 While Lucius Fox is observed from afar, with some other hidden secrets about the background of the man who would be Peacekeeper One.

While Mayor Nakano surrounds himself with the great and the good… and maybe the not-so-good as well.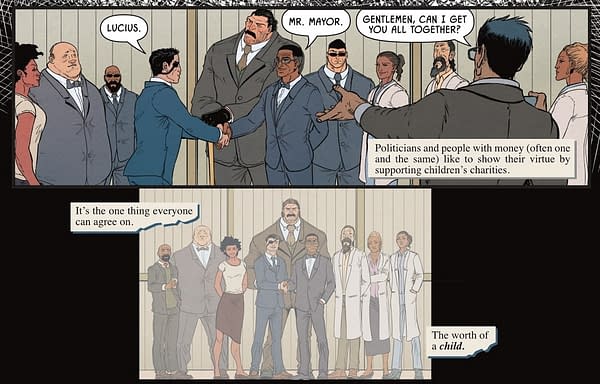 Especially when a certain gangster-stroke-businessman has access to the mayor's office…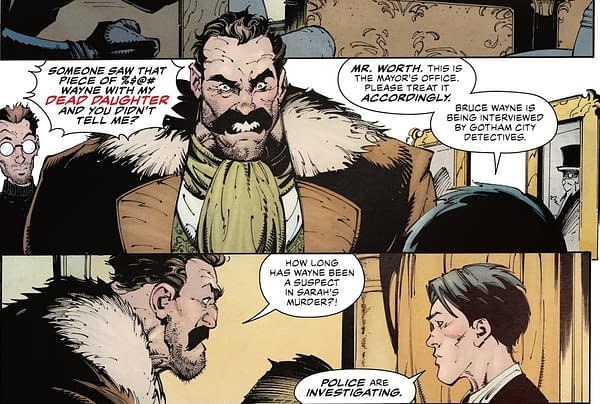 …and ends up doing the kind of thing that will probably be pinned on Batman, the Joker, the Unsanity Collective, anyone that it might help increase those levels of fear and brings about the Magistrate.
No wonder Tim Drake is keener to enjoy happier times, decades ago, now that everything happened and everything mattered again…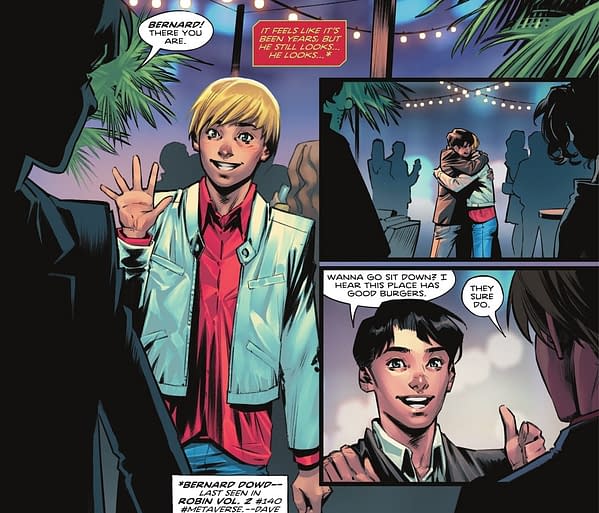 Lucius Fox has his own, modern-day vigilantes to keep to hand as well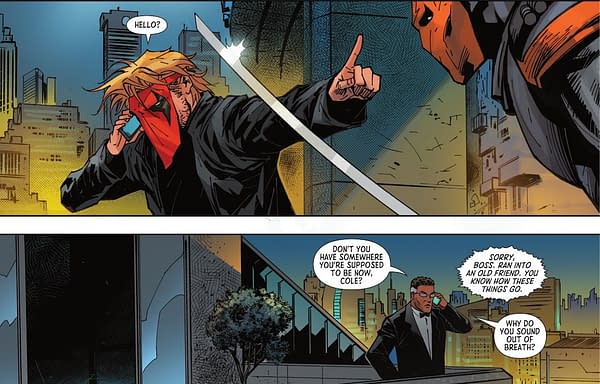 And we learn that Lucius Fox has his own Batman nickname Foxtrot – though that may be before he set up the system that took down all the Batmen of Gotham…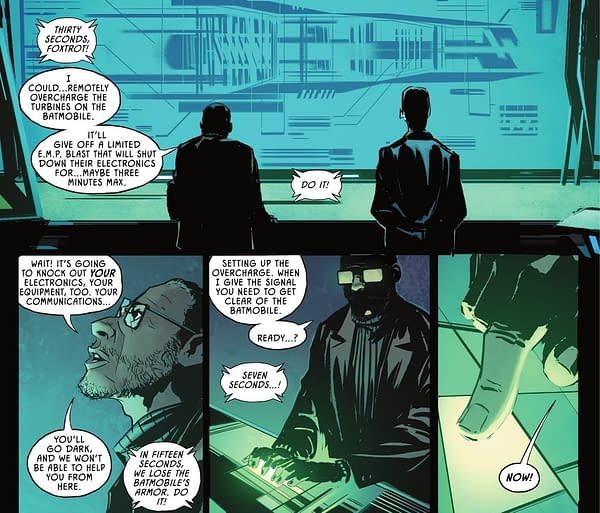 He's got to be behind Peacekeeper's Red's true mission, yes?
BATMAN URBAN LEGENDS #4 CVR A JORGE MOLINA
(W) Various (A) Various (CA) Jorge Molina
written by CHIP ZDARSKY, MATTHEW ROSENBERG, MEGHAN FITZMARTIN, AND CAMRUS JOHNSON art by EDDY BARROWS, RYAN BENJAMIN, MARCUS TO, AND BELÉN ORTEGA The penultimate chapter of the Grifter story is here! Grifter's walking a deadly line between Lucius Fox and HALO'S plan…can he survive the endgame? Oh, and yeah, now Superman is after him! As old wounds threaten to sabotage Batman and Red Hood's investigation into the Cheerdrop drug turning Gotham City upside down, they run afoul of Gotham's coldest criminal, MR. FREEZE! And the force behind the Cheerdrops will be banking on the former Dynamic Duo's demise… TIM DRAKE has returned to the streets of Gotham City and is seeking a new purpose, but what he finds is a string of young adult kidnappings committed by someone known only as "the Chaos Monster." Will Tim be able to get to the root of the kidnappings, or will he fall prey to them? Critically acclaimed Future State Robin Eternal writer Meghan Fitzmartin returns to tell this Tim Drake story with rising star artist Belén Ortega. Acclaimed creator and actor Camrus Johnson writes an action-packed story featuring Luke Fox—the character he portrays on The CW's hit television series Batwoman! Retail: $7.99 In-Store Date: 6/8/2021

DETECTIVE COMICS #1037 CVR A DAN MORA
(W) Mariko Tamaki, John Ridley (A) Various (CA) Dan Mora
Public enemy number 1: BATMAN! Public enemy number 2: Bruce Wayne?! When both Bruce and his alter ego are implicated in the same crime, the cops have some questions — and the Dark Knight is going to have to think quick or risk his identity being exposed to the world! But law enforcement isn't the only entity hunting the Bat—the titanic MR. WORTH is ready to use all his money and power to see Batman six feet under!Featuring not one, but TWO additional epics! First up, "3 minutes" explores the early days of Lucius Fox's introduction to the world of Batman. Then, in "exclusive", the Gotham Gazette's own Deb Donovan runs down the power players in Gotham City! Retail: $4.99 In-Store Date: 06/08/2021

FUTURE STATE GOTHAM #2 CVR A LADRONN
(W) Joshua Williamson, Dennis Culver (A) Giannis Milonogiannis (CA) Ladronn
Tragedy has brought Gotham City to its knees. Countless people are dead, seemingly at the hands of the Next Batman. Gotham demands justice, and Red Hood has vowed to answer their call. Even if that means beating his way through Nightwing and the rest of the Bat-Family to do it. Retail: $3.99 In-Store Date: 6/8/2021