Super Sons #16 Review: A Charming Send-Off
[rwp-review-recap id="0"]
Superboy tries to hold off Kid Amazo and free the incapacitated Justice League while Robin and Cyborg make their way to the Kid Amazo's base of operations. Kid Amazo is drawing upon the power of the captured Leaguers, putting Superboy at a severe disadvantage. However, Robin, as he often does, has a plan involving Cyborg…even if it involves Cyborg being captured too.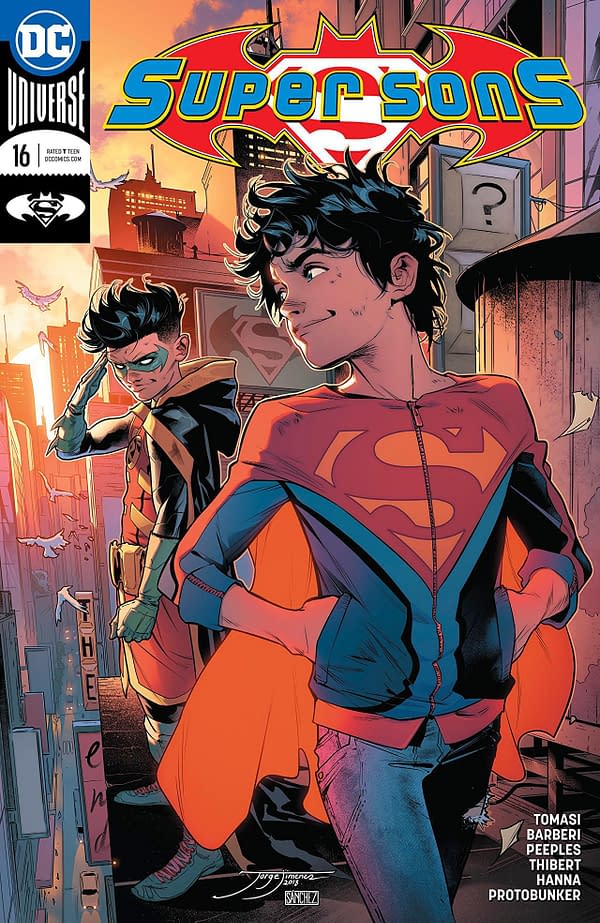 Super Sons #16 delivers a fun and lighthearted finale to the charming Superboy/Robin series. While Kid Amazo, despite his heritage, is a somewhat lackluster villain, the chemistry between Jonathan and Damian continues to win the day in making the comic engaging.
This book has done what I previously thought impossible and made me like Damian Wayne. His arrogance always turned me off to him, but there is a kindness beneath it all that makes him likable. Superboy is still my preferred Super Son though.
The ending does veer dangerously close to cheesy territory, as the adoration heaped upon the Super Sons by their fathers begins to feel like self-congratulations on a comic well done—even if that wasn't the intent. Plus, it's hard to feel like Kid Amazo is a legitimate threat given how easy-going Superboy and Robin are about everything, and it doesn't help how generic Kid Amazo is as a villain.
However, the affection Superman and Batman show for their respective children is still endearing, and the aforementioned chemistry between Jonathan and Damian salvages these flaws to make an enjoyable comic.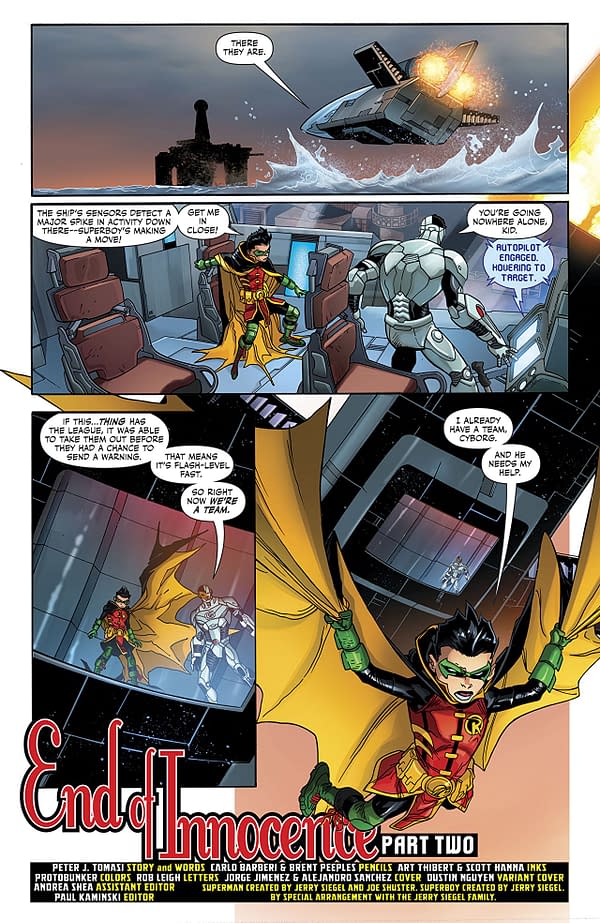 Carlo Barberi and Brent Peeples split the artwork of Super Sons #16, and both deliver solid work. The comic's visual identity is fluid, kinetic, and generally upbeat and light. That suits these two young heroes and the overall narrative tone well, and Art Thibert and Scott Hanna compliment the penciling with good inkwork. Photobunker's color art is bright and well-balanced to boot, keeping the comic popping and appealing to look at.
Super Sons #16 is a fun and energetic finale to Peter J. Tomasi's tale of two sons. The heroes continue to entertain, and it leaves it open-ended for the upcoming Adventures of the Super Sons maxiseries. In any case, this book earns a recommendation. Check it out.
[rwp-review-ratings id="0"]
[rwp-review-form id="0"]