Terrifics #4 Review: Embracing the Strange and the Genuine
The Terrifics have left Earth on a T-Sphere to travel to Phantom Girl's homeworld of Bgztl. On the way there, a bandit ship is able scoop up the flying T-Sphere, and the Terrifics find themselves assailed by giant squids, a bandit crew, and trash chutes. Can they make it out and to Bgztl?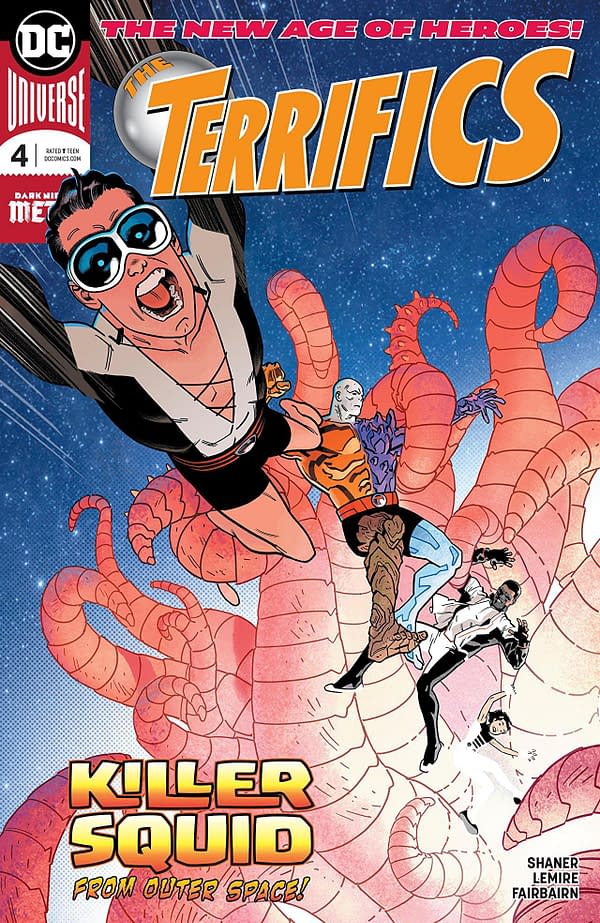 Terrifics embraces its quirkier side this issue, and it's honestly a refreshing change of pace for DC's mainline of titles. Rebirth hasn't brought many comics that embrace a mixture of silliness and earnest heroism like Terrifics #4, and it makes for a highly enjoyable read.
Phantom Girl is the focus of this issue, and her narration bookends the story on the salvage ship full of squids and bandits. She is given an upbeat and optimistic interior monologue that tries to cover her current state of being stuck in phase and being away from her home planet.
Mister Terrifics is notably less cold and arrogant in this issue, and Jeff Lemire implies that we will be digging deeper into Holt's character through Phantom Girl's observations. Metamorpho and Plastic Man continue their Ben-and-Johnny routine, but it gets points for genuinely being funny.
The comic continues to feel like the Fantastic Four, but it still maintains its own unique twists. This issue gave me some great nostalgia for Matt Fraction's stint on Fantastic Four from the beginning of Marvel NOW! That was a great book, so I recommend taking notes from it whenever appropriate.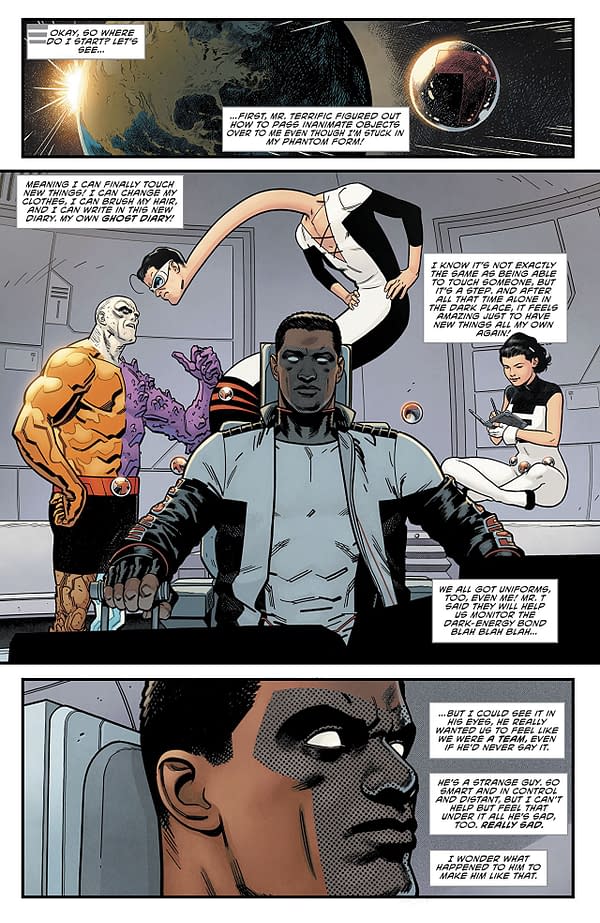 Doc Shaner was a great artistic choice for this issue, as his slightly more cartoonish style matches the quirkier tone of the issue. There is a lightness to the detailing that looks great. It still makes the characters fleshed-out in appearance while keeping the visual atmosphere upbeat and energetic. Nathan Fairbairn's color work is similarly lighter, using stark contrasts to also add to the quirkiness of the comic.
Terrifics #4 is a charismatic and fast-moving comic with a great cast and great art. The self-contained nature of each story continues to be one of the comic's strengths, and the fun and earnestly strange nature of the book gives it an identity all its own. This one gets a strong recommendation. Give it a read.