The Sentry #3 Review: Damaging Nostalgia
We see Billy Turner, aka Scout and former sidekick to the Sentry, meet up with the man who was once Cranio, the archnemesis to the Sentry. Billy has a plan to bring down Bob Reynolds once and for all. He hates the Sentry for what he did to him, taking his arm as the Void, and now getting to relive his fantasies in the Confluctor. So, Scout and Cranio will plot to destroy and replace the Sentry with the help of Dr. Cornelius' Golden Serum.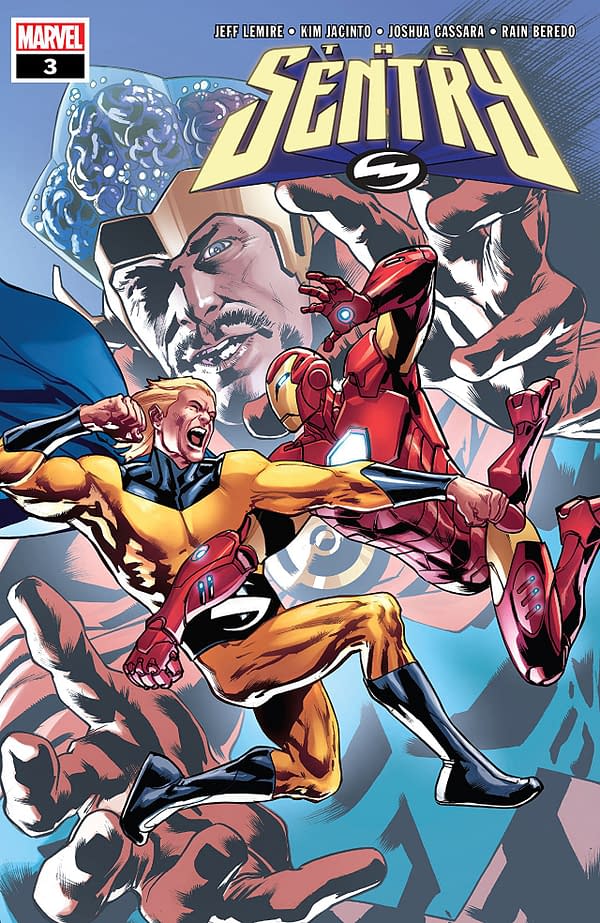 I am a little disappointed that The Sentry #3 doesn't have the fight between Sentry and Iron Man that the cover promises and the last issue implied. That said, it is another good issue in Jeff Lemire's revival of the character. Scout's grudge against Bob Reynolds is understandable and flips a lot of comic book tropes on their head.
Oftentimes, characters like Spider-Man and the Thing lament their lives as superheroes and costumed adventurers. In reality, who wouldn't want to be a superhero? Who wouldn't want to have powers and the ability to help people? And, if someone had that for a time, who wouldn't go mad in a normal life and working a miserable job?
Some might say this contradicts Doctor Star and the Kingdom of Lost Tomorrows resolution, and it is another Jeff Lemire comic recently released. However, well, Scout and Cranio are the villains of this piece. You're not supposed to take their side, even if they have do have a point. I know that seems obvious, but people have missed that point recently when talking about things like this or The Last Jedi.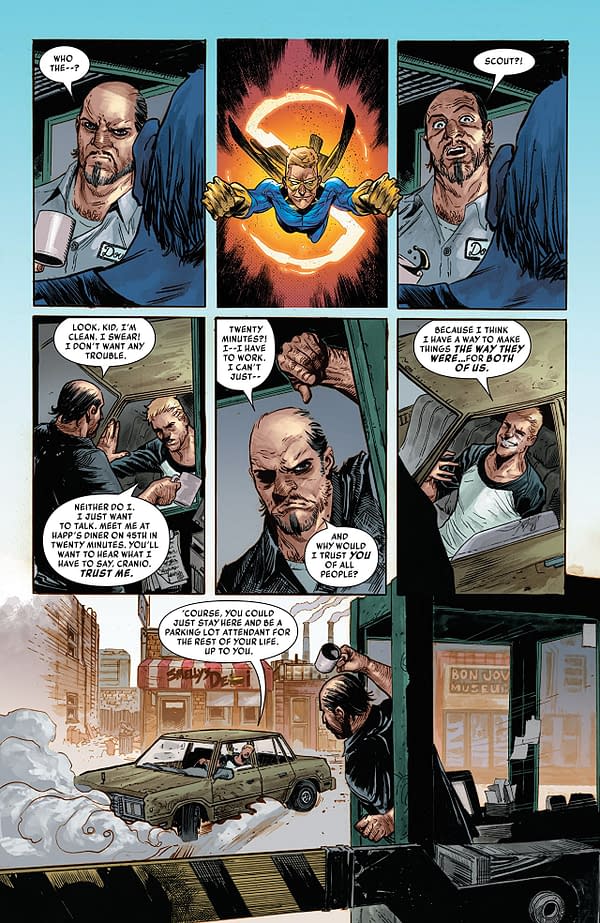 Joshua Cassara and Kim Jacinto once again split this comic and give a nice balance between the more cartoonish world of Bob and Billy's memories and the gritty and cruel real world. Both artists put in great work, and the color art of Rain Beredo does justice to both aesthetics.
The Sentry #3 continues to impress with its compelling characters, self-aware story, and excellent artwork. It's a messy web of damaged people ruining each other's lives, and it's engaging as all hell. This one earns a recommendation. Give it a read.