DC Comics have a plethora of Omnibus titles coming down the pipe… here are a few to prepare the bank account for, come 2020.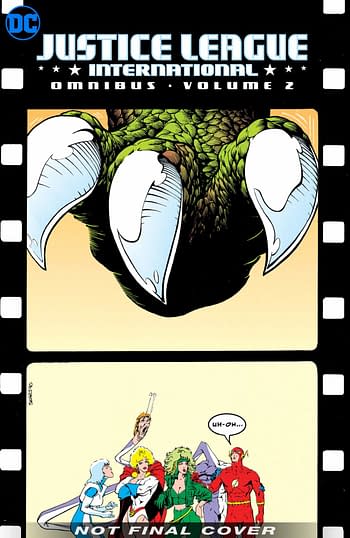 August 11th, 2020 1192 pages
The satirical 1987-1996 Justice League adventures are collected in a single hardcover edition.

A new generation of the world's greatest super-heroes takes center stage in the wake of a world crisis, but it's the most unlikely grouping of heroes ever – Batman, Black Canary, Blue Bettle, Captain Marvel, Doctor Fate, Dr. Light, Guy Gardner, Martian Manhunter, and Mister Miracle. Known for its comedic tones and quirky cast, this chapter from 1987-1996 in League history is unforgettable!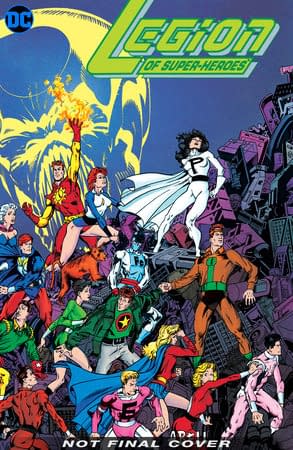 Aug 18th, 2020 1456 Pages
It's the Legion of Super-Heroes like you've never seen them before, as the heroes of the 30th-century face one of their boldest and most controversial eras!

As DC's 30th century super-team, the Legion of Super-Heroes had always stood as a shining example of futuristic optimism–but that changed in 1989 with a new Legion of Super-Heroes series that brought the timeline forward five years. In this even further future, the United Planets became a darker place, with familiar characters changed and the Earth overtaken by alien invaders–and the team reunited to take on these dangerous new threats.

Now this bold and controversial part of DC history is finally collected in an omnibus edition, from the creative team of DC legend Keith Giffen and Tom and Mary Bierbaum!

Collects Adventures of Superman #478, Legion of Super-Heroes #1-39, Who's Who #1-11, #13, #14, #16, Timber Wolf #1-5, and Legion of Super-Heroes Annual #1-3.

Aug 11th, 2020, 944 Pages
The adventures of one of DC's most distinctive heroes, Deadman, are collected in a decades-spanning hardcover edition.

Originally introduced in 1967, Deadman was a circus performer known as "Boston" Brand who was murdered while on the high-wire. In the afterlife, a mysterious being known as Rama Kushna gifted his spirit with the ability to possess the bodies of the living so he could discover the identity of his killer and bring him to justice. Featuring spectacular art by Neal Adams, José Luis García-López and others, these tales take Deadman across the DC Universe in search of justice.
This massive hardcover collects Strange Adventures #205-216; The Brave and the Bold #79, #86, #104 and #133; Aquaman #50-52; Challengers of the Unknown #74 and #84-87; Justice League of America #94; World's Finest Comics #223 and #227; The Phantom Stranger #33 and #39-41; Superman Family #183; DC Super-Stars #18; DC Special Series #8; Adventure Comics #460-466; DC Comics Presents #94; Detective Comics #500; Deadman #1-4 (1986); Secret Origins #15; and covers from Deadman #1-7 (1985)

Aug 18th, 2020, 1520 Pages
One of comics' most inventive minds take on the world's greatest superheroes, as Grant Morrison gathers DC's icons for a bold new era of the JLA!

In 1996, Grant Morrison–the visionary writer of The Invisible, Animal Man, Doom Patrol and more–joined forces with artist Howard Porter to relaunch the Justice League of America as JLA. Morrison and Porter revitalized the franchise by gathering DC's greatest heroes–Superman, Batman, Wonder Woman, Green Lantern, the Flash, Aquaman, and Martian Manhunter–and propelling these icons into inventive, modern stories with the highest of stakes. Now based on a Watchtower on the moon, the JLA took on classic threats including the White Martians, the Injustice Gang, and the Key; along with new foes such as Prometheus.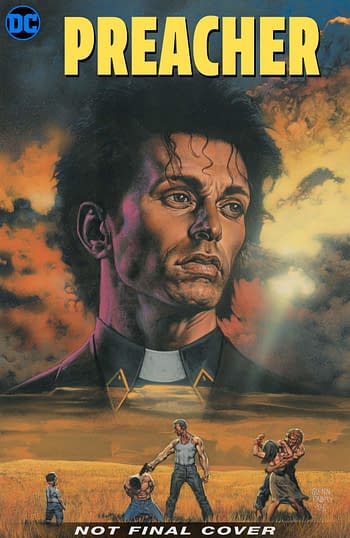 In this now-legendary graphic novel series that serves as the inspiration for the hit AMC television series, Jesse Custer was just a small-town preacher in Texas…until his congregation was flattened by powers beyond his control and the preacher became imbued with abilities beyond anyone's understanding.

Now possessed by Genesis–the unholy offspring of an angel and demon–Jesse holds Word of God, an ability to command anyone or anything with a mere utterance. And he'll use this power to hold the Lord accountable for the people He has forsaken.

From the ashes of a small-town church to the bright lights of New York City to the backwoods of Louisiana, Jesse Custer cuts a righteous path across the soul of America in his quest for the divine–an effort that will be met by every evil that Heaven and Earth can assemble. Joined by his gun-toting girlfriend, Tulip, and the hard-drinking Irish vampire Cassidy, Jesse will stop at nothing to fulfill his quest to find God.

The powerhouse creative team of Garth Ennis and Steve Dillon bring readers on a violent and riotous journey across the country in this award-winning Vertigo series, beginning with Preacher: The 25th Anniversary Omnibus Vol. 1!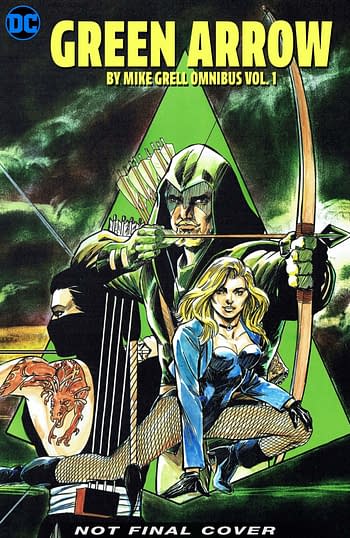 June 30, 2020
From Mike Grell, who is considered one of the most influential Green Arrow talents, this is the first time these cult-favorite stories from the 1980s and early 1990s have been collected in omnibus hardcover format.

For the first time collected into omnibus hardcover format, read the now-cult-classic stories from 1986-1990 by Mike Greel that repositioned Green Arrow as an inner-city crusader for justice. Green Arrow takes on Russian spies, his sometime foe Shado, oil companies, drug cartels, the IRA, and he even discovers he'll be a father. Best of all, discover the origin of the Emerald Archer and his superhero sidekick Speedy!
July 14, 2020
DC's grim arbiter of justice, the Spectre, returned in the 1960s to enact bloody vengeance on evildoers across the DC Universe.

Originally introduced in More Fun Comics #42 in 1940 and co-created by Jerry Siegel, co-creator of Superman, the Spectre is a green-caped, white-skinned figure who metes out justice in the name of heaven. DC's grim arbiter of justice, the Spectre, resurfaced in the 1960s for all-new–and sometimes controversial–stories demonstrating the true power of his vengeance. In this omnibus collecting Showcase #60-61 and #64, The Brave and the Bold #72, #75, #116, #180, and #199, The Spectre #1-10, Adventure Comics #431-440, DC Comics Presents #29, and Ghosts #97-99, witness former cop Jim Corrigan dish out ghoulish punishments across the DC Universe!
June 23, 2020 896 pages
Acclaimed artist J.H. Williams III reveals the shocking origin of one of comics' most prominent lesbian characters, collected for the first time ever in one epic omnibus hardcover edition!

Determined to continue serving others after her military career was cut short by bigotry, Kate Kane has taken up the identity of Batwoman, leading a one-woman war on Gotham City's evil underbelly. Who or what is stealing children from the barrio, and for what vile purpose? How will Kate handle unsettling revelations about her father, Colonel Jacob Kane? And why is a certain government agency suddenly taking an interest in her?

J.H. Williams III's extensive work on Batwoman saw him play both writer and illustrator. Joined by frequent collaborators Greg Rucka and W. Haden Blackman, Batwoman Omnibus by J.H. Williams III collects his visually stunning work in its entirety.

Collects Detective Comics #854-863, Batwoman #0 (New 52), Batwoman #0-24, and Batwoman Annual #1.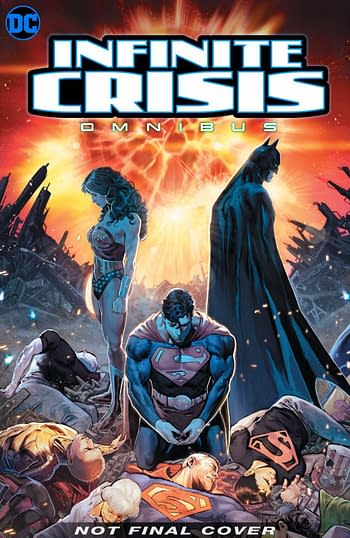 June 16, 2020,
Heroes will live, heroes will die, and the DC Universe will never be the same again in this omnibus collection of the 2005 event that changed history!

OMAC robots are rampaging, magic is dying, villains are uniting, and a war is raging in space. And in the middle of it all, a critical moment has divided Earth's three greatest heroes: Superman, Batman, and Wonder Woman. It's the DC Universe's darkest day, and long-lost heroes from the past have returned to make things right in the universe… at any cost. Heroes will live, heroes will die, and the DCU will never be the same again!

This omnibus collects Action Comics #826, #829, Adventures of Superman #639, #642, Countdown to Infinite Crisis, Day of Vengeance #1-6, Day of Vengeance Infinite Crisis Special, JLA #115-119, Infinite Crisis #1-6, Infinite Crisis Secret Files 2006, The OMAC Project #1-6, The OMAC Project Infinite Crisis Special, Rann-Thanagar War #1-6, The Rann-Thanagar Infinite Crisis Special, Superman #216, #219, Villains United #1-6, Villains United Infinite Crisis Special and Wonder Woman #219.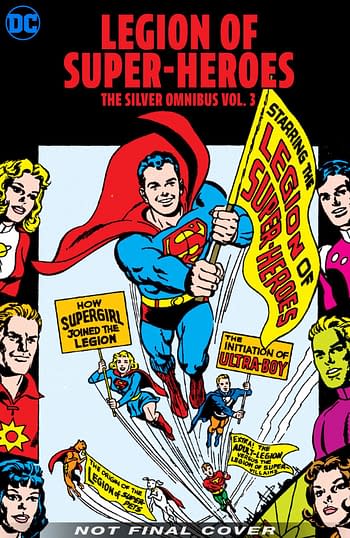 June 9, 2020, 680 pages
The 1960s stories of the Legion of Super-Heroes continue in the pages of Adventure Comics and Action Comics, as written by prolific Legion writer Jim Shooter and illustrated by comics legends including Curt Swan, as collected in this massive volume!
In the third omnibus collection of the Legion of Super-Heroes' Silver Age stories, the future super-team's mission continues in the pages of Adventure Comics and Action Comics. Classic tales from creators including prolific Legion writer Jim Shooter and legendary comics artists including Curt Swan and Win Mortier are collected in this massive volume.
Meet the team of villains who never lose–"The Unkillables"! Witness "The Revolt Of The Super-Pets"! Discover "Chameleon Boy's Secret Identity"! And unravel the mystery of "The Legionnaires Who Never Were"!
Legion of Super-Heroes: The Silver Age Omnibus Vol. 3 collects stories from Adventure Comics #361-380, Action Comics #378-392, Superboy #147, and Superman's Pal, Jimmy Olsen #106.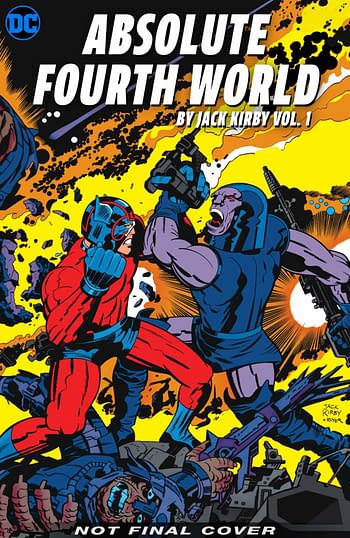 May 19, 2020, 800 pages
For the first time ever, DC collects the "Fourth World" works of legendary writer/artist Jack Kirby in a premium Absolute hardcover edition.

Legendary comics creator Jack Kirby's mind-boggling "Fourth World" saga is collected in an Absolute edition series starting with Absolute Fourth World by Jack Kirby Vol. 1.

After co-creating comic book heroes such as The Fantastic Four and The Hulk, legendary writer/artist Jack Kirby came to DC Comics in 1970 to write and illustrate four interlocking series known collectively as "The Fourth World."
Now, as part of the celebration of the 100th birthday of Jack Kirby, DC collects Kirby's entire runs on these four series–The New Gods, The Forever People, Mister Miracle and Superman's Pal Jimmy Olsen–In a single volume. These comics spanned galaxies, from the streets of Metropolis to the far-flung twin worlds of New Genesis and Apokolips, as cosmic-powered heroes and villains struggle for supremacy, and the world-conquering Darkseid adventured across Earth for the deadly Anti-Life Equation.

Collects Superman's Pal Jimmy Olsen #133-139 and #141-148, The New Gods #1-11, The Forever People #1-11, Mister Miracle #1-18, plus later stories from New Gods #4 and DC Graphic novel #4
July 28, 2020 480 pages
Superman is reinvented from the ground up in this omnibus collection of stories that defined the Man of Steel for decades!

Following the events of Crisis on Infinite Earths, comic book superstar John Byrne reimagined Superman for a brand-new era–in bold tales collected here in omnibus format! Starting with the six-issue Man of Steel miniseries, Byrne fundamentally changed Superman's origins and propelled him into the present, including iconic encounters with Lex Luthor, Metallo, Darkseid–and The Joker!

Collects Action Comics #584-593, Action Comics Annual #1, Adventures of Superman #424-435, Adventures of Superman Annual #1, Legion of Super-Heroes #37-38, Superman #1-11, Superman Annual #1, The Man of Steel #1-6.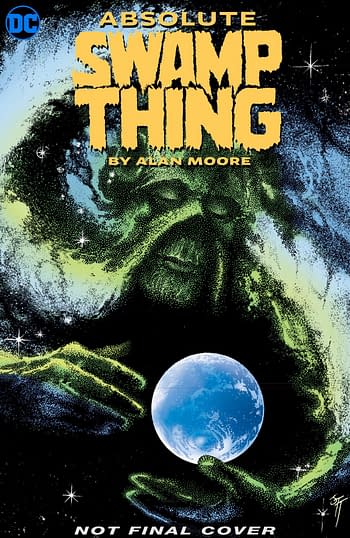 August 11, 2020 432 pages
Before the groundbreaking graphic novel Watchmen, Alan Moore made his debut in the U.S. comic book industry with the revitalization of the horror comic book Swamp Thing. His deconstruction of the classic monster stretched the creative boundaries of the medium and became one of the most spectacular series in comic book history.

With modern-day issues explored against a backdrop of horror, Swamp Thing's stories became commentaries on environmental, political and social issues, unflinching in their relevance. Includes the story The Anatomy Lesson, a haunting origin story that reshapes Swamp Thing mythology with terrifying revelations that begin a journey of discovery and adventure that will take him across the stars and beyond. Author Alan Moore and illustrators Stephen Bissette, John Totleben, Rick Veitch, Shawn McManus, Ron Randall and Dan Day join together to rise from the swamps in slipcased hardcover edition, Absolute Swamp Thing by Alan Moore Vol. 2. This collects Saga of the Swamp Thing #35-49 with brand-new coloring.
I don't think it will include Anatomy Lesson as that was in volume 1…
Enjoyed this article? Share it!